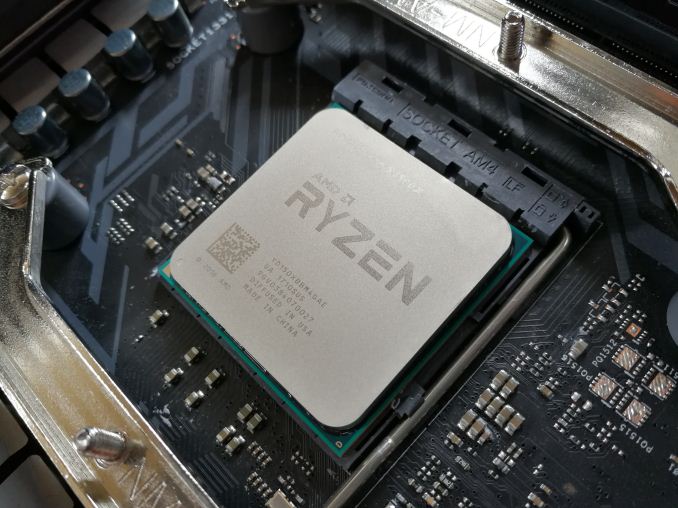 AMD and some of its retail partners have started a new discount campaign involving AMD Ryzen and AMD Ryzen Threadripper processors. Select AMD CPUs will be available at reduced prices when bought from participating retailers till the end of March.
The new campaign involves two high-end Ryzen Threadripper 1950X and 1920X, all three Ryzen 7 (1700, 1700X, 1800X) models, three Ryzen 5 (1400, 1500X, 1600X) SKUs, and two Ryzen 3 (1200, 1300X) variants. In the U.S., four major retailers participate in AMD's new promo sale: Amazon, Newegg, Micro Center, and Fry's. Amazon UK and Amazon France also sell select AMD processors at reduced prices, but it is unclear whether AMD's campaign is global, or only covers the U.S., Canada, UK, and France.
Exact discounts vary depending on the particular product. For example, the Ryzen Threadripper 1950X is available for $869, which is 13% off its $999 MSRP. Meanwhile, the Ryzen 7 1800X only got a 6% discount and is now available for $329 from Amazon. The Ryzen 3 1200 now is available for $94, the first time when a Ryzen-branded CPU is available for less than $100 in retail. See the table below for exact details and "buy" links.
Earlier this year AMD already slashed official prices of its Ryzen processors in order to better compete against Intel products. That price-cut was global and had an effect on all Ryzen SKUs, but only on one Threadripper model. By contrast, this time select retailers offer discounts on select Ryzen and two higher-end Ryzen Threadripper CPUs, so evidently AMD is trying to address the higher-end of the market with its discounts.
AMD Ryzen Pricing with Campaign Discounts
Processor
Cores/Threads
Current SEP
Campaign Price
Ryzen TR 1950X (TR4)
16C/32T
$999
$869
Ryzen TR 1920X (TR4)
12C/24T
$799
$669
Ryzen TR 1900X (TR4)
8C/16T
$449
-
Ryzen 7 1800X (AM4)
8C16T
$349
$329
Ryzen 7 1700X (AM4)
8C/16T
$309
$289
Ryzen 7 1700 (AM4)
8C/16T
$299
$275

Ryzen 5 1600X (AM4)

6C/12T
$219
$198

Ryzen 5 1600 (AM4)

6C/12T
$189
-

Ryzen 5 1500X (AM4)

4C/8T

$174
$169

Ryzen 5 1400 (AM4)

4C/8T
$169
$150

Ryzen 5 2400G (AM4)

4C/8T
$169
-

Ryzen 3 2200G (AM4)

4C/4T
$99
-

Ryzen 3 1300X (AM4)

4C/4T
$129
$115

Ryzen 3 1200 (AM4)

4C/4T
$109
$94
Related Reading:
Source: AMD