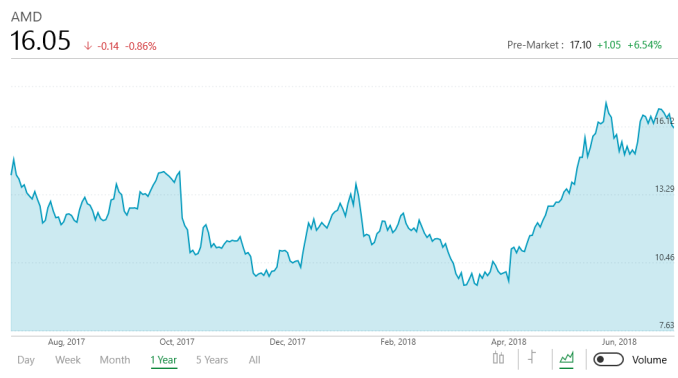 What a difference a year makes. Yesterday afternoon AMD announced their second quarter results for their fiscal year 2018, and the news is nothing short of stunning, with AMD having one of their best quarters in seven years. AMD already started off the year profitable, but things have continued to ramp up in Q2, marking the 1 year anniversary of the Zen CPU architecture launch, and the inflection point for AMD's badly-needed recovery.
AMD Q2 2018 Financial Results (GAAP)
Q2'2018
Q1'2018
Q2'2017
Revenue
$1756M
$1647M
$1151M
Gross Margin
37%
36%
34%
Operating Income
$153M
$120M
-$1M
Net Income
$116M
$81M
-$42M
Earnings Per Share
$0.11
$0.08
-$0.04
For Q2 AMD booked $1.76B in revenue, their greatest revenue in quite some time and beating not just their seasonally strong Q4 from last year, but also the cryptocurrency-fueled Q1 of this year. This is a massive 53% jump in revenue year-over-year, while even on a quarterly sequential basis that's a 7% increase. As a result, both AMD's profits and gross margins were up. Net income rose by $158M year-over-year to $116M – a far cry from the money-losing situation of AMD a year ago – while gross margins have risen to 37%.
AMD Q2 2018 Financial Results (Non-GAAP)
Q2'2018
Q1'2018
Q2'2017
Revenue
$1756M
$1647M
$1151M
Gross Margin
37%
36%
34%
Operating Income
$186M
$152M
$23M
Net Income
$156M
$121M
-$7M
Earnings Per Share
$0.14
$0.11
-$0.01
Looking at the non-GAAP numbers, which exclude results such as restructuring charges, debt fees, and stock based compensation, which are also strong. AMD continues to pay down its sizable long-term debt and issue stock as compensation, both of which bring down the GAAP numbers, but not extensively. More importantly it shows that AMD's GAAP numbers themselves aren't a fluke, and that AMD's core business is stronger than it has been in quite some time.
AMD is attributing the great quarter to what can best be described as all-around improved demand for products. Ryzen, Epyc, and Radeon shipments were all well up year-over-year, and even on a sequential basis AMD's CPUs continue to be in high demand. AMD's specifically citing the ramp of new products here (presumably Ryzen 2) as being especially beneficial towards the gross margin, and ultimately their bottom line.
AMD Q2 2018 Computing and Graphics
Q2'2018
Q1'2018
Q2'2017
Revenue
$1086M
$1115M
$661M
Operating Income
$117M
$138M
$7M
Digging into the individual segments a bit more, the larger of AMD's two segments, Computing and Graphics, booked $1.09B in revenue for the quarter. This is a 64% jump in revenue year-over-year, though a slight decline sequentially. Operating income was $117, which is over $100M better than last year, but again a bit of a drop over Q1. AMD credits the year-over-year shift to the significant growth of Ryzen products – this being the first Q2 where AMD has a top-to-bottom CPU and APU stack in place for desktop and mobile – while Radeon is a bit more of a mixed bag. AMD's strong Q1 performance was in part built on top of the red-hot cryptocurrency market, which has significantly cooled in the last couple of months. This being why AMD's numbers are down a bit on a quarterly basis, as overall GPU revenue has dropped.
The April launch of Ryzen 2 CPUs meant that AMD has seen "double digit" shipment growth in Ryzen processors over the previous quarter, on top of growth of Ryzen mobile APUs, where ships actually more than doubled. Consequently desktop processor ASPs are down, but mobile processor ASPs are actually up, presumably as customers shift away from bargain-priced Bristol Ridge parts. Interestingly GPU ASPs are also up, despite the cooling crypto market, with AMD citing datacenter sales as pulling ASPs up.
AMD Q2 2018 Enterprise, Embedded, and Semi-Custom
Q2'2018
Q1'2018
Q2'2017
Revenue
$670M
$532M
$490M
Operating Income
$69M
$14M
$16M
Meanwhile for the Enterprise, Embedded, and Semi-Custom market, AMD booked $670M in revenue for the year, up $180M from Q2 of 2017. Operating income is also up, though not as wildly as with computing products, rising from $16M to $69M. Notably, this segment includes AMD's EPYC processors for datacenters. I'd been expecting first-generation EPYC sales to be soft as AMD needed to prove itself to customers who were burnt on the Bulldozer generation, however AMD has been consistently reporting good news here, as EPYC adoption continues to grow. Meanwhile the semi-custom side has also done better than expected thanks to some non-cancellable purchase orders.
Overall then AMD had a very good quarter, and if the company has its way, this is the start of things to come. As energizing as the company's success with Ryzen has been, the big money for the company is ultimately in high-margin datacenter products, including both EPYC and Radeon Instinct. The next-generation EPYC processors aren't due until 2019, but there's still time to grow the current generation, as EPYC revenue was up 50% sequentially over Q1. And indeed AMD is predicting that gross margins will tick up to 38% in Q3. Which is still a far cry from Intel's traditionally massive margins, but is moving AMD where they need to be to be consistently and significantly profitable. Otherwise, AMD is predicting $1.7B in revenue for Q3, which would end up being very close to this Q2.
Source: AMD Investor Relations