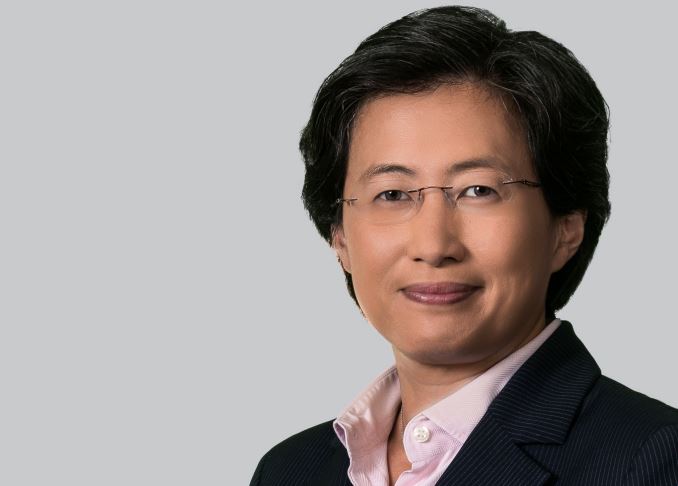 AMD has announced that its CEO, Dr. Lisa Su, is to hold the stage for one of CES 2019's daily keynotes. The company stated in the press release that Dr. Su will discuss AMD's plans to bring the world's first 7 nm high-performance CPUs and GPUs to the market.
Dr. Su's presentation will mark the first time that any AMD CEO has presented at an official CES keynote. CES has several keynotes of various importance throughout the week ('keynote' is now something expanded beyond a single presentation), of which AMD has one - and Ginni Rometti from IBM will host another - while the lead-off "prime" keynote (given by Intel in 2018) has yet to be announced. Dr. Su will have other guests on stage in a bid to discuss the latest computing technologies that open up new opportunities when it comes to HPC, gaming, entertainment, and other aspects of life.
AMD plans to release its next-generation CPUs and GPUs made using TSMC's 7 nm manufacturing technology next year. AMD has already announced that the first products to be made using 7nm will be a Vega GPU for Radeon Instinct later this year, and at some point during 2019, the EPYC CPU under the name 'Rome' built with Zen 2 cores. It is noteworthy that both products were designed with a broad set of applications in mind — starting from gaming and entertainment and spanning to HPC and cloud computing — therefore they will have an influence on a variety of markets in the coming years. In fact, AMD already showcased its 7 nm Vega GPU back at Computex this past June, but the demonstration was static as only the chip itself was shown.
At AMD's event at CES 2018, which wasn't a CES keynote, AMD went into great detail about its 2018 plans. We hope that this 2019 event will do something similar and give us a good indication of when and what AMD will be announcing in 2019.
The company has already stated that it is testing its 7 nm Rome CPUs in the lab. Considering what has already been revealed about the 7 nm products from AMD, it is more than reasonable to expect Dr. Su to provide an update regarding the performance, capabilities, and availability of the new chips during the CES keynote.
The keynote will take place on January 9, 2019.
Related Reading
Source: AMD