Toshiba A505D-S6987: A Look at Turion II Ultra M600 Performance
Our review of the Toshiba A505D-S6987 brings us to an interesting crossroads. In recent years Toshiba has made a habit of producing fairly well-rounded and inexpensive notebooks—good values overall. The A505D we have on hand adds an AMD Turion II Ultra to the equation, specifically the M600 that exists near the top of AMD's mobile line (or did until the Phenom II refresh that's starting to show up in the marketplace was announced). Ultimately, Toshiba means to bring a strong value-oriented mainstream notebook to market. Can it compete?
Toshiba A505D-S6987 Specifications
Processor
AMD Turion II Ultra M600
(2x2.4GHz, 45nm, 2MB L2, 35W)
Chipset
AMD RS880M Northbridge, AMD SB750 Southbridge
Memory
2x2GB DDR2-800 (Max 2x4GB)
Graphics
ATI Mobility Radeon HD 4200
(40 Stream Processors, 500MHz Core, Integrated)
Display
16" LED Glossy 16:9 720p (1366x768)
Hard Drive(s)
Toshiba 500GB 5400 RPM Hard Disk
Optical Drive
Slot-loading DVD+/-RW Combo Drive with LabelFlash
Networking
10/100 Ethernet
Realtek 802.11b/g/n Wireless LAN
V.92 56K Modem
Audio
HD Audio
Harmon Kardon stereo speakers
Headphone (shared with optical) and mic jacks
Battery
6-Cell, 12V, 44Wh battery
Front Side
Wireless Switch
MMC/SD/MS Reader
Left Side
USB 2.0
Exhaust vent
VGA
Ethernet jack
HDMI
ExpressCard/54 slot
eSATA/USB 2.0 combo port
Mic, headphones
Right Side
Optical drive
2x USB 2.0
Modem jack
AC jack
Kensington lock
Back Side
Nothing
Operating System
Windows 7 Home Premium 64-bit
Dimensions
15.1" x 10.2" x 1.44-1.61" (WxDxH)
Weight
6.48 lbs (with 6-cell battery)
Extras
Webcam
104-key LED backlit keyboard with 10-key
Flash reader (MMC/MS/MS Pro/SD)
Warranty
1-year basic warranty
Pricing
$654 Online [Note: Currently out of stock at most places.]
The AMD Turion II Ultra M600 humming at the core of the A505D-S6987 is a K10.5-based processor, a mobile derivative of the desktop Athlon II line. It runs at a 2.4 GHz clock speed and has a combined total of 2MB of L2 cache—1MB per core. The Turion II should perform more than adequately; AMD's refined K10.5 architecture is typically able to produce performance clock-for-clock equivalent with Intel's first generation Conroe-based Core 2 Duo architecture, slightly behind the second generation Penryns. It's not going to run with the Core i3/i5 processors, but it should get the job done for most users and offer a fine value proposition.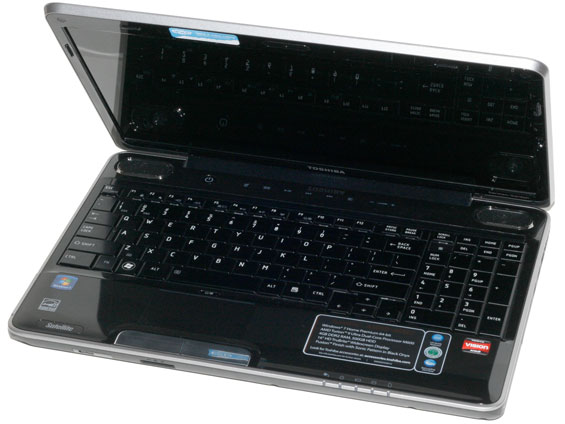 Attached to the Turion II's integrated memory controller is 4GB of DDR2-800 RAM. Consider this unit one of DDR2's last hurrahs; even Intel's Atom processors use DDR3 now, and AMD's most recent Danube/Nile refresh brings DDR3 support to the table as well. DDR2 and DDR3 have already reached price parity, and DDR3 is even starting to show up at slightly lower prices. Toshiba also packs a 500GB, 5400 RPM hard drive into the A505D—naturally, a Toshiba drive. The unit is rounded out by a Realtek wireless-n adapter and, as a nice value-add, a slot-loading DVD writer.
The last thing Toshiba brings to the table is one of the benefits of using an AMD CPU—AMD's Mobility Radeon HD 4200 integrated graphics processor. While the Intel HD graphics embedded in Intel's dual-core i-Series Core processors has made great strides in bringing performance parity with AMD and NVIDIA (excepting NVIDIA's staggering GeForce 320M IGP in Apple's hardware), overall driver quality, stability, and performance is still largely in AMD's favor.
Note that like the Acer 5542 we looked at recently, the A505D is a slightly older design and it is nearing EOL. However, there are plenty of laptops sporting the now outdated M-series AMD processors, and we expect to see a lot of these laptops on sale in the coming months. The original $800 MSRP is far too much, and even $650 is more than most would be willing to pay, but forgetting price for a minute it's still useful to see what the M600 laptops have to offer. What's more, we just received the new Toshiba A665 for testing (literally—the FedEx guy came by 15 minutes ago!), and it updates the A505D in some interesting ways, so think of this review as a springboard into the A665 next week.