Toshiba A660D-ST2G01: AMD Goes Quad-Core with the Phenom II P920
It's been a long time coming, but the Toshiba A660D-ST2G01 finally gets us an up-to-date AMD mobile platform. It has all the latest and greatest AMD enhancements, including switchable graphics and a quad-core processor. Running at 1.6GHz, the P920 happens to have the same base clock speed as the i7-720QM, but it lacks Intel's Turbo Boost technology. The result is going to be interesting; we expect slower performance overall, particularly in single-threaded workloads where the 720QM can Turbo up to 2.8GHz; we're also looking at the mobile equivalent of the desktop Athlon II X4 processors, since the P920 lacks L3 cache. On the other hand, AMD specs the P920 for 25W compared to 45W on the 720QM, and unlike Arrandale the quad-core Intel chips are still manufactured on a 45nm process.
The new Danube platform also makes the switch to DDR3, which should further reduce power requirements. Will the A660D finally give us reasonable battery life from a midrange AMD system? More importantly, how does it stack up to other options—with a $950 MSRP it goes up against far more than entry-level laptops. Before we get to the answers to those questions, let's go over the basic specs.
Toshiba Satellite A660D-ST2G01 Specifications
Processor
AMD Phenom II P920
(4x1.6GHz, 45nm, 4x512KB L2, 25W)
Chipset
AMD RS880M Northbridge, AMD SB850 Southbridge
Memory
2x2GB DDR3-1066 (Max 2x4GB)
Graphics
ATI Mobility Radeon HD 4250
(40 Stream Processors, 500MHz Core, Integrated)

ATI Mobility Radeon HD 5650
(400 Stream Processors, 450MHz Core, 1600MHz GDDR3)
Display
16" LED Glossy 16:9 768p (1366x768)
Samsung 160AT06-U01
Hard Drive(s)
Toshiba 500GB 7200 RPM Hard Disk
Optical Drive
DVD+/-RW Combo Drive with LabelFlash
Networking
Realtek RTL8139/810x 10/100 Ethernet
Realtek RTL8191SEvB 802.11b/g/n Wireless LAN
Audio
Realtek ALC269 HD Audio
Harmon Kardon stereo speakers
Headphone (shared with optical) and microphone jacks
Battery
6-Cell, 10.8V, 48Wh battery
Front Side
MMC/SD/MS/xD Reader
Left Side
ExpressCard/34 slot
USB 2.0
eSATA/USB 2.0 combo port (with Sleep and Charge)
HDMI
Ethernet jack
VGA
Exhaust vent
Right Side
Microphone/headphone jacks
2x USB 2.0
Optical drive
AC jack
Kensington lock
Back Side
Nothing
Operating System
Windows 7 Home Premium 64-bit
Dimensions
14.98" x 10.0" x 1.18" (1.48" with feet) (WxDxH)
Weight
6.5 lbs (with 6-cell battery)
Extras
Webcam
101-key LED backlit keyboard with 10-key
Flash reader (MMC/MS/MS Pro/SD/xD)
Warranty
1-year standard warranty
Pricing
$949 MSRP
Currently $949 Online
A665D-S6049 for $799 Online
While many of the basic features are similar to the Toshiba A505D, the package as a whole is very different. For one, despite using the same size 16" LCD panel, the dimensions of the A660D are still slightly smaller in width and depth, and about a quarter inch thinner. The exterior is also a textured plastic that's not quite as much of a fingerprint magnet. The big changes are in the components, with a quad-core CPU, a discrete GPU with the ability to switch to the IGP, and DDR3 memory. The modem port is also gone, and the slot-load DVDR is swapped out for a standard DVDR. The eSATA/USB combo port also has Toshiba's Sleep and Chard functionality, which allows you to charge USB peripherals even while the system is powered down. Similarly, the speakers can be used with the system powered down if you connect to the line-in jack.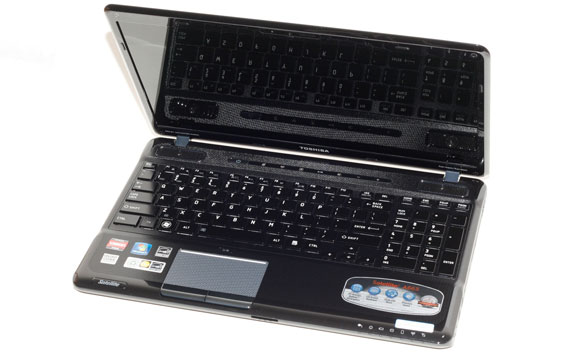 The remaining components and features are what we find pretty much everywhere, though with a few additions you don't always find. ExpressCard and eSATA are nice extras, as is the LED backlit keyboard. The internal speakers are better than most laptops, though they still won't beat a good set of external speakers or headphones. The battery is also rather small for a 6-cell unit, and downright puny when compared to some of the ASUS laptops that are using 84Wh batteries, but otherwise the specifications look reasonable.
For those interested in branding, the A660D is part of the AMD Vision Ultimate line. We talked about AMD Vision with the Toshiba T235D, and the A660D belongs in the higher performing Ultimate bracket. You can read the specifics of AMD's Vision Ultimate, but the quick summary is that notebooks with this branding should provide advanced multitasking, advanced photo editing, enough power to create and edit HD movies, and enough graphics horsepower to play modern games. We could say that any reasonable laptop meets many of those requirements, but the gaming requirement in particular means you need a discrete GPU (at least for now), and the HD 5650 definitely fulfils that requirement. It's not the fastest GPU on the block, but in the mobile world the number of graphics chips that are clearly faster is very limited.
While the $949 price is going to be too high for most, there's also an A665D-S6059 that has the same feature set but with a 500GB 5400RPM drive. You can find the A665D on Newegg for just $799, making it a far more attractive buy. We actually started this review way back in July, but we ran into complication when we received pre-production hardware that had a few glitches, creating some unfortunate delays. The problems we encountered on the early samples of the A665D have been fixed in the retail A660D—and presumably the A665D as well—so unless you really want to spend $150 for the upgrade to a 7200RPM drive there's no reason to choose the more expensive model. There's also an A665D-S6051 model that drops the HD 5650 and lowers the price about $60; while we have concerns with the 5650 drivers that we'll get to shortly, the $60 saved isn't enough to make the S6051 a better option.
Frankly, the $949 MSRP is far too expensive compared to the competition, but hopefully when the A660D starts showing up at vendors other than Toshiba Direct we'll see that price drop to around $850. As we pointed out in our mobile DTR buyers' guide, you can find the Acer 7740G with an i5-430M and HD 5650 for $750, or the Acer 7551 with a faster Phenom II N930 and HD 5650 for about the same price as the A665D. Toshiba also has the A505 with an i7-720QM for $900 online right now, with a GT 330M in place of the HD 5650. The 5650 should be faster and it has DX11 support, but the GT 330M is a decent mobile midrange part that should handle 1366x768 gaming quite well. We'll want to keep an eye on how performance of the P920 compares to the i5-430M as well as the i7-720QM, not to mention checking on battery life, to see if the A660D-ST2G01 and A665D-S6059 are a good value.