Toshiba Portege R700—Introduction
Toshiba Computer released Japan's first notebook computer in 1985, instantly cementing Toshiba as one of the pioneers of mobile computing. Since then, Toshiba has consistently been amongst the sales leaders of consumer notebooks in the US. But for all their mainstream success, in recent times Toshiba has not had any particularly compelling designs out there. There's a lot of systems in the same vein as the A505 we tested earlier this year—vanilla mainstream notebooks that offer a lot of glossy black plastic to go along with a good amount of value, but no really compelling portable systems like the Portege R100 or R400 tablet from the past. Until now, with the introduction of the new Portege R700 and R705.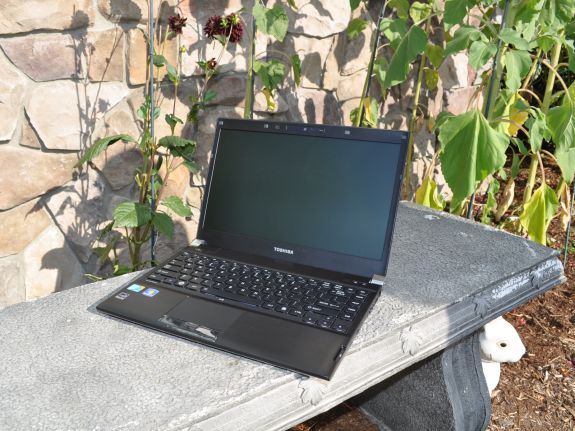 The R700 is Toshiba's latest ultraportable, and on paper, it's very impressive. It uses regular voltage Core i3, i5, and i7 processors and manages to stuff an optical drive into a 3.2lb, 1" thick enclosure. The casing is all done in brushed aluminum, and the internal structure uses a magnesium alloy and features an aluminum honeycomb to dissipate heat. The result is a notebook that is reportedly both lighter and stiffer than the previous Portege R500 and R600 notebooks. Unfortunately, like most other non-ASUS ultraportables, the R700 uses the onboard Intel HD graphics instead of going for a discrete graphics card, but given the 1" thin, 3lb form factor, it's an understandable concession to make.
Toshiba Portege R700-S1330 Specifications
Processor
Intel Core i7-620M
(2.66GHz, 32nm, 4MB L3, 35W)
Chipset
Intel QM57 Express
Memory
2x2048MB DDR3-1333
Max 2x4GB DDR3-1333
Graphics
Intel HD Graphics (64MB—1696MB shared memory)
Display
13.3" LED Backlit Matte WXGA (1366x768)
Hard Drive
2.5" 320GB 7200RPM SATA (Seagate ST9320423AS)
Networking
Intel 82577LM PCI-E Gigabit Ethernet
Intel Centrino Ultimate-N 6200 802.11a/b/g/n
Audio
Realtek AL269 2-Channel HD Audio
(2.0 Speakers with headphone/microphone jacks)
Battery
6-cell Lithium-ion, 5800 mAh, 10.8V, 66 Wh
Front Side
None
Left Side
AC Power Connection
VGA Port
1 x USB 2.0
eSATA/USB Combo Port
HDMI port
Right Side
5-in-1 memory card reader
Integrated DVD SuperMulti Drive
ExpressCard slot
Headphone jack
1 x USB 2.0
Gigabit Ethernet
Kensington Lock
Back Side
None
Operating System
Windows 7 Professional 64-bit
Dimensions
12.44" x 8.94" x 0.66-1.01" (WxDxH)
Weight
3.0lbs (SSD), 3.2lbs (hard drive)
Extras
Bluetooth 2.1
Integrated webcam and microphone
Warranty
1-year battery warranty
Pricing
Portege R700-S1330 from $1489 at ProVantage
The R700 starts at $999, but our $1599 R700-S1330 test unit features top of the line components—the 2.67 GHz Core i7-620M, a 128GB SSD, and 4GB memory. For a 3.0lb machine with eight hours of battery life on tap, that's a lot of power. The "little brother" Portege R705 is a really interesting configuration though. It shares the same chassis as the R700 (with a blue-painted lid), but has a Core i3-350M, 4GB of RAM, a 500GB hard drive, and trades the ExpressCard slot and docking capabilities for Intel's WiDi built in. For a price of $829, that's pretty awesome, especially when you take into account the completely aluminum chassis and 3.2lb carrying weight (R700/705 models with hard drives weigh slightly more than the 3lb SSD test unit we have). So on paper, the R700 finally brings something special to Toshiba's otherwise-ordinary lineup, but does that impression hold up in person?