Introducing the Acer TravelMate 8481T-6873
With all of the noise Intel and some of the OEMs are making about ultrabooks, it's easy to forget that as PC users we've already enjoyed thin-and-light and ultraportable notebooks for a while now. Were they sliver-thin? No, but the magical three pound point is something we've always been able to find. Netbooks, for better or worse, only made portability that much more accessible and affordable. With that in mind, we have on hand Acer's TravelMate 8481T, a notebook that measures under an inch thick (without the battery) and sports an SSD and matte screen. If you were in the market for an ultraportable, this one may be worth your attention.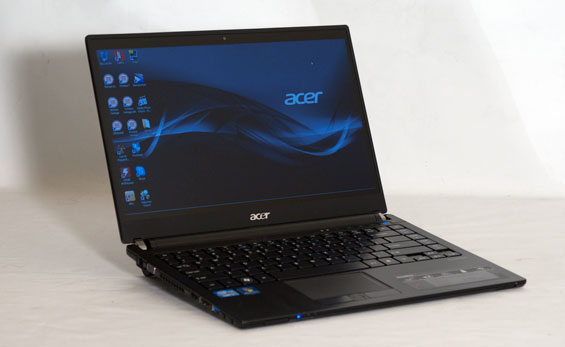 Our review model is the TravelMate 8481T-6873, and will henceforth just be referred to as the already difficult-to-remember "TravelMate 8481T." If you look for it on Acer's website you'll have a hard time finding it; it's technically a "TravelMate TimelineX" unit, which just reminds me of how convoluted their lineup was years ago when I was shopping for my old Athlon 64-powered Gateway. You're not going to find this model readily available on NewEgg but if you're interested a trip through Google Shopping will track it down.
Acer TravelMate TimelineX 8481T-6873 Specifications
Processor
Intel Core i7-2637M
(2x1.7GHz + HTT, Turbo to 2.8GHz, 32nm, 4MB L3, 17W)
Chipset
Intel UM67
Memory
1x4GB Kingston DDR3-1333 (Max 2x4GB)
Graphics
Intel HD 3000 Graphics
(12 EUs, up to 1.2GHz)
Display
14" LED Matte 16:9 768p
LG LP140WH6-TJB1
Hard Drive(s)
128GB SanDisk SATA 3Gbps SSD (onboard)
Optical Drive
-
Networking
Broadcom NetXtreme Gigabit Ethernet
Intel Centrino Advanced-N 6205 802.11a/b/g/n
Bluetooth 2.1
Audio
Realtek ALC269 HD Audio
Stereo speakers
Mic and headphone jacks
Battery
8-Cell, 14.8V, 87Wh
Front Side
SD/MMC card reader
Right Side
2x USB 2.0
Exhaust vent
Kensington lock
AC adaptor
Left Side
Ethernet jack
VGA
Exhaust vent
HDMI
eSATA/USB 2.0
USB 3.0
Mic and headphone jacks
Back Side
Battery
Operating System
Windows 7 Professional 64-bit SP1
Dimensions
12.9" x 9.4" x 0.9" (WxDxH) (without battery)
Weight
4 lbs
Extras
1.3MP webcam
SD card reader
SSD
USB 3.0
Warranty
1-year international warranty
Pricing
MSRP $1349
Available online starting at $1202
First things first: while Acer lists the height of the TravelMate 8481T at a slender 0.9", that doesn't include the fact that the battery bulges out of the back and inclines the notebook; take that into account and you're looking at about an inch and a half. That's still not bad, and you'll see later that the massive battery pays big dividends.
There's a lot to like about this configuration, but one thing is becoming abundantly clear: optical drives are most definitely on their way out. These smaller notebooks are dispensing with them entirely, and while Dell might be proud that they managed to squeeze one into their XPS 14z, most vendors seem to be content to just ditch them altogether and honestly I'm not sure I really disagree at this point. The added bulk isn't missed, and with external, USB-powered drives so inexpensive it's hard to justify building one into a notebook anymore unless that notebook was already going to be pretty big to begin with.
In terms of specs and other features, the TravelMate looks very similar to an ultrabook: it has a ULV CPU and an SSD in the model we're reviewing (though a less expensive variant uses an HDD instead). The only thing keeping this out of the ultrabook category is the size of the battery and the resulting thickness. Let's dig a little deeper and see how it fares.