Introducing the Corsair Obsidian 550D
We've been keeping track of the evolution of Corsair's line of enclosures since the Graphite 600T was released. Even as the newer enclosures generally found themselves lower and lower in price, there was a clear evolution as Corsair's engineers gained more experience and confidence with their designs. Yet each new design up to this point has been a little bit of refinement and a little bit of experimentation without any specific specialization. That changes with the 550D.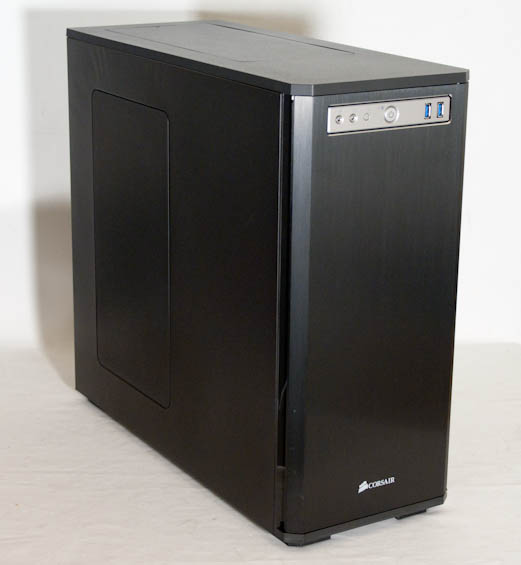 There's definitely some experimentation going on here, and there has to be: the Corsair Obsidian 550D is the first case Corsair has engineered specifically for silent running. That's not all they've experimented with, though, as you'll soon see.
Corsair's case isn't the only thing new about this review, though; we've also gone back and substantially revised our testbed and testing methodology to correct for some abnormalities and issues that may have affected the results of our previous tests. We're including some new data that should hopefully prove useful in both the short and long term. But first, let's get the skinny on the 550D:
Corsair Obsidian Series 550D Specifications
Motherboard Form Factor
ATX, Micro ATX
Drive Bays
External
4x 5.25"
Internal
6x 2.5"/3.5"
Cooling
Front
2x 120mm intake
Rear
1x 120mm exhaust (supports 140mm)
Top
2x 120mm/140mm fan mounts
Side
2x 120mm/140mm fan mounts (or 1x 200mm fan mount)
Bottom
1x 120mm/140mm fan mount
Expansion Slots
8
Front I/O Port
2x USB 3.0 (via motherboard header), 1x Headphone, 1x Mic
Power Supply Size
Standard ATX
Clearances
HSF
180mm
PSU
180mm
GPU
12.5" / 318mm
Weight
16.5 lbs.
7.48 kg
Dimensions
20.9" x 8.8" x 19.5"
531mm x 224mm x 495mm
Special Features
Acoustic dampening foam
USB 3.0 via motherboard header
Dual removable drive cages with three drive trays each
Price
$139
Corsair's design essentially falls into the same market as Antec's P280, but theoretically it's a step up from other silent-engineered cases like NZXT's H2. It has all the same accoutrements you've come to expect from a Corsair enclosure (including remarkable ease of assembly) while cribbing some ideas from Fractal Design's very successful Define R3. How successful this experiment was remains to be seen.