The tablet market is dominated, we all know, by Apple. Apple is arguably the lone American success story in the consumer electronics space. All of Apple's serious competition comes from companies outside the US, and nearly all of those are in Asia. Samsung and LG represent the Korean vanguard, with ZTE, Pantech and Huawei making inroads to the North American market now. HTC is based out of Taiwan; while Japan brings us Sony. Europe's presence in the US market is minimal, particularly now with the dissolution of the Sony Ericsson venture. Nokia has tied itself to Microsoft and is only now beginning to release products that can compete on specification and features, if not on mindshare.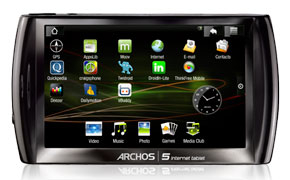 And then there's Archos. Based in France, Archos has been producing consumer electronics since 1988, with a strong focus on what some think the tablet is best suited at: entertainment. Prior to the iPad, there was the Archos 5 Internet Tablet. Released in 2008, the 5 established the mold that other tablets would soon follow, ARM based internals, varying screen sizes and storage capacities, WiFi and 3G capabilities and a Linux-based OS. The web browsing experience was less than spectacular on these early models because of the resistive touch screens and janky early browsers. The media performance, though was spectacular for the time, with DVD-quality video on a 5" 800x480 display; bearing in mind that at the time HD video was a challenge for desktops, let alone laptops or handheld devices. And with storage starting at 30GB, these were the ultimate solution for movie watching while on a long flight.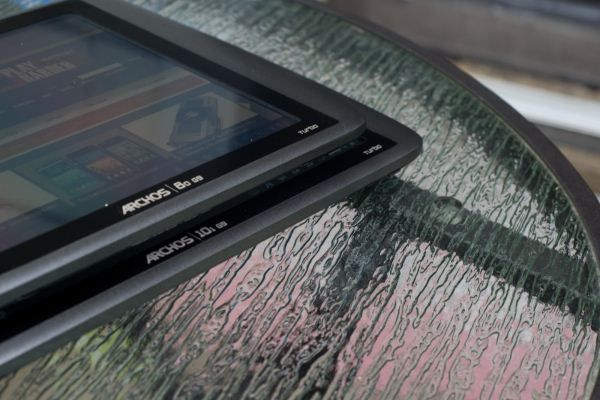 That was four years ago, the Archos G9 Turbo series is what we're here to discuss today. A lot has changed, while other things have stayed the same. We first caught wind of these tablets last year when they were touted as the fastest Android tablets in the world thanks to the 1.5 GHz clock on the TI OMAP4460 dual-core ARM Cortex-A9 SoC. Delays in producing these top models meant falling behind NVIDIA's Tegra 3, the current "World's Fastest" title holder. And while the Android tablet market was still pretty shallow last July when these were announced, it's a deep wide sea now. So how does the French entrant fare?
An Aside
Let's cover this quickly. What do we do on our tablets? Media? Yep. Gaming? Yep. Browsing? Yep. E-mail? Yep. Productivity? I recently wrote a long e-mail on the 101 G9 Turbo, and was surprised to find that by the second paragraph I was able to get decent accuracy and passable speed. The issue is that with each tablet form factor the experience is pretty different. But would I want to write on it? Probably not. I'm no artist, but a few minutes in Draw Something tells me this is not the ideal canvas for art. There's lots of task management, note and scheduling apps available on the market, but their utility is limited by the likelihood that you'd rather pull out your tablet than your cell phone when you're looking to make a note or update your schedule. The phones cellular modem makes it a more potent on-the-go device, so the tablet stays a step behind.
But these issues with productivity are a result of the tablet form factor itself, and this does not leave the category without its advantages, particular for lightweight web browsing, media consumption, gaming and e-mail. So these are the areas we'll focus on in this and upcoming tablet reviews. And before the naysayers begin hollering, yes, the iPad has grown ever stronger as a productivity device. With Ice Cream Sandwich, Android has its most stable and refined experience, both in tablet and phone form factor; but the 4th iteration of Android remains unable to overcome all Android's issues; just as the iPad's new resolution and iOS 5.1 haven't overcome the staid UI design and somewhat clunky multi-tasking.
Turbo Means Faster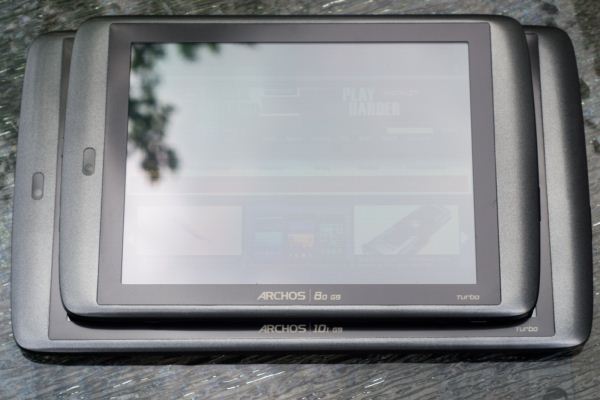 The G9 series comes in two flavors, the 80 and the 101, whose names correspond to their sizes, 8" and 10.1" respectively. Each is available with 8GB of NAND or, in a nod to Archos's traditional strength in media players, a 250 GB HDD option. We're taking a look at the 8 GB models of both the 80 and 101 G9 Turbo.
Tablet Specification Comparison
ASUS Transformer Pad 300
Apple's new iPad (2012)
Archos 80 G9 Turbo
Archos 101 G9 Turbo
Dimensions
263 x 180.8 x 9.9mm
241.2 x 185.7 x 9.4mm
226 x 155 x 11.7mm
276 x 167 x 12.6mm
Display
10.1-inch 1280 x 800 IPS
9.7-inch 2048 x 1536 IPS
8-inch 1024 x 768 TN
10.1-inch 1280 x 800 TN
Weight
635g
652g
465g (Flash) / 599g (HDD)
649g (Flash) / 755g (HDD)
Processor

NVIDIA Tegra 3 T30L (4 x Cortex A9)

Apple A5X (2 x Cortex A9, PowerVR SGX 543MP4)

1.5GHz TI OMAP 4460 (2 x Cortex A9, PowerVR SGX540)
1.5GHz TI OMAP 4460 (2 x Cortex A9, PowerVR SGX540)
Connectivity
WiFi
WiFi , Optional 4G LTE
WiFi , Optional 3G (in Europe)
WiFi , Optional 3G (in Europe)
Memory
1GB
1GB
1GB
1GB
Storage
16GB + microSD
16GB—64GB
8GB Flash / 250GB HDD + microSD
8GB Flash / 250GB HDD + microSD
Battery
24.4Whr
42.5Whr
??
??
Pricing
$399
$499—$829
$249 8GB, $349 250GB HDD
$299 8GB, $369 250GB HDD
Apple and Samsung cornered the market on super thin slates with minimalist designs, leaving plenty of room for diversity in the rest of the tablet space. Archos has opted for a landscape-biased design that emphasizes media playback, complete with a kickstand on the back. The front of each model is mostly featureless, with a black metal bezel around the screen and a 720p front-facing camera centered along the left edge. The top and bottom of the device are barren while the right features the volume buttons. Set just below mid-line the volume button is a little awkward to reach, and when held in portrait it's easy to hit accidentally. The left side of the device is thicker than the right and features the rest of the ports. For connectivity, microHDMI and microUSB are available, and a microSD slot provides expandable storage. A ⅛" RCA port and single microphone are included and a status LED sits near the bottom left corner of the tablet. The only thing truly out of place is the LED, which is really only visible when the tablet is propped or laying flat and viewed from the left side. Held in either portrait or landscape the LED would be hidden behind your hand or just otherwise out of site.

The left side is squared off and thicker than the tapered right edge, giving a strong preference to holding it in your left hand for one-handed operation. Though not as thick as some tablets, this is still nowhere near iPad 2 thin. The thickness isn't an issue, though, as the shape is easy to hold and the nearly 1.5 lbs weight of the 101 is well balanced. If you opt for the 250GB model, though, you'll make great use of that kickstand, as the magnetic drive adds another quarter pound in weight. Construction is plasticky, and an unsatisfying gap exists between the bezel and the screen beneath. This doesn't feel like a device that could survive a fall without cosmetic damage. The back is a large expanse of grey plastic, with the aforementioned kickstand, and four rubber feet for when the kickstand's neatly tucked away.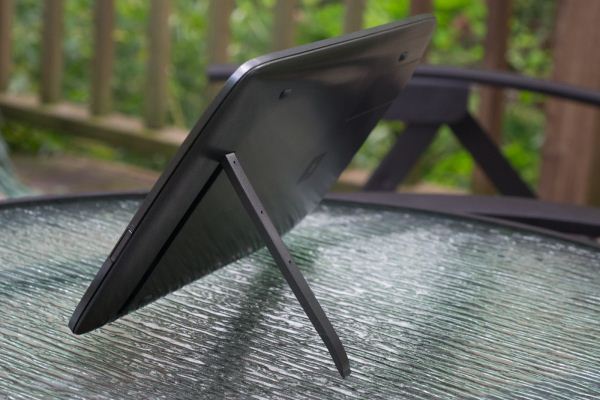 US readers need not pay any attention to the cut-out on the back; that spot is reserved for the optional 3G stick available through Archos to European buyers. The single speaker resides on the back so audio is easy to muffle by laying the tablet flat or covering the port with your hand. In an ideal world this whole tablet would be carved out of single piece of plastic or unobtainium and still cost the same amount. But this is the real world, and so for bargain prices, you typically get bargain construction. Dealbreaker? Not hardly. Low quality materials not withstanding, the ergonomics and utility of the tablet's body make the plastics a nonissue.