Build, Heat, and Power Consumption
A good boutique build really does start at the enclosure. While the NZXT cases most commonly used by boutiques aren't necessarily terrible, there's still something left to be desired when better options are available. Corsair as a brand seems to be picking up popularity with boutiques, though, and while it's probably a bit more expensive for all involved, their cases are generally a step up.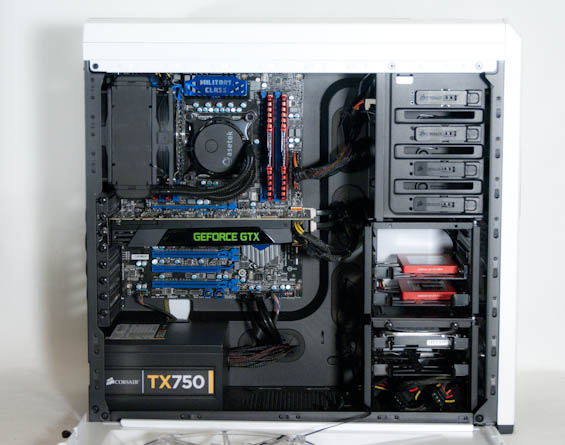 Boutique builds are usually very clean, but a case like the Carbide 500R can make it that much easier to both build and service the system. Unfortunately the beefy Asetek radiator winds up mucking things up a bit; while it gets the job done (which you'll see in a bit), it also effectively blocks the end user from two empty RAM slots, making building up the system more difficult.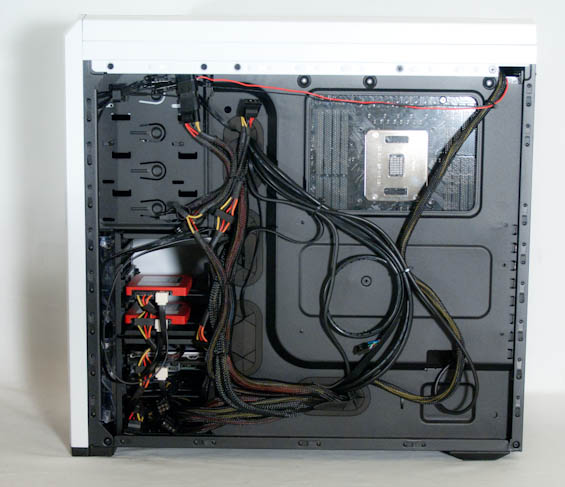 V3 does a decent job of keeping cable clutter to a minimum too, but by employing a non-modular power supply they're forced to stash the excess cables under the drive trays. The TX750 V2 is an excellent power supply, but a modular 80 Plus Gold unit might have been a nice touch (though it would've driven the cost up).
Finally, I do like the nice bit of branding that V3 does with the enclosure. The V3 logos on the front and the sides help to give the system more identity and make it feel a bit like less of an off-the-shelf assembly of hardware.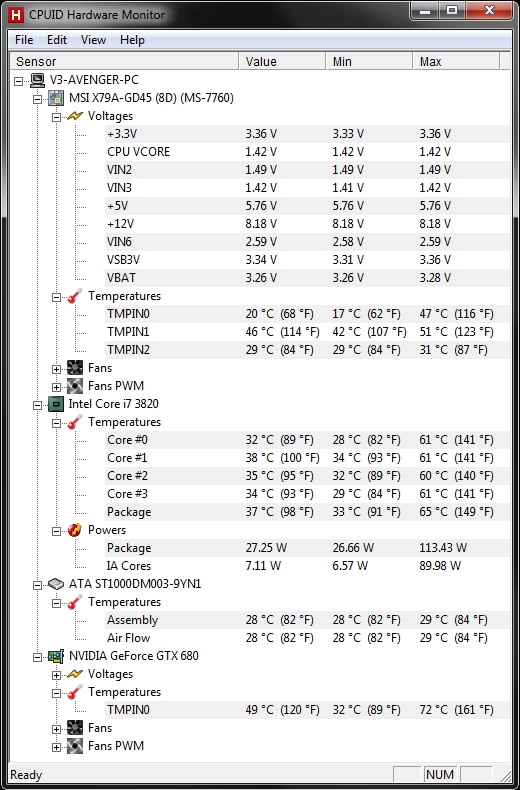 As it turns out, though, cooling isn't much of an issue for the Avenger, despite the high core voltage. We already knew the GTX 680 was an efficient piece of kit, but the i7-3820 is actually fairly frugal as well in terms of both heat and power. The Avenger remains relatively quiet even under load, making it an excellent choice for a workstation.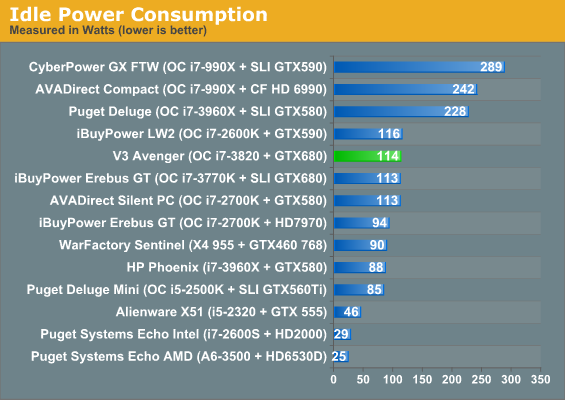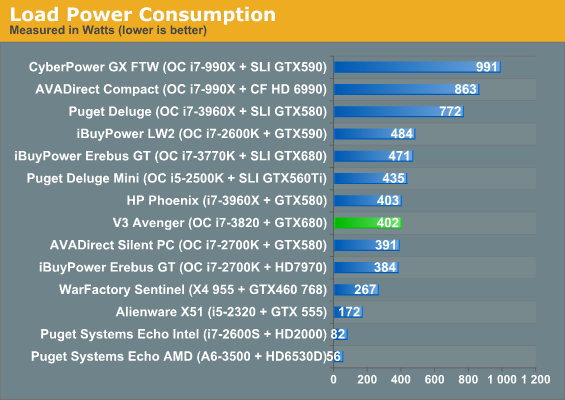 I'll admit I was concerned about power consumption with the Avenger. The MSI motherboard employed doesn't allow for setting an offset voltage, but the i7-3820 seems to be idling just fine. Load consumption is excellent as well given the high overclock on the processor. It's not the most frugal system in the world, but V3's build isn't aggressively sucking power out of the wall under stress either.