Meet The Zotac GeForce GT 640 DDR3
As we mentioned in our introduction NVIDIA is not sampling a reference GT 640, leaving that up to their partners. As always NVIDIA's partners have spread out with a variety of designs ranging from low-profile cards to relatively large double-slot cards, with a few even trying their hand at factory overclocking. Today we'll be taking a look at Zotac's GeForce GT 640, a design that's right in the middle of those extremes and fairly close to NVIDIA's internal reference design.
Taking things from the top, at this moment Zotac is in a rather unique position with their design. They currently offer the only single-slot GT 640 available at retail, with every other card being a double-slot card to fit a larger cooler. Consequently for users with ITX cases where space is at a premium, Zotac's GT 640 is generally going to be the only option.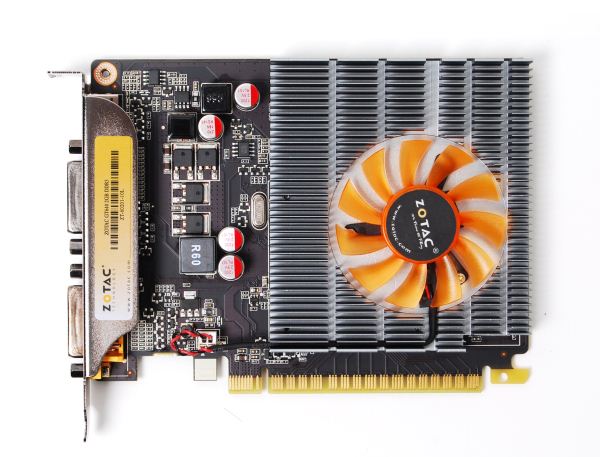 Because the Zotac GT 640 is a single-slot card, Zotac's cooler of choice is a fairly wide but shallow aluminum heatsink that spans roughly half of the card. At the center of the heatsink is a fairly small 2pin 55mm fan, which provides the necessary airflow to keep the card cool. The card's DDR3 RAM is sitting underneath the heatsink, but no contact is made nor is it necessary due to DDR3's very low operating power and temperatures.
Removing the heatsink we see the bare PCB, with the GK107 GPU and DDR3 mounted on it. Physically GK107 is an unremarkable GPU and the entire package appears to be roughly the same size as GF108's GPU package. On this Zotac card it's paired with 8 2Gb Micron DDR3-1866 modules operating in 16bit mode, which means for casual overclocking there should be a bit of headroom, but GPU DDR3 is rarely capable of going much past its rated speeds.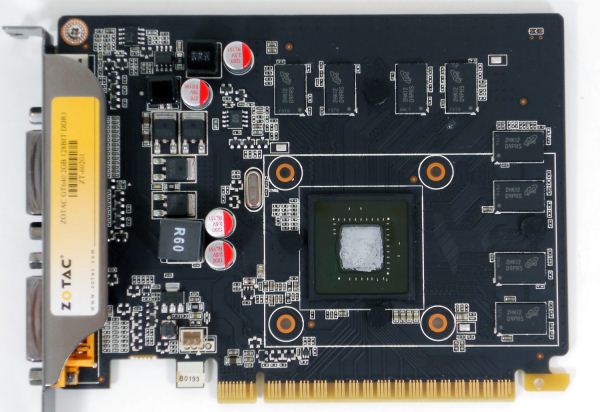 The rest of the PCB is solid yet simple; users worried about coil whine will be glad to see that Zotac is using solid chokes here as opposed to ring chokes, and we didn't notice any coil whine during operation. The card measures 5.75" long – the minimum length necessary for a PCIe x16 card – so it should fit in virtually any full-profile case.
Meanwhile looking at the ports on the card's bracket, we find NVIDIA's favored configuration of 1 DL-DVI-I port, 1 DL-DVI-D port, and a mini-HDMI port. As one of the major improvements in the Kepler family NVIDIA now has more than 2 display controllers on their GPUs, so the GT 640 can actually drive all 3 ports simultaneously. You likely wouldn't want to use the GT 640 for gaming but it's certainly powerful enough for desktop work, and this is one of the few situations where that extra 1GB of VRAM might come in handy.



Top: Zotac GeForce GT 640. Bottom: NVIDIA Reference GeForce GT 640
Unfortunately the display ports on Zotac's GT 640 also expose its one flaw, and it's a big one. On NVIDIA's reference design the mini-HDMI port is centered at the middle of the card, similar to the DVI ports. However for reasons unknown to us, Zotac has moved the mini-HDMI port on their GT 640 down by about 2mm. This doesn't sound like much, but by putting the mini-HDMI port so close to the edge of the card it introduces a crippling flaw: it doesn't leave any room for a cable to attach to it.


Zotac GeForce GT 640 Installed. Note the lack of clearance around the mini-HDMI port
Specifically, because the port is so low it's right on the edge of the usable area of the bracket, as everything below the port will be covered by the I/O shielding of the computer case. Consequently if you attempt to plug in a mini-HDMI cable or adapter, the boot of the cable will run into the case's I/O shielding before the cable is fully inserted, preventing the cable from getting a good connection and/or locking into place. The HDMI specification is actually rather strict about the size of the boot on mini-HDMI cables/adapters, and after having tested a few different adapters everything we've encountered is within spec, so this is poor planning on Zotac's part. NVIDIA's reference design and cards similar to it do not have this problem since if the port is properly centered it leaves plenty of space for the boot, which is why this is the first time we've run into this issue.
We've already brought this up with Zotac and they've told us that they intend to fix it once they've exhausted their current supply of brackets and mini-HDMI connectors, but for the time being all of their GT 640 cards will have this flaw. In the meantime the problem is not unworkable – with enough tampering it should be possible to force a mini-HDMI cable/adapter in there – but Zotac really shot themselves in the foot here by making the mini-HDMI port so inaccessible. On that note, if you do intend to take advantage of this port you'll need to bring your own gear (Zotac doesn't provide a mini-HDMI adapter), and you'll want to either use a cable or a more specialized mini-HDMI-to-HDMI adapter. The stubby adapter Monoprice and most other retailers carry won't work because the port is so close to the top of the bracket, which has been a recurring quirk with NVIDIA cards since NVIDIA started using the mini-HDMI port.
Moving on, rounding out the package is the typically bare minimum collection of extras found on budget cards. Along with a driver CD and quick start guide Zotac includes a DVI-to-VGA adapter, but not a mini-HDMI adapter. Zotac typically bundles Ubisoft games with their cards but on a budget card like this that isn't really possible, so the GT 640 comes with the next best thing, which is a 3 day trial of TrackMania 2.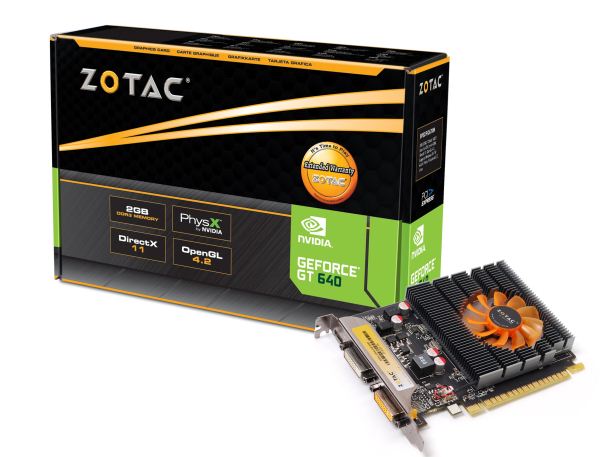 Finally, as we stated earlier the Zotac GT 640 is currently priced at $109 at Newegg and most other retailers, which makes it on-par with most other GT 640 cards. Meanwhile for the warranty Zotac is offering a base 2 year warranty, which is extended to a rather generous full limited lifetime warranty upon registration of the card.