Introducing the Corsair Carbide 300R
Ostensibly, Corsair's Carbide line of enclosures are their budget cases; the Obsidian and Graphite lines both start where the beefy Carbide 500R leaves off. Corsair's least expensive entry is the one we have on hand today, the Carbide 300R. Yet like a certain fruit-flavored company we know, they seem unwilling to part with many of the amenities that make their cases such a joy to assemble and work with, and the result is a Carbide that's caught between two worlds.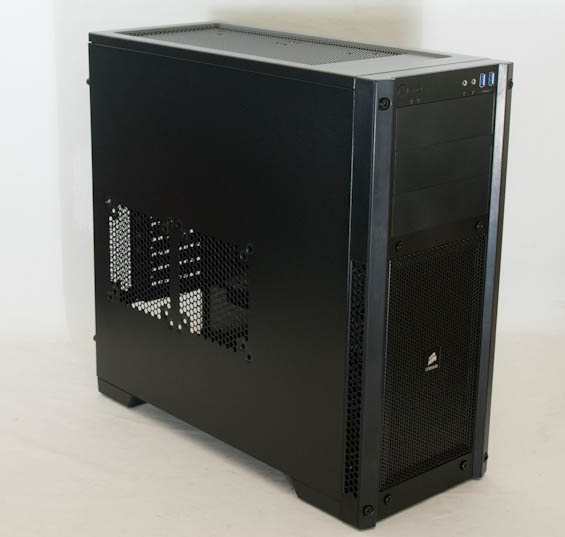 The Carbide 300R attempts to bring many of the things we've come to know and love and expect from Corsair cases down to a hopefully more palatable $79 price tag. While that's not in the "true budget" arena we've seen companies like Bitfenix and Antec stake out, it's definitely more affordable than most and may hit a sweet spot for users who don't want to spend too much on a case but want something of slightly higher quality.
For the most part you can see it just by looking at the case, too. While we've gone down to the raw fundamentals of SECC steel and black plastic, there are still a lot of smart details, and at this juncture it's still uncommon to see USB 3.0 connectivity in a budget case. When we pop it open later on, we'll see why the Carbide 300R commands its $79 asking price, for better or worse.
Corsair Carbide 300R Specifications
Motherboard Form Factor
Mini-ITX, Micro ATX, ATX
Drive Bays
External
3x 5.25"
Internal
4x 2.5"/3.5"
Cooling
Front
1x 140mm intake fan (supports 2x 120/140mm)
Rear
1x 120mm exhaust fan
Top
2x 120/140mm fan mounts
Side
2x 120/140mm fan mounts
Bottom
-
Expansion Slots
7
I/O Port
2x USB 3.0, 1x Headphone, 1x Mic
Power Supply Size
Standard ATX
Clearances
HSF
170 mm
PSU
240 mm
GPU
17.7" / 450mm
Dimensions
19.1" x 8.3" x 17.7"
485mm x 211mm x 450mm
Weight
15.9 lbs / 7.21kg
Special Features
USB 3.0 connectivity via internal headers
Price
$79
There are really only two places where you can tell Corsair trimmed some of the fat, at least from the spec sheet. Corsair's cases typically have dual drive cages, but with only four internal drive sleds, they open up space for an intake fan as well as extra long video cards. They've also removed one of the expansion slots; normally there's an eighth one (a convenience I appreciate), but going down to seven isn't a total loss since we're still within spec for a standard ATX motherboard.
What you should appreciate is the copious amount of clearance for all of the components, including the heatsink. After having a couple of close calls with our Cooler Master Hyper 212 Evo, I was pleased to see that it fit in the 300R with no complaints. The top of the 300R is designed to handle a 240mm radiator (like, say, a Corsair H100) as well.