External Impressions and Cables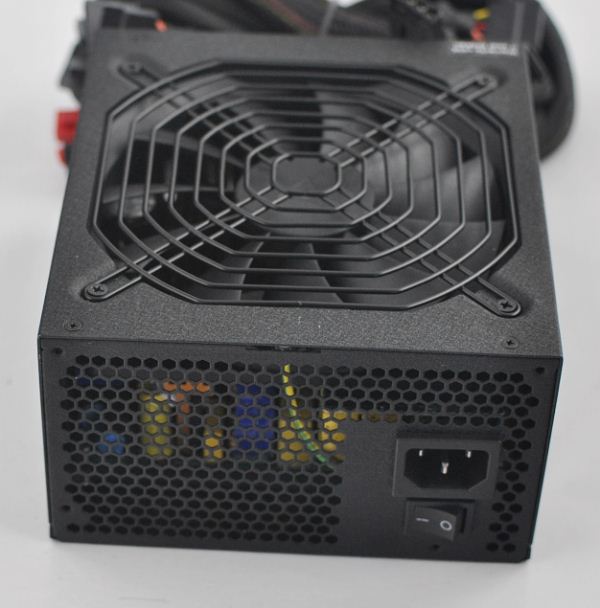 The appearance has not changed much from Rosewill's 80 Plus Gold Capstone series; the Fortress comes with a rough sandblasted texture that reminds us of some Enermax PSUs. The angular fan grille is black and the silk-screened Fortress logo can be found on both sides. As usual, the entire back is perforated to provide maximum airflow. A power switch can be found directly below the power input. The unit is quite long for a 450W model at 163mm, so it is probably not the perfect solution for HTPCs.
Cables and Connectors

Connector type (length)

Main
1x 24-pin (55cm) fixed
ATX12V/EPS12V
1x 4+4-pin (65cm) fixed
PCIe
2x 6/8-pin (50, 65cm) fixed
Peripheral
3x SATA (ca. 50, 65, 80 cm) fixed
3x SATA (ca. 50, 65, 80 cm) fixed
3x Molex (ca. 50, 65, 80cm) fixed
2x Molex, 1x FDD (ca. 50, 65, 80cm) fixed
There are five Molex and six SATA connectors attached—quite a lot for the power rating. Moreover there is a very long 4/8-pin cable for the motherboard and two plugs for a graphics card; the long ATX12V/EPS12V cable is particularly important for cases with bottom-mounted PSUs. You won't be able to run an SLI or CrossFire setup with the highest performance GPUs, but two 8-pin PEG connectors are exactly what we would expect from a 450W power supply. In addition all peripheral cables are long which is helpful when using a Full Tower, and all the cables have the same black cable sleeving. If you're planning on building a smaller mATX system, the fixed cables and their lengths might be too much, but for ATX cases that shouldn't be a problem.