Introducing the Corsair Carbide 200R
Corsair entered the enclosure business from the top with a measure of care to establish a solid brand identity. The Obsidian 800D was released as a flagship product and signalled that Corsair was serious about case design and not just looking for another revenue stream, and for the most part it was well received. Since then they've gradually trickled their designs down, with the Carbide series aimed at more frugal users. Yet the least expensive Carbide, the 300R, still runs $79 when most people would peg the price of a "budget" case as closer to $50 or $60. Enter the 200R.
The Carbide 200R is the ultimate trickling down of Corsair's case line. Coming in with an MSRP of $59 and available for just $49 as of this writing, the 200R is Corsair's shot at the extreme value consumer, but this is a very tricky market to address. The balancing act of features, performance, and price becomes substantially more difficult to manage, and Corsair has a reputation to maintain. Were they able to get the price down while keeping up with their standards for ease of use and solid performance, or did they have to sacrifice too much?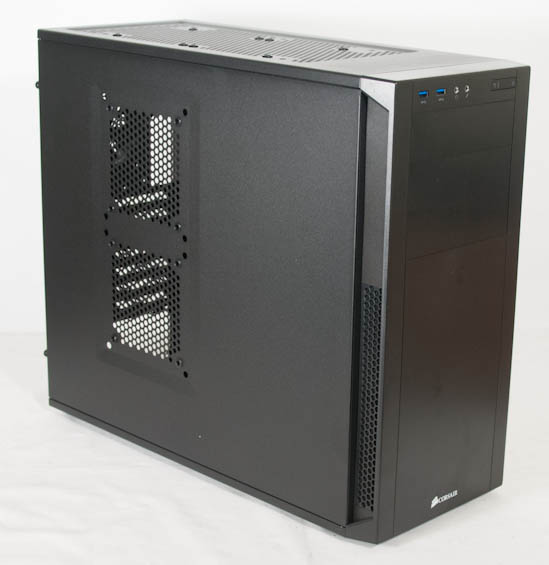 Corsair has historically been approaching their case (and to an extent, power supply and cooling) lines with a pretty clear philosophy of quality first, price second, which makes the 200R a very intriguing proposition. That low price point can become very restrictive in short order, and while companies like BitFenix have been able to strike an excellent balance by producing custom designs for each market, Corsair has been operating on a kind of trickle-down evolution that may not have been able to extend this far down. The result is a case that has a lot of familiar Corsair technology, but some newer innovations too that come with having to adapt to the low price tag.
Corsair Carbide 200R Specifications
Motherboard Form Factor
Mini-ITX, Micro-ATX, ATX
Drive Bays
External
3x 5.25"
Internal
4x 2.5", 4x 3.5"
Cooling
Front
1x 120mm intake fan, 1x 120mm fan mount
Rear
1x 120mm exhaust fan
Top
2x 120mm/140mm fan mount
Side
2x 120mm/140mm fan mount
Bottom
1x 120mm/140mm fan mount
Expansion Slots
7
I/O Port
2x USB 3.0, 1x Headphone, 1x Mic
Power Supply Size
ATX
Clearances
HSF
165mm
PSU
180mm
GPU
14" / 360mm
Dimensions
16.9" x 8.3" x 19.6"
430mm x 210mm x 497mm
Weight
15.8 lbs. / 7.17 kg
Special Features
USB 3.0 via internal header
Toolless installation for all drives
Price
$49
As you can see, Corsair's design isn't necessarily barebones as far as features go, but it's definitely stretched. Corsair has done with they can to allow for any type of expansion the end user may want to enjoy, including higher end closed-loop liquid cooling systems. The toolless installation for 5.25", 3.5", and particularly 2.5" drives is also welcome, but you'll see later on it doesn't work quite as well as we'd like.