I stopped by Allwinner today to discuss their recently announced and now-shipping A31 SoC. The A31 is based around four ARM Cortex A7 CPUs and a Power VR SGX544MP2 GPU, all built on TSMC's 40nm G process. In addition there's a fifth power saver (likely A7) core on A31 which has a lower frequency, an arrangement curiously similar to NVIDIA's shadow core — this core is likely synthesized for better power efficiency. I asked for details about CPU and GPU clocks since these weren't readily available in the launch announcement, and was told that A31 was shipping with the A7s clocked at 1.0 GHz, although the platform could go higher to around 1.2 GHz if an OEM chooses. GPU clocks on the SGX544MP2 are around 350 MHz or higher as well. Allwinner also claims to have built its own video encode and decode blocks for the A31 which is what enables the platform to decode UHD (4K) content at 30 FPS. Allwinner says that the A31 is starting out with a price of around $20 but fully expects this to go down to half or even lower during its life cycle. A31 is targeted at tablets, smartphones, TVs, ARM based notebooks, and of course small Android-running media playback boxes.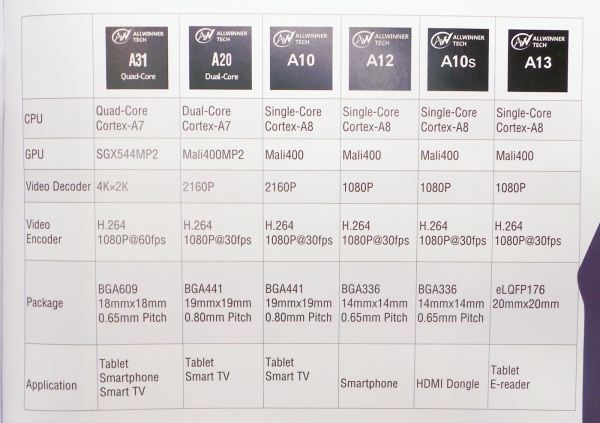 Allwinner also noted that it has an A20 SoC coming with dual core ARM Cortex A7s and Mali-400MP2 graphics which is pin compatible with A10 for easy design reuse. There's also obviously a Cortex A15-based Allwinner SoC in the works, but no word on how many cores that design will have.
Allwinner isn't as well known as some of the other SoC vendors in the US, but abroad in mainland China and other markets Allwinner has significant market share and penetration thanks to aggressive pricing. I've started to see Allwinner-based tablets emerge in the US on Amazon and other online retailers built by small one-off device manufacturers, in the future this will likely increase. There also has been an influx of Allwinner-based, Android-running media playback boxes I've noticed.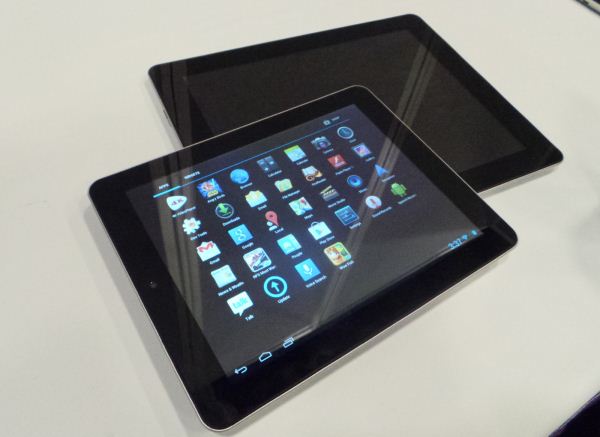 Allwinner had two tablets with A31 inside that are already shipping, built by Chinese device maker Onda. The Onda V812 which is built around an 8-inch XGA display, includes 2 GB of RAM, 16 GB of storage, 5 MP rear facing camera and 3 MP front facing camera. The Onda V812 is available from some online retailers for $180 USD which is very competitive, construction is aluminum and I was impressed by how well built it felt.
In addition I played with the 9.7-inch V972 which I'm told includes the same display that Apple sources for its iPad 4 — 9.7 inch, 2048 x 1536 IPS, which looked brilliant. I felt like SGX544MP2 was a bit under powered to drive this, but the UI was performant. Curiously enough Onda also claims to have the iPhone 4 camera module for the 5.0 MP rear camera, and 2.0 MP front facing camera. Perhaps the most intriguing part is the $239 price point online. Imported into the US and running stock Android, I feel like price points such as these could easily disrupt some things. I ran sunspider on the two Allwinner tablets, scores are visible in the gallery. Allwinner was quick to remind me that even though A31 and devices are shipping that optimizations are ongoing.
I feel like we are going to see a lot more from Allwinner and a lot more devices with Allwinner inside in the future.