On Tuesday in Taiwan, Acer announced two monitors that might be worth a look for anyone looking to put a couple of multi-monitor setups together, or interested in an attractive design combined with high resolution. The first is the S277HK, which is a 27" UHD/4K model, and the second is the H257HU which is a 25" WQHD model.
The S277HK is the first 4K monitor with a frameless design according to Acer. In addition to the 3840x2160 resolution for the IPS panel, the 27" model also has DTS surround sound though Acer does not go into specifics on how the audio is achieved. With an asymmetric stand and aluminum bezel, the S277HK certainly looks as premium as the specs would indicate. Connectivity is DVI, HDMI 2.0, and DisplayPort 1.2.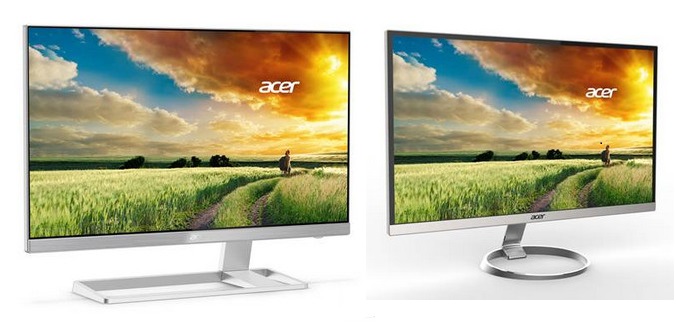 S277HK (left) and H257HU (right),
images courtesy of TechPowerUp
The second monitor announced is the H257HU, which also features the frameless design, but the IPS panel is slightly lower resolution at 2560x1440 (WQHD). This monitor also features DTS sound, and a round rim base and DVI, HDMI 2.0, and DisplayPort 1.2 inputs.
'Frameless' is a little bit of a misnomer, as typically all monitors will have some sort of edge bezel. In the smallest bezel monitors on sale, sub-6mm is quite common although specialist models exist that might go smaller. The H257HU, from the sole small image we have found access to, looks like it has a larger screen-distance, despite the 'frameless' moniker keeping the edge distance small.
The IPS panels on these devices also include features to assist with eye strain including a Flicker-less technology to reduce screen flicker, a blue light filter which Acer claims helps with long term eye damage, and a Low Dimming technology to allow the backlight to be set as low as 15% for low light environments. Both monitors also include "ComfyView" to assist with screen reflections.
Both models will be available starting in Q4 2014, with global availability. Neither refresh rates, color accuracy nor prices have not been announced at this time.
Source: Acer