Today Microsoft has finally created tables outlining what the different versions of the operating system are going to feature. It was back in May that they finally announced all of the versions of Windows 10 that are coming, but the actual features of each version was still a mystery. We could of course take an educated guess based on history, but as of today there is finally a list of all of the features broken down by version.
As a refresh, on the PC there are four basic versions. Home and Pro are the two that will be available for most people to purchase, and Enterprise is available to customers with volume licensing agreements. There is also an Education edition targeted towards that market.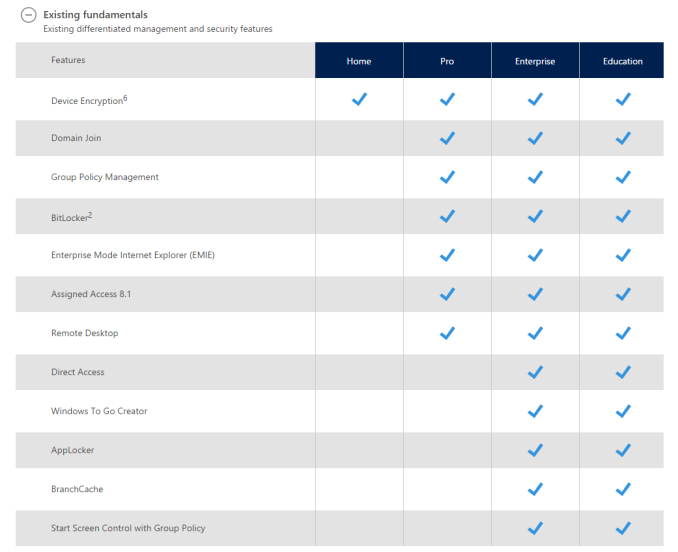 As expected, Home has the fewest features available. Much like previous versions, there is no support to join an Active Directory domain, but that was not expected either. One thing that many users were hoping to see on Windows 10 Home is BitLocker support. BitLocker is Microsoft's drive encryption suite, and Windows 10 Home does not have this unfortunately. There can still be encryption, but only as part of InstantGo, which was formerly known as Connected Standby. InstantGo is Connected Standby plus device encryption, and that is available to Home.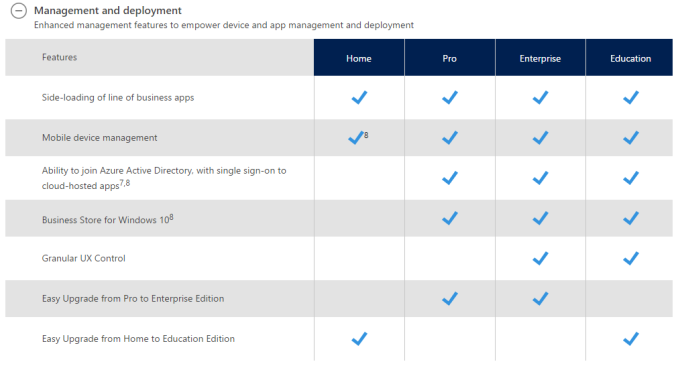 Windows 10 Pro keeps support for Remote Desktop, and it can of course join an Active Directory domain just as in prior versions. It also has access to the new Windows Update for Business service, but it must be kept on the Current Version branch.


Enterprise and Education are very similar, and both offer practically the same feature set. The one big difference is that Enterprise customers can opt into the Long Term Servicing Branch whereas Education customers cannot.
Pro, Enterprise, and Education also have access to the Business Store for Windows 10, and even the Home version supports side-loading of business apps.
One thing that is nice to see is that all versions feature support for Mobile Device Management, although the Home version will not have this support initially and it will be added at a later time.