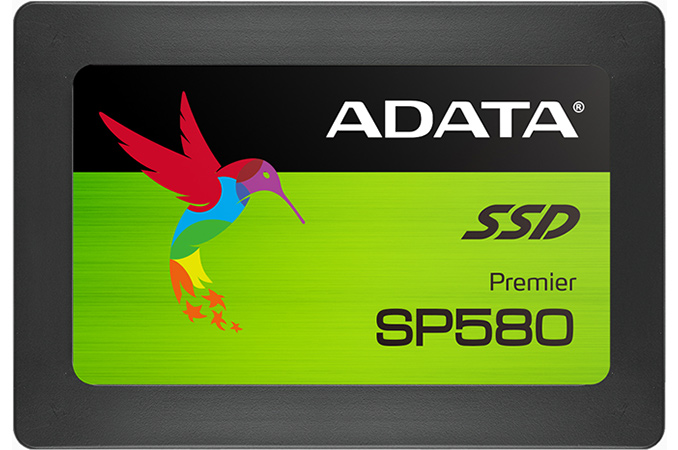 Last week, ADATA announced its new inexpensive lineup of SATA SSDs: the new Premier SP580 drives use Marvell's 'Artemis' controller aimed at value storage, as well as TLC NAND flash from SanDisk.
The new ADATA Premier SP580 family consists of two models, with 120 GB and 240 GB of TLC NAND produced using 15 nm process technology by SanDisk. The new drives are based on the Marvell 88NV1120 controller and do not use DRAM cache, which lowers their cost and puts them further into the cheap SSD category: DRAM-less controllers are expected to populate the low-cost segment over the next year. The manufacturer declares 560 MB/s / 410 MB/s maximum sequential speed for the 120 GB version of the SP580 SSD. ADATA notes that the 120 GB version is slower than the higher-capacity model, but does not elaborate as to the 240GB specification. Keeping in mind SATA performance limitations and how these drives work, read performance of both Premier SP580 SSDs should be similar, but expect the 240 GB model to offer slightly better write performance.
ADATA Premier SP580
Capacity
120 GB
ASP580SS3-120GM-C
240 GB
ASP580SS3-240GM-C
Controller
Marvell 88NV1120
NAND
SanDisk 15 nm TLC
Sequential Read
Up to 560 MB/s
Sequential Write
Up to 410 MB/s
>410 MB/s
TBW
70 TBW
>70 TBW
MTBF
1.5 million hours
Form-Factor
2.5"/7mm
Warranty
Three years
Availability
Mid-2016
The Marvell 88NV1120 controller was specifically designed for entry-level SATA drives. It enables SSD makers to build DRAM-less solid-state storage devices and supports pseudo-SLC caching to speed up writing performance of TLC NAND-based drives, a near-must feature on low capacity hardware. One of the most important capabilities of the Artemis controllers is support for Marvell's third-generation NANDEdge error correction control and management technology. This is based on low-density parity-check (LDPC) code and reduces data errors, improves data integrity and thus should increase the endurance of NAND from constant rewrites.
Formally, the Adata Premier SP580 is positioned above the Adata Premier SP550, which was introduced in August 2015, and should be one of the most affordable SSDs available. The SP550 is based on the Silicon Motion SM2246EN controller as well as TLC NAND from SK Hynix. Performance specifications declared by the manufacturer are similar for both drives, hence, it is impossible to even make guesses regarding their real-world performance because of different controllers and different memory.
What should be kept in mind is that the SP580 is DRAM-less and could be $1.5 – $2 cheaper (the average spot price of one 4Gb DDR3-1600 memory chip at press time was $1.454) to make than the SP550, assuming that other costs (NAND flash, controller, etc.) are the same. If ADATA managed to make a DRAM-less SSD faster than a drive with DRAM cache, this could be an important achievement. In particular, it could enable manufacturers to improve the performance of inexpensive SSDs while making them even more affordable.
The manufacturer plans to release the 120 GB model first and then follow up with higher-performance 240 GB configuration. The more affordable model carries a $49.99 price tag, whereas the 240 GB version will have MSRP of around $79.99.
Source: ADATA