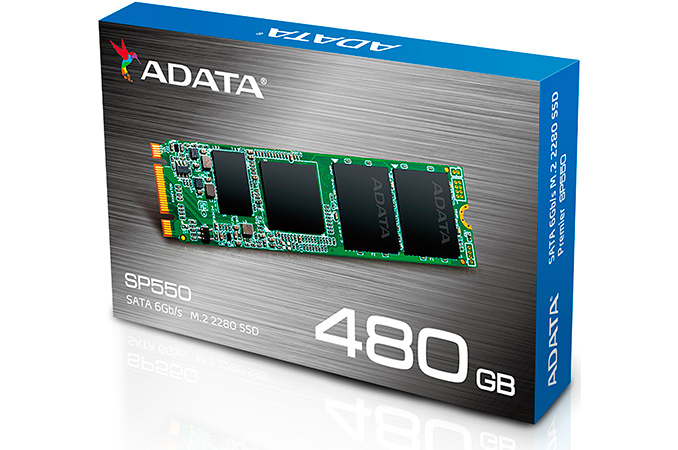 ADATA has introduced a new family of SSDs that come in M.2 form-factor and are more affordable than the majority of M.2 drives on the market. The Premier SP550 SSDs in M.2 form-factor utilize familiar architecture, a controller from Silicon Motion as well as TLC NAND flash memory. The most advanced M.2 Premier SP550, the 480 GB, has hit the street at $120.
The ADATA Premier SP550 is powered by the Silicon Motion SM2256 controller as well as TLC NAND flash memory produced by an unknown maker (though it's likely that the M.2 drives use chips from SK Hynix, just like the SP550 SSDs in 2.5" form-factor). The SM2256 controller supports error correction control and management technology based on low-density parity-check (LDPC) code to reduce data errors and increase data integrity. Besides, the SP550 drives use pseudo-SLC caching to ensure high writing performance as well as a dedicated DRAM cache.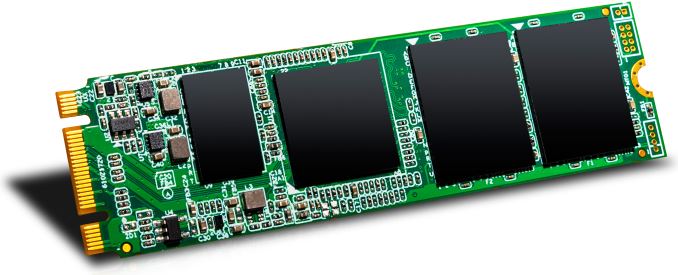 The Premier SP550 SSDs are available in 120 GB, 240 GB and 480 GB configurations; they come in M.2-2280 form-factor and use the SATA 6 Gb/s interface, which means that performance of the new drives is in line with that of 2.5" SSDs based on the SMI SM2256 controller. ADATA claims that the new drives feature maximum read/write speeds of up to 560/510 MB/s as well as 4K random read at up to 75K IOPS. Exact performance specifications were not touched upon by ADATA, but they should be similar to comparable 2.5" models of the SP550.
ADATA Premier SP550 M.2 Specifications
Capacity
120GB
240GB
480GB
Controller
Silicon Motion SM2256
NAND Flash
SK Hynix 16nm TLC (?)
Sequential Read
560MB/s
560MB/s
560MB/s
Sequential Write
410MB/s
510MB/s
510MB/s
Random Read IOPS
60k
75k
75k
Random Write IOPS
70k
75k
75k
TCG Opal Encryption
No
Power Management
Slumber and DevSleep
Warranty
3 years
Current Retail Price
$49.99
$79.99
$119.99
ADATA released the original Premier SP550 SSDs in 2.5" form-factor in 2015. The drives were originally positioned as ultra low-cost solutions, and in our review we found that ADATA was able to hit a good balance between price and performance, offering solid performance for a low-cost SSD combined with very agressive pricing. Unsurpsingly then, they have been among the most affordable drives in the U.S. retail for quite some time now.
Finally, for retail pricing, ADATA has set the MSRPs of the M.2 Premier SP550 SSDs at $49.99 for 120 GB, $79.99 for 240 GB, and $119.99 for 480 GB version. This ends up being slightly higher than the 2.5" drives already on the market, though it's also fairly typical for M.2 drives as a whole.
Source: ADATA