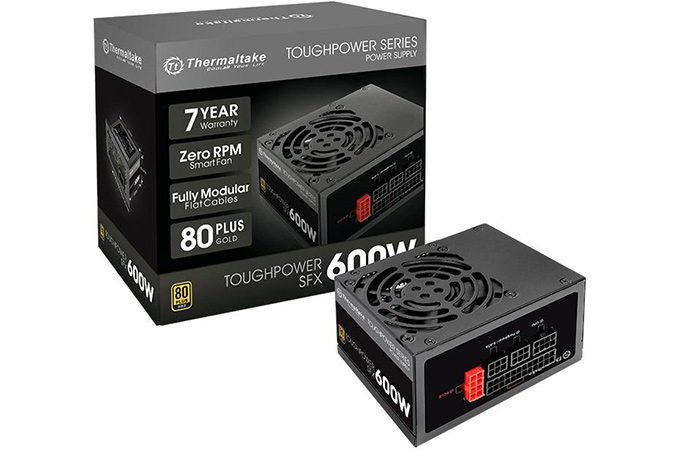 Thermaltake has introduced its first SFX power supplies designed for gaming PCs. The new Toughpower SFX series of PSUs will have two models, both of which are 80 Plus Gold rated and feature a modular design. Thermaltake, which is primarily known for its PC cases and high-power PSUs for high-end PCs, will become the fourth major PSU maker to introduce gaming-grade SFX power supplies after Corsair, FSP and SilverStone.
The Thermaltake Toughpower SFX lineup will have two SKUs rated for 450 W (STP-0450F-G) and 600 W (STP-0600F-G, STP-600AH1FEG) maximum load. Both power suppliers are compliant with SFX12V V3.3 and ATX12V V2.4 specifications as well as carry the 80 Plus Gold certification. Thermaltake advertises three key features: the 80 mm fan that does not operate at low loads, a modular design with flat-type cables to ensure easy cable management, and a seven-year warranty. Thermaltake also includes an SFX to ATX adapter bracket into the package to make its SFX PSUs compatible with Mini-ATX builds as well, which is logical since the power supplies were developed with general gaming PCs in mind and can be used for a variety of PC cases, not just for tiny ones.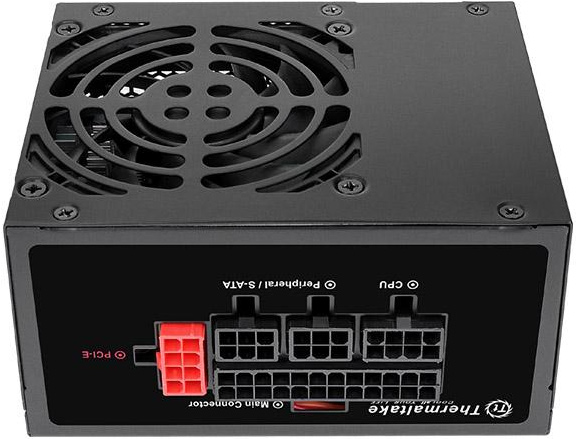 The Toughpower SFX PSUs will have a similar internal design (but not exactly the same, see images below) as well as an identical set of connectors. Both power supplies feature EPS12V power connectors (one 24-pin and a 4+4-pin connector), a single PCIe 6+2-pin power connector, one SATA power connector as well as one connector for peripherals.
Thermaltake Toughpower SFX Series
Connector type
Hardwired
Modular
ATX 24 Pin
-
1
EPS 4+4 Pin
-
1
PCI-E 6+2 Pin
-
1
SATA
-
1
Peripherals
-
1
Since both PSUs have only one PCIe 6+2-pin power connector, they are compatible with modern graphic cards that use only one 8-pin PCIe auxiliary power input. Some users may feel that 600W with only one PCIe connector is very limited, and will cut out some of the most powerful small form factor GPUs.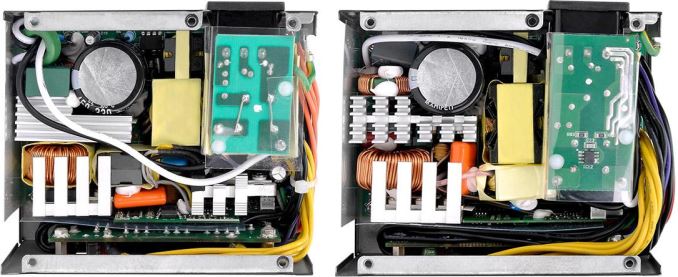 Inside Thermaltake's Toughpower SFX 450 W (left) and Toughpower SFX 600W (right)
Thermaltake's Toughpower SFX PSUs should hit the market shortly, but we do not have the prices at this time.
Source: Thermaltake