Bargain Basement, 1 + 2 + 3
#1: Feihong Industry Company Limited and the FXH-09
The first AIO-VR (all-in-one virtual reality HMD) was actually one of the better ones out of the set. For $100 sample price, coming down to $75 on 3000+ orders, the headset uses a Rockchip RK3288 SoC which we've seen in tablets before. It's a four-core ARM Cortex-A17 design, running at up to 1.8 GHz, with Mali T760MP4 graphics. It barely powers a tablet, so you can imagine it does wonders in an AIO-VR.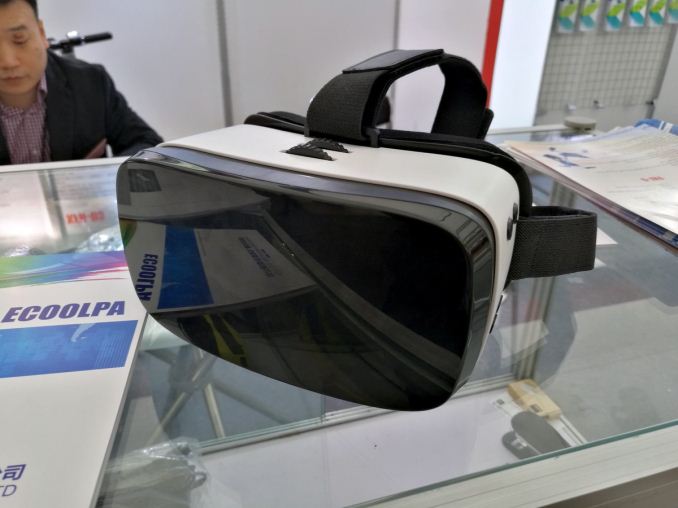 Aside from the SoC, the headset uses a single 5-inch IPS Full-HD display, similar to a smartphone unit. The display actually quotes 72% NTSC, with 60 Hz and 1000:1 contrast ratio (I should be so lucky). The 2GB/16GB arrangement is on the low end, and to my surprise (or perhaps not) there is only 802.11n in this model, and I would bet that it is single stream as well. Battery comes in at 4000 mAh.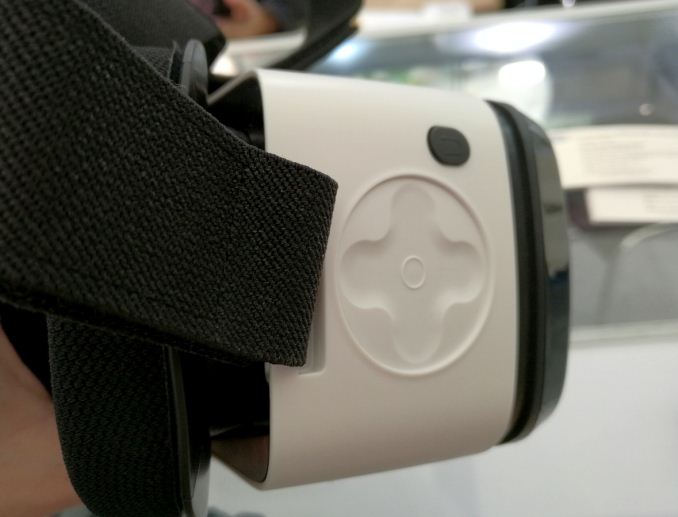 Other specifications include a mini-HDMI port, micro-USB for charging, 5V/2A charging supported, a bundled Bluetooth joypad, and a total device weight of 460g. It's worth noting that this headset, like a number of others in this list, uses a modified version of Android. The Nibiru variant seems designed for VR interaction in this case.
The design is simple, as one might expect from an ODM (it's up to the OEM/reseller to add the flair), and this headset goes above a number of others in this list – we have separate controls for IPD (inter-pupillary distance, as in the distance between the eyes because everyone is different) as well as screen positioning for eye-lens-screen focusing. The lenses move as one unit for IPD adjustments, in and out, but that is more than most.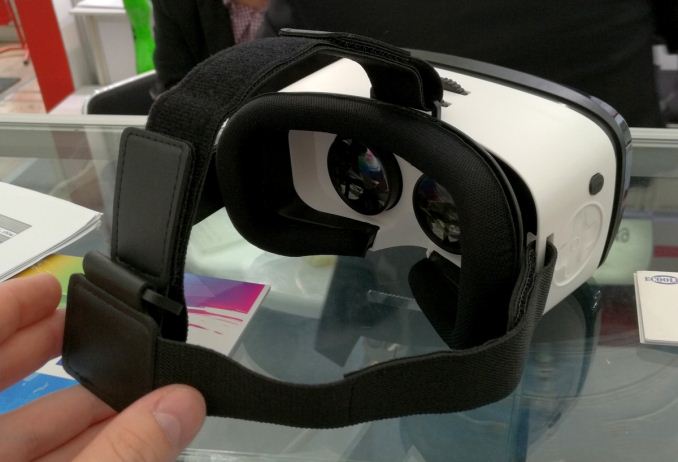 There's no counterweight on the rear, meaning that the whole 460 grams rests on the face, and the design uses the side pad for in-scene adjustments. The nose grip at the bottom certainly wasn't complete, letting in light; however I was told that again it can be an OEM adjustment.
If it's $75 for the OEM, by the time it hits the market it would be at least double that, once a few stickers, logos and distribution is added.
#2: rftech VRA009
If you have ever wanted to look like Geordie LaForge from Star Trek, the rftech might have something cheap enough for a bad costume. The VRA009 is their ODM solution, striking at the heart of the low cost.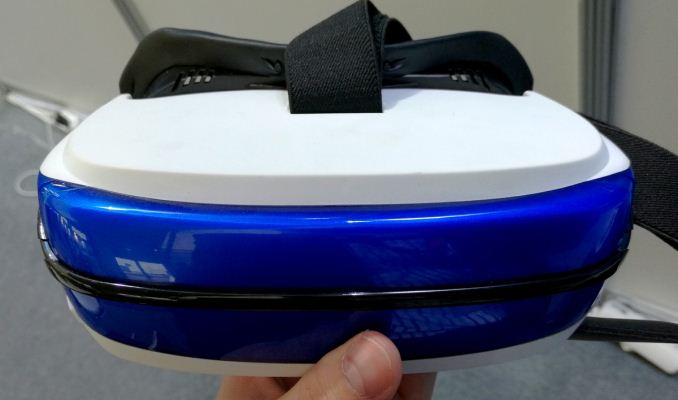 It's all in the specifications: an Allwinner F1C100A, which is a single ARM9-based 32-bit core ARM926EJ-S solution with an integrated VPU in the back end, but the dual 800x480 screens might be the catch. Fair play in actually using dual 3-inch Sharp LCD panels giving a total 800x960 resolution, but I wonder which would struggle the most: understanding the low pixel environment or the low-end GPU stretched to the limit.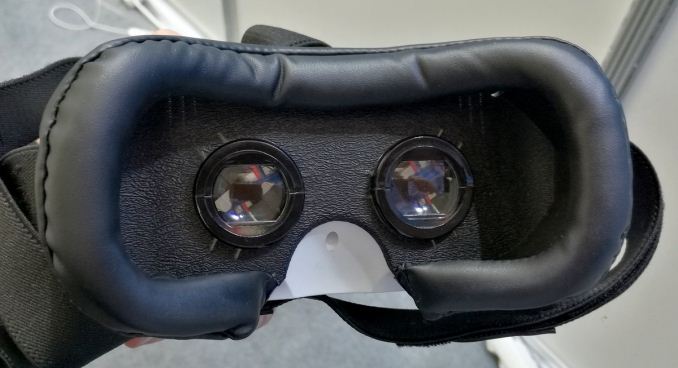 The marketing image on the side showed a picture of the Hulk in the field of view, and quoted 3D play time of 4 hours, with an integrated 'real 3D player'. I wonder if that's 3D in the sense of pseudo applied 3D, or actual 3D content - but not the 120 Hz stuff as I'm pretty sure these are 30/60 Hz panels. Other specifications were not present, I was told I'd be sent a press kit but none arrived at the time of posting.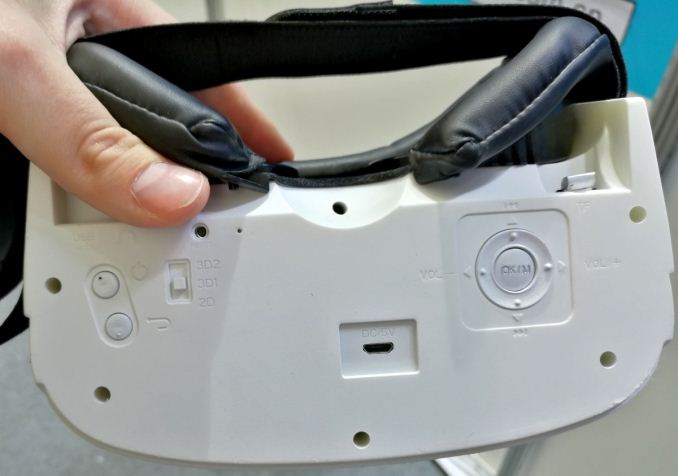 The black on blue visor look draws the eye to the design, and the AIO-VR puts all the buttons on the bottom. We get a full directional pad, a power/return button, a micro-USB for charging, and a slider indicating '2D/3D1/3D2', which I can only assume is a slight adjustment for the lenses depending on the mode it is in. There is no IPD adjustment, with the lenses being fixed.
The inside of the VRA009 was also bathed in light when equipped (hunting for VR at these shows is like an RPG), with the leatherette surround instantly feeling uncomfortable and obviously prone to inducing sweat over long periods.
In this case, I'm sure that rftech is pitching this device purely for media content consumption. I doubt it could pass even basic 3D interactivity without inducing nausea, but that's something that you have to play with when it comes to cheaper VR headsets.
#3: OMG Electronic Limited
No name for this particular AIO-VR, and no specs either, but it does a new thing that the other headsets haven't done so far – per-eye IPD adjustments.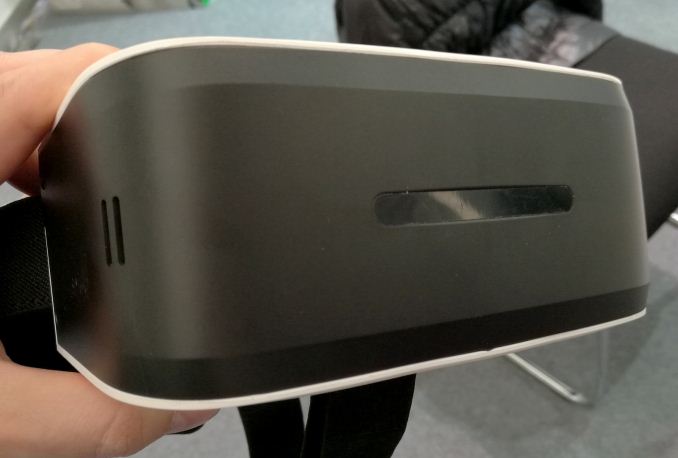 The styling is a basic black surround over a white chassis, which seems to be a common theme with these headsets. There's space for the OEM/reseller to slap a logo on the front, and all the buttons are placed at the top.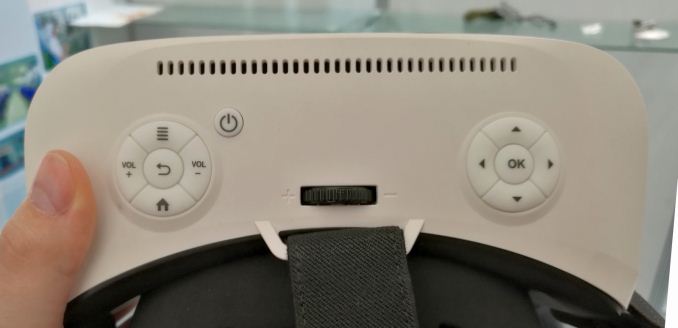 Dual directional pads cater for practically everything in a very simple 'here are some Android buttons and a d-pad' implementation. The power button is extremely close to the volume down button, so I can imagine a user quite easily fumbling for it and accidentally turning the hardware off. Oops.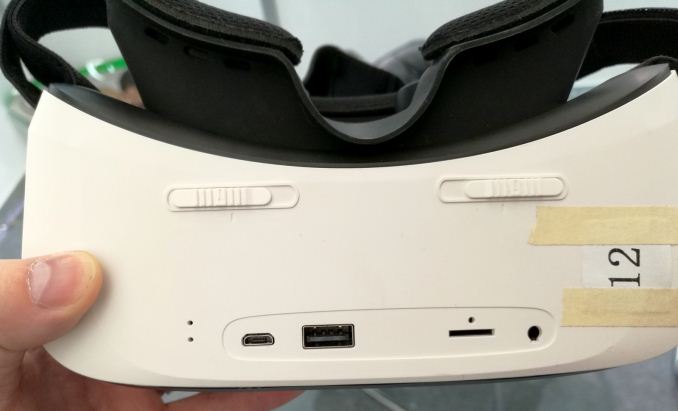 The bottom has the IPD adjustment sliders, and they were actually very smooth in their operation. When in position, tilting the headset did not adjust the arrangement, which is good to see (and something I might fear from a cheap headset). The bottom of the device also has a USB port, a microSD card slot, a 3.5mm jack for audio and what I believe is a mini-HDMI port as well.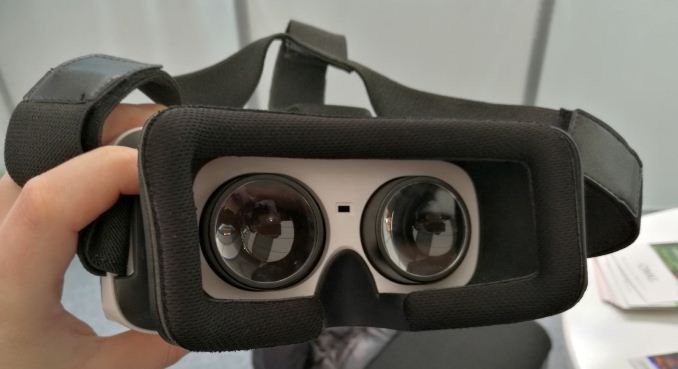 Inside, the lenses look substantial bits of PMMA (polymethylmethacrylate) plastic, as there would be no glass here, with a woven spongy surround that feels a lot better than the leatherette of other devices. Again, there's no real nose guard for stray light, leaving it up to the reseller to sort out.