ASRock Z270 Supercarrier Board Features
A quick look at ASRock's website easily reveals that they intended the Z270 Supercarrier to be for professional designers and content editors. That, however, is a very narrow segment of the market, so the company's engineers tried to add features that would also entice gamers and enthusiasts with larger budgets. The main highlight of the Z270 Supercarrier is the presence of four PCIe ×8 slots that allow for triple and quad SLI configurations, for either productivity or gaming. Other than that, ASRock has also added a very powerful CPU circuitry and advanced controllers that would appeal to gamers, as well as extensive storage device support that is needed by professionals. Despite the sheer number of features and supported devices, the dimensions of the Z270 Supercarrier are those of a standard ATX motherboard, ensuring compatibility with a far greater number of PC cases over an E-ATX design.
ASRock Z270 Supercarrier
Warranty Period
3 Years
Product Page
Link
Price
Link
Size
ATX
CPU Interface
LGA1151
Chipset
Intel Z270
Memory Slots (DDR4)
Four DDR4
Supporting 64GB
Dual Channel
Up to DDR4-3733+
Memory Slots (DDR3L)
None
Video Outputs
HDMI 1.4a
DisplayPort 1.2
Network Connectivity
AQC108 / Intel I219-V / Intel I211-AT
Onboard Audio
Realtek ALC1220
PCIe Slots for Graphics (from CPU)
4 × PCIe 3.0 via PEX 8747
(×16/×16, ×16/×8/×8, ×8/×8/×8/×8)
PCIe Slots for Other (from PCH)
1 × PCIe ×1
Onboard SATA
Six, RAID 0/1/5/10
Onboard SATA Express
Two
Onboard M.2
3 × PCIe 3.0 (x4)
Onboard U.2
None
USB 3.1
Two Type-C (Intel JHL6540)
USB 3.0
4 x Type-A Rear Panel
4 × via headers
1 × Type-A onboard
USB 2.0
2 × Rear Panel
4 × via headers
Power Connectors
1 x 24-pin ATX
1 x 8-pin CPU
1 x 6-pin GPU
Fan Headers
1 x CPU (4-pin)
1 x Pump/Aux (4-pin)
3 x System (4-pin)
IO Panel
4 x USB 3.0 (USB 3.1 Gen 1)
2 x USB 2.0
2 x USB 3.1 Type-C/Thunderbolt 3
1 x CMOS Reset Button
3 x Network RJ-45
1 x DisplayPort 1.2
1 x HDMI 1.4a
1 x Combo PS/2
5 x 3.5 mm Audio Jacks
1 x Optical SPDIF Out Port
Other Features
WiFi/BT Onboard
Supports Intel® Optane™ technology
Front Audio Header w/ TI NE5532 amplifier
COM port header
RGB lighting
Dual LAN with Teaming
In The Box
We get the following:
Driver Disk
Quick Installation Guide
Software Setup Guide
Rear I/O Shield
Four black SATA cables (two straight, two with a 90° connector)
SLI HB bridges (2-way, 3-way, and 4-way)
RGB strip cable
Wireless antennas
Case badge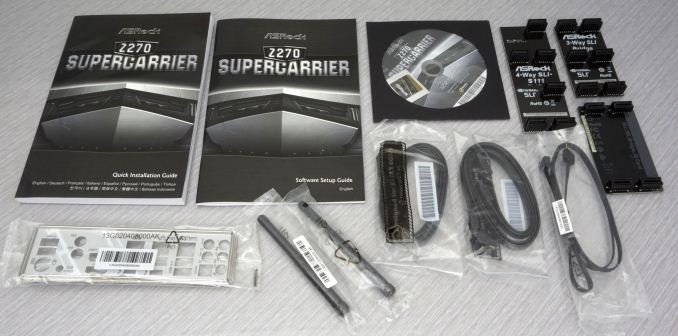 The items bundled alongside with the Z270 Supercarrier begin with a standard manual, a drivers/software DVD, a metallic I/O shield, a case badge, and four SATA cables; ordinary items that can be found accompanying almost any motherboard. However, we also find an extra cable for external RGB strips, two wireless antennas, and three HB SLI bridges. The HB SLI bridges are specially designed so as to support the NVIDIA GTX 1080 GPUs. However, we found the inclusion of typical antennas strange, as they often are the cause of space issues behind a case. A single wired antenna such as the one ASRock supplies with the Z270 Gaming-ITX/ac would have been much more convenient.
ASRock Z270 Supercarrier Overclocking
Experience with ASRock Z270 Supercarrier
Although the main target group of the Z270 Supercarrier are professionals, most of which are unlikely to do any overclocking at all, ASRock included a wealth of overclocking options and advanced circuitry to support it. This was probably an effort to make the Z270 Supercarrier a competitive option for enthusiastic gamers with large budgets. No matter the reason, the Z270 Supercarrier does have both the hardware and the software to support extensive overclocking. The power circuitry is excellent and the BIOS is very flexible, with the voltage and frequency options having excellent range and step.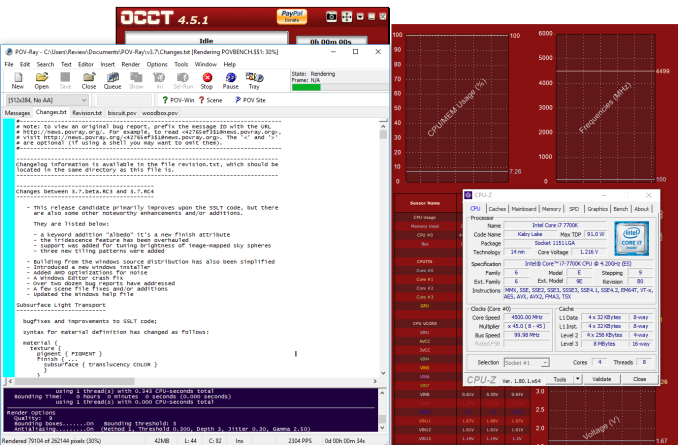 Methodology
Our standard overclocking methodology is as follows. We select the automatic overclock options and test for stability with PovRay and OCCT to simulate high-end workloads. These stability tests aim to catch any immediate causes for memory or CPU errors.
For manual overclocks, based on the information gathered from previous testing, starts off at a nominal voltage and CPU multiplier, and the multiplier is increased until the stability tests are failed. The CPU voltage is increased gradually until the stability tests are passed, and the process repeated until the motherboard reduces the multiplier automatically (due to safety protocol) or the CPU temperature reaches a stupidly high level (100ºC+). Our test bed is not in a case, which should push overclocks higher with fresher (cooler) air.
Overclock Results
At this point we should again mention that the ASRock Z270 Supercarrier has multi-core turbo enabled by default, which is common, but also has a default turbo multiplier of ×45 rather than ×44, essentially overclocking our 7700K CPU to 4.5 GHz by default.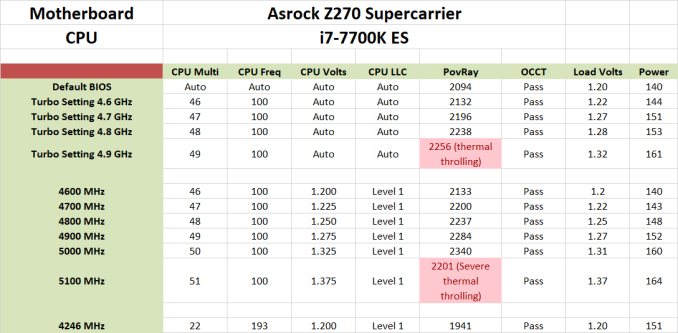 Testing the automated overclock options proved that ASRock's overclocking presets will work fine for users that do not want to concern themselves with detailed settings. The automated setting however are, as expected, a little too generous with the voltage. Our system was working fine with the Turbo CPU setting up to 4.8 GHz but any further than that would raise our processor's temperatures too high and trigger thermal throttling. Better cooling solutions and a lucky CPU pick can yield much better overclocking results if done manually. Manual control allowed us to reach a fully stable overclock of 5.0 GHz. Ultimately, what limited us was the thermal performance of our CPU and not the motherboard.
The ASRock Z270 Supercarrier also handles high BCLK frequencies very well. We managed to reach a fully stable frequency of 193 MHz with virtually minimal tweaking. Note that the newer motherboard designs decouple the CPU bus from the rest of the frequency domains in order to allow for these high BCLK overclocks, meaning that the performance of other components and the system's overall bandwidth remains unaffected. On the contrary, frequency misalignments can cause an overall performance drop. Thus, this technique is useless to users who have unlocked CPUs and should be used only to overclock locked CPUs.