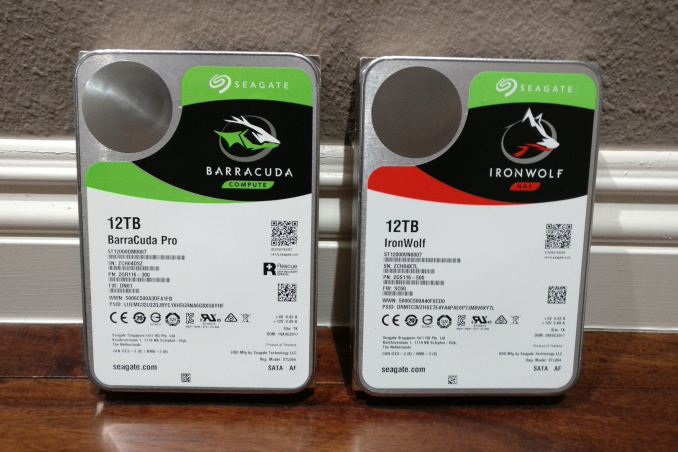 Seagate is launching a trio of 12TB hard drives today with a focus on the consumer market. The 3.5" drives build upon the 'PMR platters in a helium-filled enclosure' platform used in the 10 TB consumer hard drives released last year. The new 12TB drives target three different market segments:
Barracuda Pro Compute for desktops and entry-level direct-attached storage enclosures
IronWolf NAS for 1-8 bay home, SOHO, and SMB NAS enclosures
IronWolf Pro NAS for 1-16 bay creative professional and SME NAS enclosures
These are not the first 12TB drives in the market, as enterprise versions from both Seagate and Western Digital have been around for some time. However, Seagate is the first vendor to bring down the prices and ship 12TB drives in the consumer market.
From a hardware viewpoint, the three drives are similar to the Seagate Enterprise Capacity v7 drives launched in March 2017. All of them features eight PMR platters with a 923 Gb/in2 areal density in a sealed enclosure filled with helium. That said, the Barracuda Pro Compute, meant for desktop use, doesn't come with rotational vibration (RV) sensors or dual-plane motor balancing hardware. The RV sensors and the dual-plane balance / AgileArray features enable reliable performance in multi-drive enclosures. The other important differentiation aspects include firmware features, warranty / workload ratings, and value-added services like the Seagate Rescue Data Recovery.
The table below compares the characteristics of the three drives being introduced today.
Seagate Guardian Series 12TB HDDs
Barracuda Pro Compute
IronWolf NAS
IronWolf Pro NAS
Model Number
ST12000DM0007
ST12000VN0007
ST12000NE0007
Use Cases
Content Creators Desktops / Workstations
Consumer Desktops / AiOs
Home Servers
Entry-level DAS Units
1-8 bay NAS Enclosures
1-16 bay NAS Enclosures
RPM
7200 RPM
Interface
SATA 6 Gbps
DRAM Cache
256 MB
Maximum Sustained Transfer Rate
250 MB/s
210 MB/s
250 MB/s
Rated Workload
300 TB/yr
180 TB/yr
300 TB/yr
Power Rating
Idle
5.0 W
Active
7.8 W
Standby / Sleep
0.8 W
Load / Unload Cycles
300K
600K
Non-Recoverable Error Rate
< 1 in 10E15
MTBF
Unknown
1M hours
1.2M hours
Warranty
5 years
(2 years data recovery service included)
3 years
5 years
(2 years data recovery service included)
Launch Price
$430 $530
>$390 $470
$440 $540
HGST and Western Digital had come out with a number of helium-based drives for different applications before Seagate had even put out a single drive in that category. However, with the introduction of the Guardian series last year, Seagate wrested the initiative by targeting multiple market segments at the same time. The drives being launched today cement Seagate's position in the consumer HDD market - they have the highest-capacity drives for both desktop and NAS usage currently. Their helium production line also seems to have achieved economies of scale - the launch prices of the 12TB drives undercut the 10TB ones from last year by as much as $100 (Update: Seagate corrected the pricing information provided to us in the initial press kit after our article was posted. The cost is now much closer to the WD Gold 12TB @ $520. The WD Gold is meant to go against the Seagate Enterprise Capacity v7, and has a 550 TB/yr workload limit. This makes the pricing for the Barracuda Pro and the IronWolf Pro a bit hard to digest) The $/GB metric has come down, as the launch prices for the 12TB drives are approximately the same as what we saw for the 10TB drives last year. That is definitely good news for consumers.​