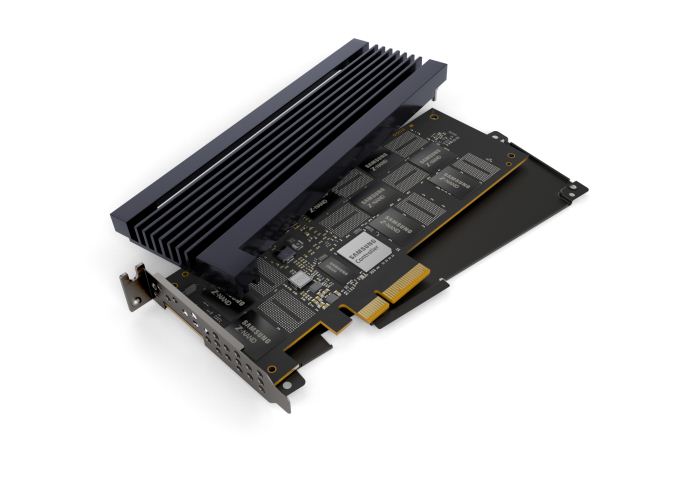 Samsung announced today that they are officially launching their first Z-SSD product, the SZ985. The Z-SSD uses Samsung's Z-NAND memory, a high-performance derivative of their 3D NAND flash memory and Samsung's intended competition for Intel's 3D XPoint memory. The SZ985 is a high-performance, high-endurance enterprise NVMe SSD.
Samsung has been talking about Z-NAND and the SZ985 for quite a while, including showing off prototypes at several trade shows and conferences. Their initial announcement in 2016 of Z-NAND memory and Z-SSD drives promised 1TB drives in 2016 to be followed by 2TB and 4TB drives in 2017. Today's launch of 800GB and 240GB models is far behind that initial timeline, but the Z-SSD is finally ready for broad release, almost a year after Intel's Optane products first hit the shelves. Samsung hasn't provided much new information about how the Z-SSD works under the hood, but they have disclosed that the drive includes 1.5GB of LPDDR4 DRAM. This suggests that the Z-SSD either has huge overprovisioning with as much as 1.5TB or Z-NAND memory for the 800GB model, or that the Z-NAND is being managed in a way that requires more than the usual 1GB of DRAM per TB of NAND flash used by most SSDs.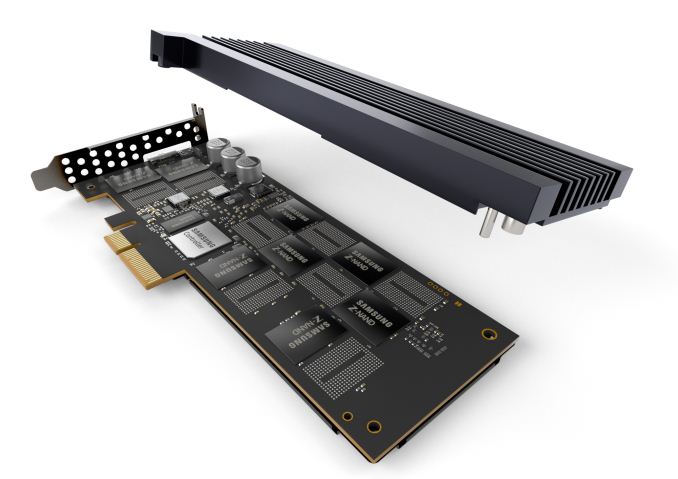 Samsung has not provided full performance specifications for the SZ985, but they have highlighted several key metrics that put the Z-SSD in the top performance tier. The SZ985 can deliver up to 750k random read IOPS, well above the 550k IOPS that Intel's Optane SSD DC P4800X is rated for. Write performance from the SZ985 is much less impressive at only 170k random write IOPS. The random write speed rating on Intel's P4800X is only 9% slower than the random read speed, while the Samsung SZ985 will have a random write speed that is 77% slower than random reads. Samsung has not been able to overcome all of the limitations of flash memory, but they have produced some impressive improvements.
Samsung also makes a few comparisons against more mainstream enterprise SSDs based on 3D TLC NAND flash memory. The memory cell read performance of their Z-NAND is ten times higher than their 3D TLC NAND, leading to 70% higher random read throughput than their PM963 NVMe SSD. Exact read latency isn't specified, but write latency on the SZ985 is quoted as 16 µs.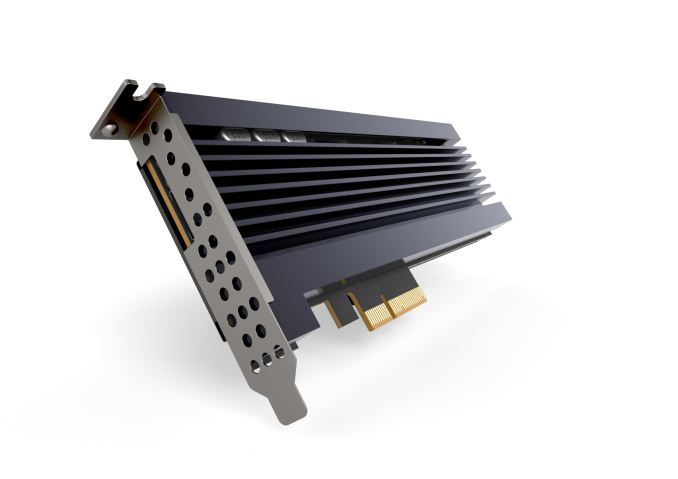 Despite not having record-setting write performance, the SZ985 is still designed to handle very write-intensive workloads. The endurance rating is 30 drive writes per day for five years, matching Intel's Optane SSD. However, both drives still fall short of the long-gone Micron P320h SLC NAND SSD, in both performance and endurance (though Intel has at least exceeded the random write speed of the P320h). Samsung's most significant accomplishment with the Z-SSS SZ985 is likely that they can offer the performance of planar SLC at much lower cost thanks to their 3D NAND structure.
Samsung will be presenting the Z-SSD SZ985 at the International Solid-State Circuits Conference, February 11-15.
At Flash Memory Summit last year, Samsung announced a second generation of Z-NAND memory. The SZ985 is still a first-generation product, and drives with the second-generation Z-NAND could still be a long way from launching.
Source: Samsung