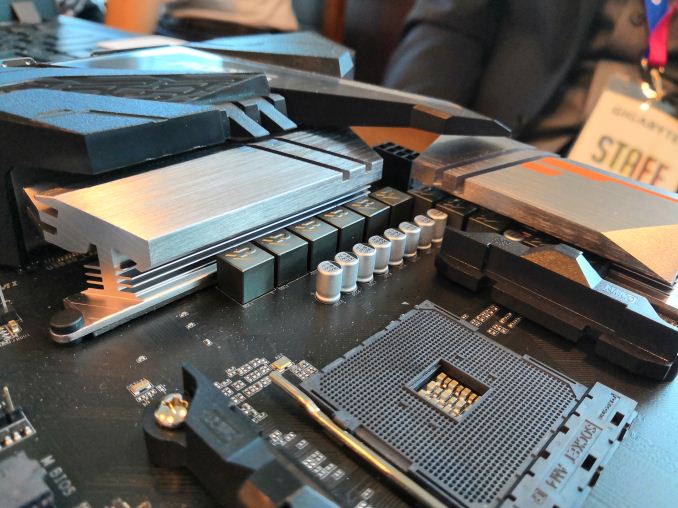 With the launch of the second generation of Ryzen, AMD also launched the X470 chipset which enabled the next generation of Precision Boost, a new adaptive storage technology called StoreMI, and also significantly cut the power consumption of the chipset in both load and idle modes. At the time it was also leaked that AMD will be releasing new B-series chipsets into the market, called B450, with the same enhancements. GIGABYTE showed us the top-end B450 motherboard the company is working on.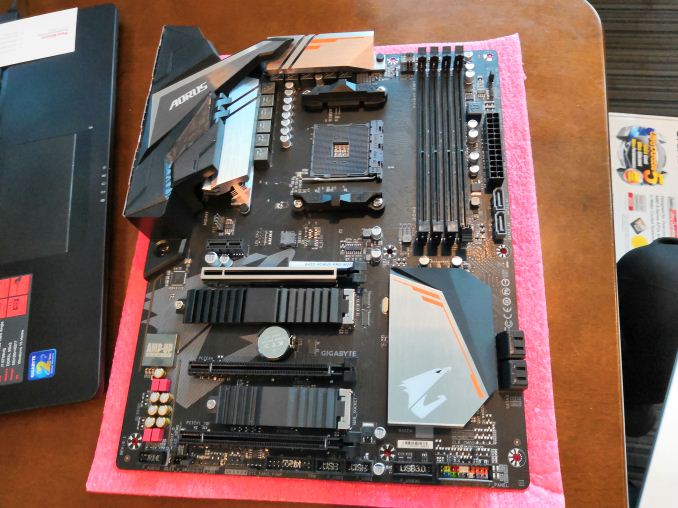 The B450 Aorus Pro Wi-Fi is going to be at the top of GIGABYTE's B450 product stack, using a mixture of consumer facing technologies and features but also keeping the board more price effective for its market. This means that the rear panel plate is integrated and the heatsink design supports an 11 phase (10+1) power delivery mechanism using what looks like 40A or 50A PowIRStage controllers, which to be honest looks pretty overkill for a B450 motherboard.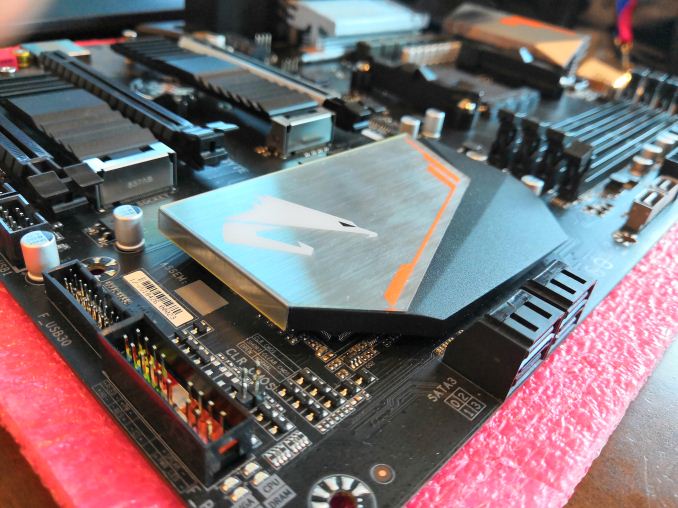 In the cost down mode, the DRAM slots do not have metallic reinforcement, and only the top PCIe slot gets the full reinforcement treatment: the other two PCIe slots get additional metal clasps but nothing as substantial as the top slot.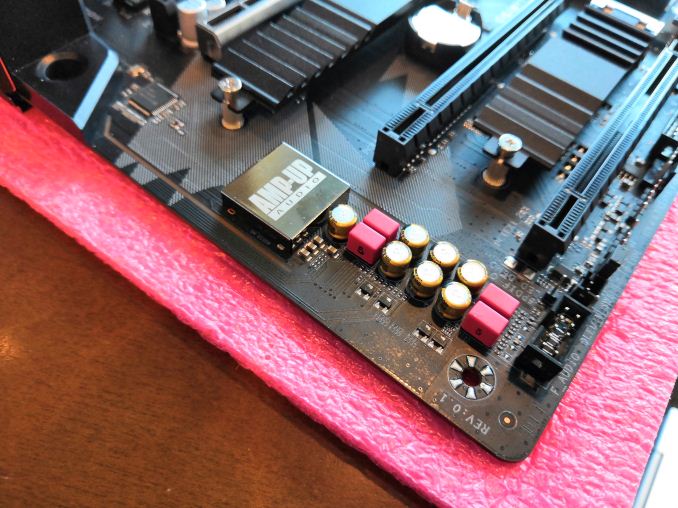 GIGABYTE has the board with an enhanced audio solution, using an EMI shield and additional filter caps with a PCB separation. SATA ports number six, however two of them are vertical out of the board and found near the 24-pin ATX connector, rather than nearer the chipset.
One of the added bonuses to this board is in the name: Wi-Fi. This board is using an onboard integrated 802.11ac 2T2R dual band module, likely the Intel AC-8265 or AC-9265, depending on how much those modules add to the final cost.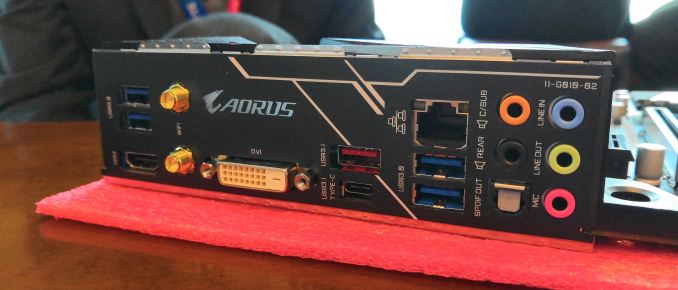 This is the first board that will be a victim to the issue surrounding AMD's microcode support. Due to the 128 Mb size limit of the BIOS chip, GIGABYTE is removing support for Bristol Ridge processors in order to free up some room. We covered why this is going to happen across a lot of motherboards soon in another article, but GIGABYTE's argument here is that the Bristol Ridge processors are old, were not widely promoted/distributed, and as a flagship B450 motherboard is unlikely to be used with one.
GIGABYTE said they expect to release this motherboard soon-ish, when all the parts are in place.
Want to keep up to date with all of our Computex 2018 Coverage?

Laptops

Hardware

Chips
Follow AnandTech's breaking news here!