AnandTech Storage Bench - Heavy
Our Heavy storage benchmark is proportionally more write-heavy than The Destroyer, but much shorter overall. The total writes in the Heavy test aren't enough to fill the drive, so performance never drops down to steady state. This test is far more representative of a power user's day to day usage, and is heavily influenced by the drive's peak performance. The Heavy workload test details can be found here. This test is run twice, once on a freshly erased drive and once after filling the drive with sequential writes.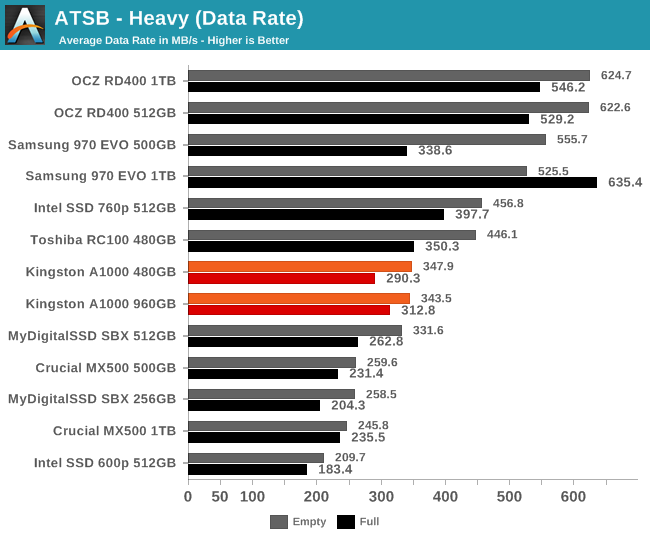 The Kingston A1000's average data rates on the Heavy test make it clearly faster than most SATA drives, but not by a huge amount. The 960GB model seems to perform a bit better when full, but when the test is run on an empty drive both capacities offer about the same level of performance.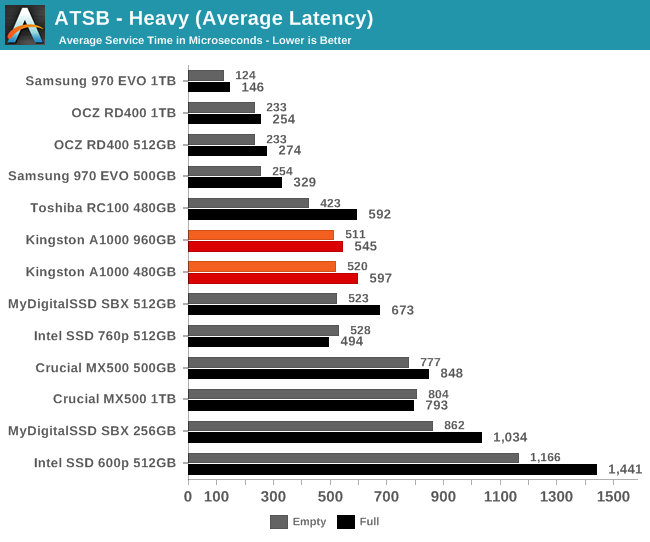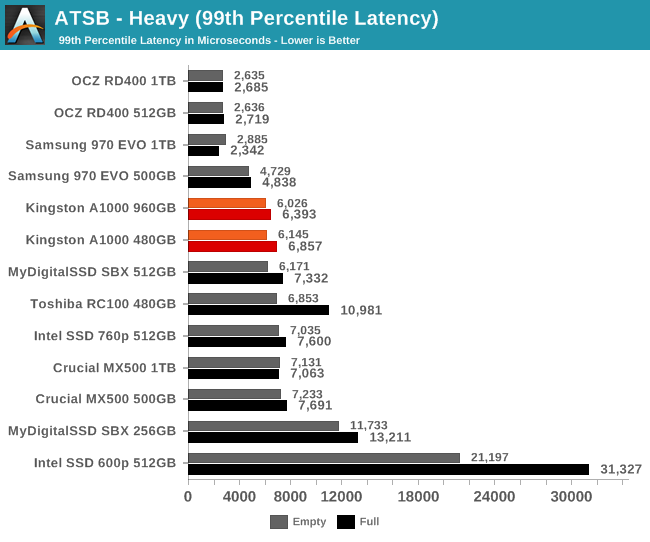 The average and 99th percentile latencies from the Kingston A1000 on the Heavy test are a bit better than the scores from the MyDigitalSSD SBX, especially when the test is run on a full drive. This shows that the larger spare area reserved by the A1000 does have some impact. The 99th percentile latencies are not much better than SATA drives, but the average latencies from the A1000 do show a clear advantage over the Crucial MX500.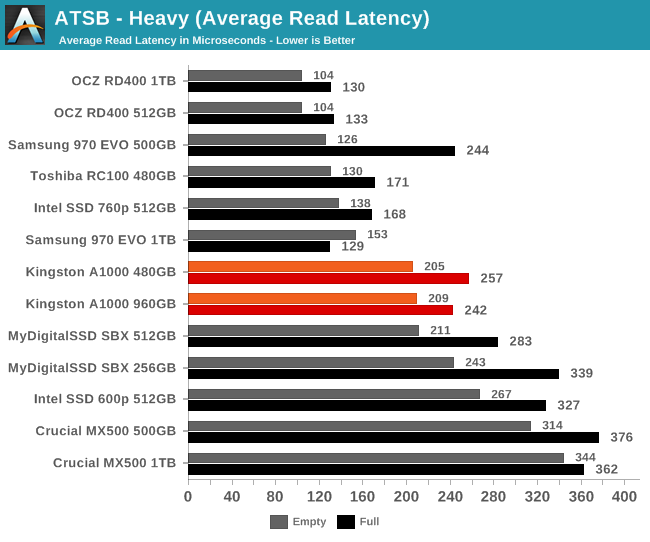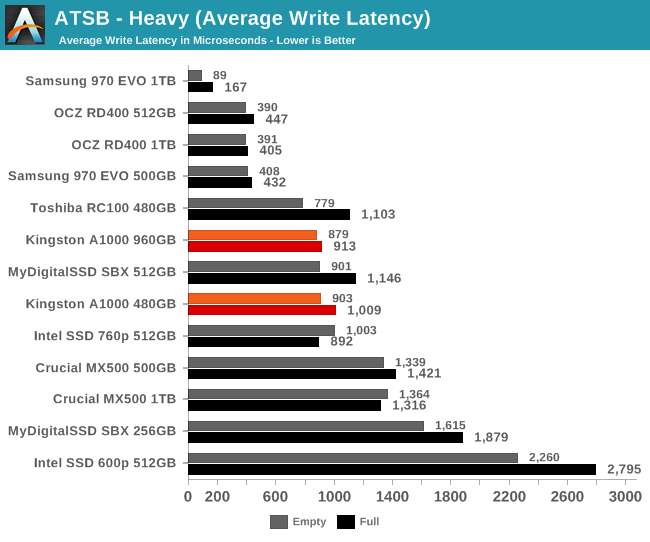 The Toshiba RC100 showed that Toshiba's BiCS3 3D TLC can offer great read latency, but the Phison E8-based A1000 and SBX need to improve quite a bit to match that standard. For average write latency on the Heavy test, the A1000 outperforms most other low-end NVMe SSDs and SATA drives, but can't match high-end NVMe drives.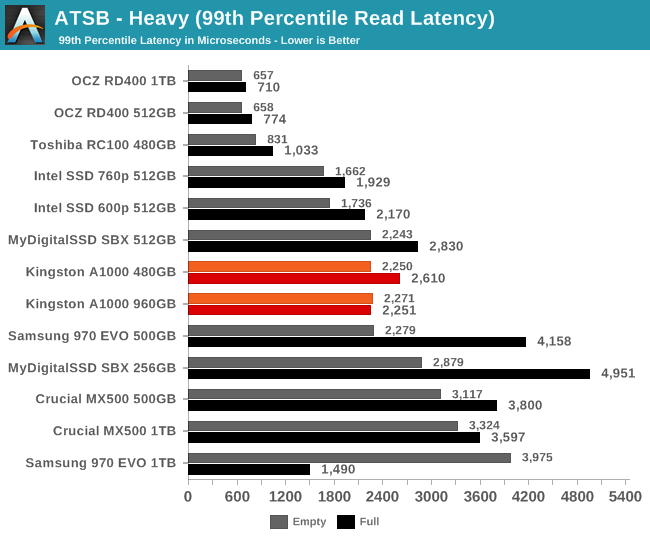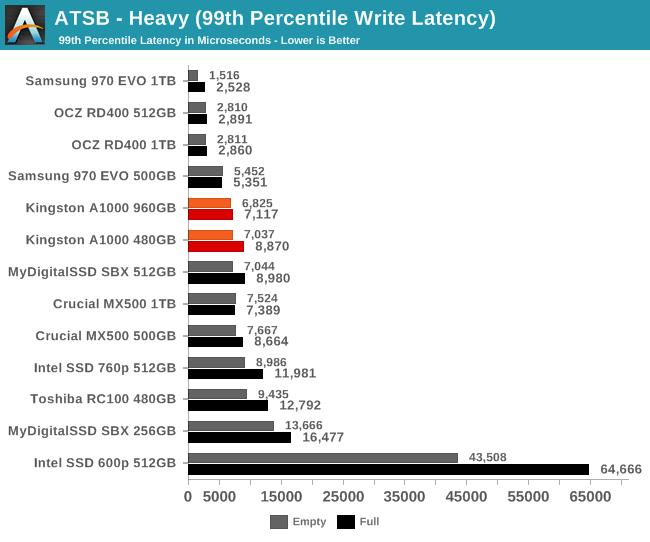 The 960GB Kingston A1000 benefits greatly from its large spare area, with 99th percentile read and write latencies that are almost the same whether the Heavy test is run on a full drive or an empty drive. The 480GB A1000 has a small QoS advantage over the 512GB SBX for the full-drive case. The read latency of the Toshiba RC100 again stands out as surprisingly good even though its 99th percentile write latency is nothing special. Compared to the Crucial MX500 SATA SSD, the A1000 and similar low-end NVMe SSDs only improve on 99th percentile read latencies, with 99th percentile write latencies showing little or no improvement.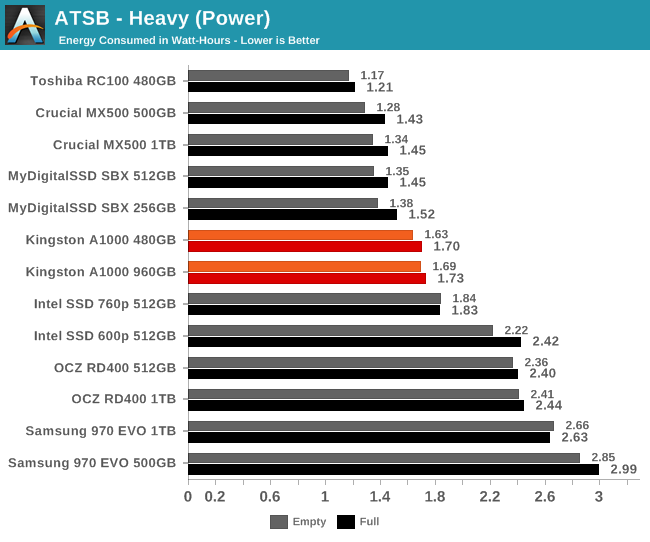 On the Heavy test, the Kingston A1000 again has a bit worse power efficiency than the MyDigitalSSD SBX, which also makes it clearly more power-hungry than SATA SSDs but still more efficient than most NVMe SSDs.