Introduction and Construction
A little over a month ago, Pioneer quickly reclaimed their undisputed title as DVD recordable king with the introduction of the 107D. For several months prior, users were beginning to champion DVD+R over DVD-R since DVD+R 8X drives were a dime a dozen. However, Pioneer and NEC quickly extinguished any doubts of DVD-R with their newest drives, the Pioneer 107D and NEC 2500A.
Since the 107D had received so much attention in recent weeks, we decided to review a very similar drive, the ASUS DRW-0804P. Our ASUS 8x8 drive is based on the same chipset and pickup as the Pioneer 107D, and also carries an equivalent price tag.
The media bundle with the ASUS 8x8 was extremely weak. In the package, we received a copy of Ahead Nero Burning ROM 6.3, a user's manual, and installation manual. There were no bundled DVD+/-R discs. The saving grace for the drive bundle came in the form of the documentation. ASUS' documentation was short, sweet and easy to follow. Sometimes a little documentation goes a long way.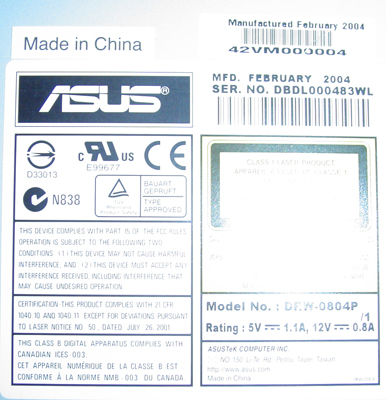 Click to enlarge.


Click to enlarge.
ASUS' 8x8 looks similar to the
DRW-0402P/D
in both form and function. The front bezel looks identical to the older drive, although the drive shield has changed slightly. The loading tray, eject button and LED remained the same from our last review.


Click to enlarge.
Also, like the DRW-0402P/D (Pioneer A06), the drive has a small cutout for exhaust in the rear.
The ASUS 8x8 is based on the same NEC D63630GM chipset, the same chipset found in the NEC-2500A (and obviously the Pioneer 107D). We will see many similarities between these two drives throughout the review. This chipset is also used in some other 8X DVD+/-R drives (like the Aopen DRW8800). The ASUS 8x8 also uses the NEC C3330 analog controller, which comes with the D63630GM chipset.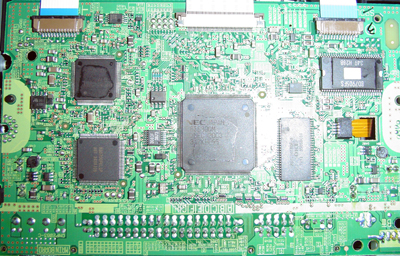 Click to enlarge.
Unusually, internal documentation suggests the NEC D63630GM is capable of reading DVD-RAM media, although many drives that use the chip do not support this claim. ASUS does with this drive.