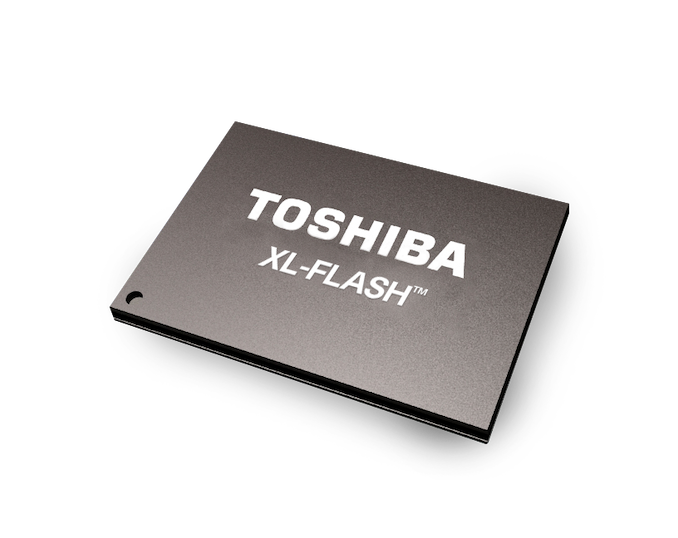 Last year at Flash Memory Summit, Toshiba announced XL-FLASH, a specialized low-latency SLC 3D NAND flash memory that is their answer to Samsung's Z-NAND (and to a lesser extent, Intel's 3D XPoint). Few details were provided at the time, but this year Toshiba is ready to give out more information, including a timeline for bringing it to market: sampling starts next month, and mass production begins next year.
The first XL-FLASH parts will use a 128Gb die, divided into 16 planes to support a much higher degree of parallelism than existing capacity-oriented 3D NAND parts. The page size will be 4kB, significantly smaller than what most 3D NAND uses, but that's not a surprise given that XL-FLASH is storing just one bit per cell rather than three or four. Toshiba's press release does not disclose the erase block size, but we expect it to be similarly smaller than what's used in high-capacity NAND designs. As for performance, Toshiba says read latency will be less than 5 microseconds, compared to about 50 µs for their 3D TLC.
The most significant difference between Toshiba's XL-FLASH and Samsung's Z-NAND may end up being the business model. Samsung's keeping Z-NAND to themselves for use in their Z-SSD products, but Toshiba's XL-FLASH will be for sale the same as their 3D TLC and QLC NAND. We have already heard from a few SSD controller vendors that they plan to support XL-FLASH in their upcoming controllers, so when XL-FLASH starts to hit the market it will probably be arriving in SSDs from several competing brands.
Flash Memory Summit kicks off tomorrow in Santa Clara, and Toshiba will be giving the first keynote presentation.