MSI N470GTX: Power, Temperature, Noise, & Overclocking
As we've discussed in previous articles, with the Fermi family GPUs no longer are binned for operation at a single voltage, rather they're assigned whatever level of voltage is required for them to operate at the desired clockspeeds. As a result any two otherwise identical cards can have a different core voltage, which muddies the situation some. This is particularly the case for our GTX 470 cards, as our N470GTX has a significantly different voltage than our reference GTX 470 sample.
GeForce GTX 400 Series Voltage

Ref GTX 480
Ref GTX 470
MSI N470GTX
Ref GTX 460 768MB
Ref GTX 460 1GB

0.987v

0.9625v

1.025v

0.987v

1.025v
While our reference GTX 470 has a VID of 0.9625v, our N470GTX sample has a VID of 1.025v, a 0.0625v difference. Bear in mind that this comes down to the luck of the draw, and the situation could easily have been reversed. In any case this is the largest difference we've seen among any of the GTX 400 series cards we've tested, so we've gone ahead and recorded separate load numbers for our N470GTX sample to highlight the power/temperature/noise range that exists within a single product line.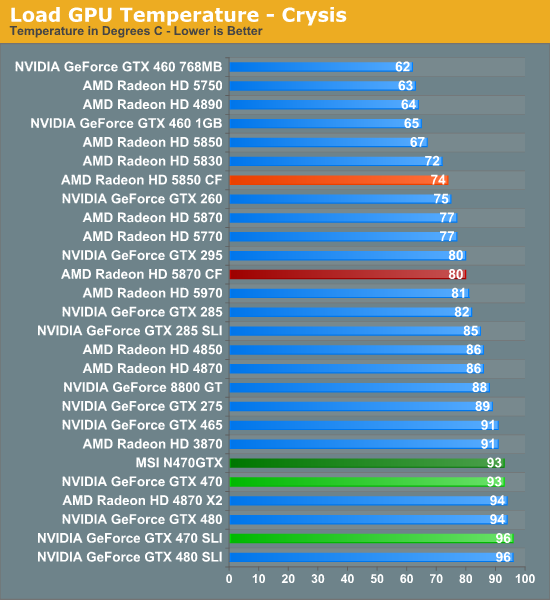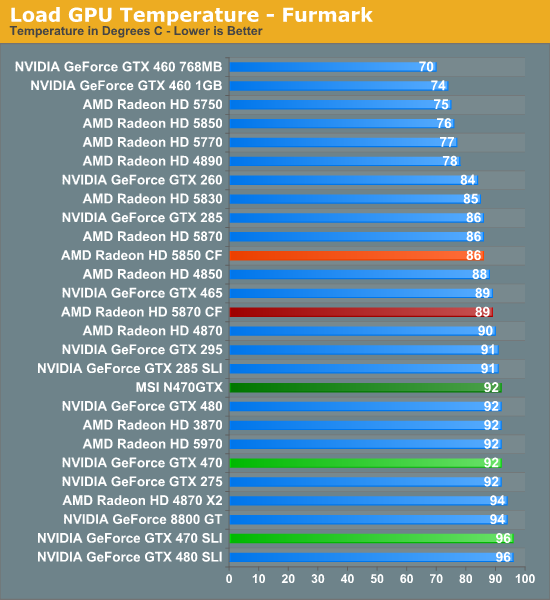 Quickly looking at load temperatures, in practice these don't vary due to the fact that the cooler is programed to keep the card below a predetermined temperature and will simply ramp up to a higher speed on a hotter card.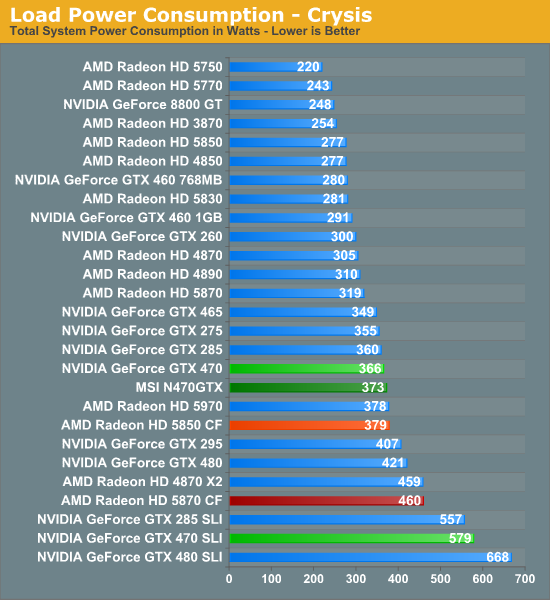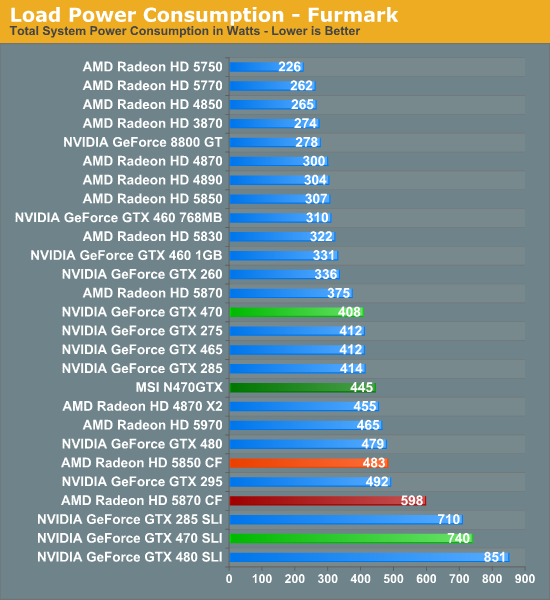 This brings us to power consumption where the difference in VID makes itself much more apparent. With all things being held equal, under Crysis our N470GTX sample ends up consuming 7W more than our reference sample GTX 470. However under Furmark this becomes a 37W difference, showcasing just how wide of a variance the use of multiple VIDs can lead to in a single product. Ultimately for most games such a large VID isn't going to result in more than a few watts' difference in power consumption, but under extreme loads having a card with a lower VID GPU can have its advantages.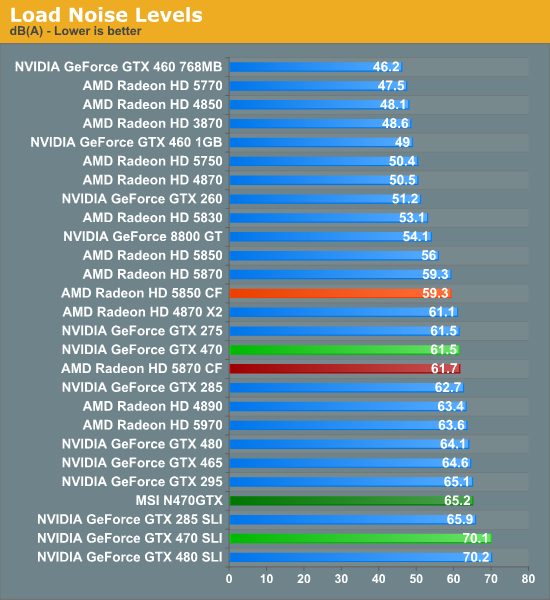 As we started before, the cooler on the GTX 470 targets a specific temperature, varying the fan speed to match it. With the higher VID and greater power consumption of our N470GTX sample, this means the card ends up being a good 3.7dB louder under Furmark than our reference sample, thanks to the higher power draw (and hence heat dissipation) of the card. Note that this is a worst-case scenario though, as under most games there's a much smaller power draw difference between cards of different VIDs, and as a result the difference in load noise is also minimal.
Overclocking
With MSI's Afterburner software it's possible to increase the core voltage on the N470GTX up to 1.0875v, 0.0625v above the stock voltage of our sample card. Although by no means a small difference, neither is it more than the reference GTX 470 cooler can handle, so in a well-ventilated case we've found that it's safe to go all the way to 1.0875v.
| | | | | |
| --- | --- | --- | --- | --- |
| | Stock Clock | Max Overclock | Stock Voltage | Overclocked Voltage |
| MSI N470GTX | 675MHz | 790MHz | 1.025v | 1.087v |
With our N470GTX cranked up to 1.0875v, we were able to increase the core clock to 790MHz (which also gives us a 1580MHz shader clock), a 183MHz (30%) increase in the core clock speed. Anything beyond 790MHz would result in artifacting.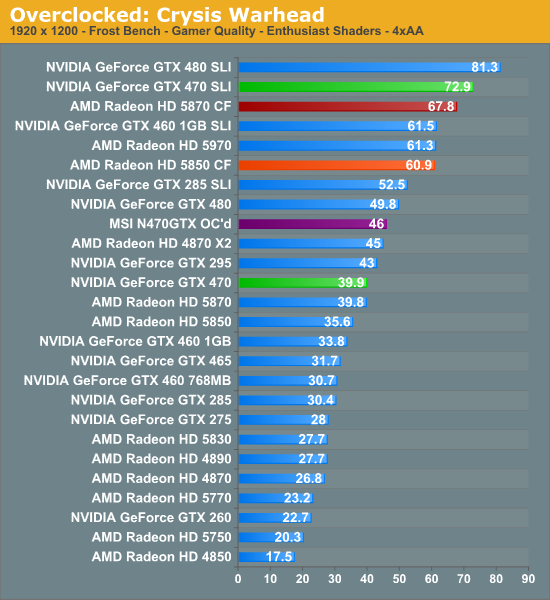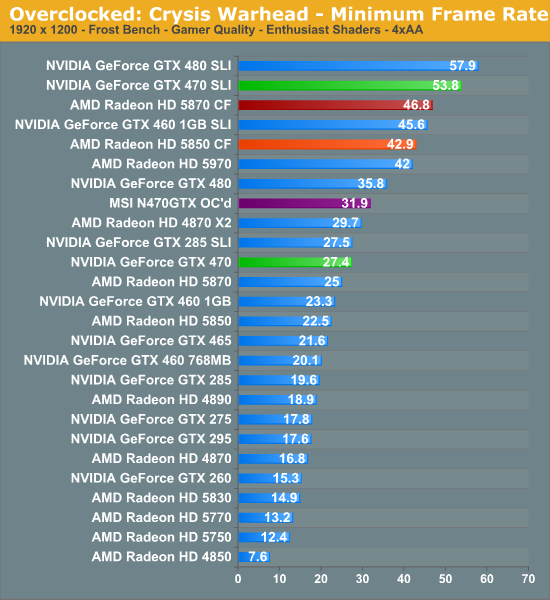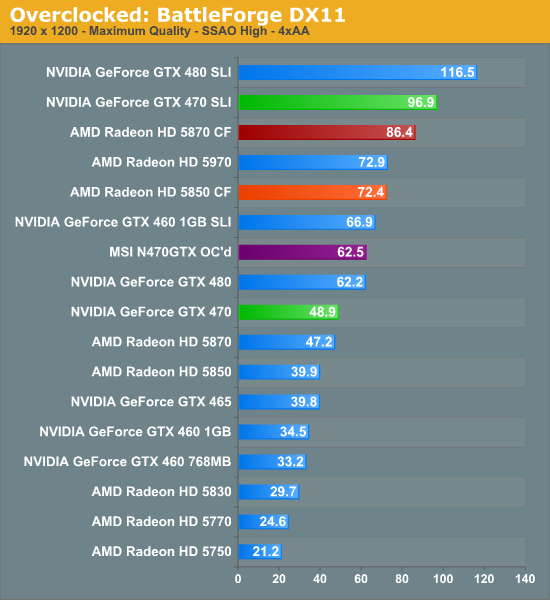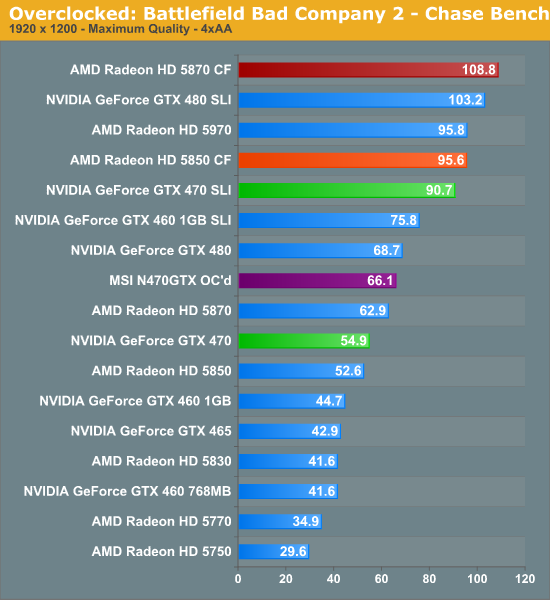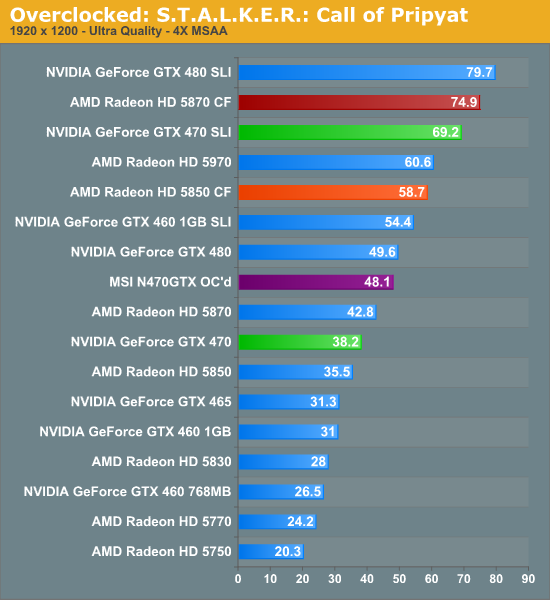 Overclocking alone isn't enough to push the N470GTX to GTX 480 levels, but it's enough to come close much of the time. In cases where the GTX 480 already has a solid lead over its competition the overclocked N470GTX is often right behind it – in this case this means the overclocked N470GTX manages to consistently beat the Radeon 5870, something a stock-clocked GTX 470 cannot do.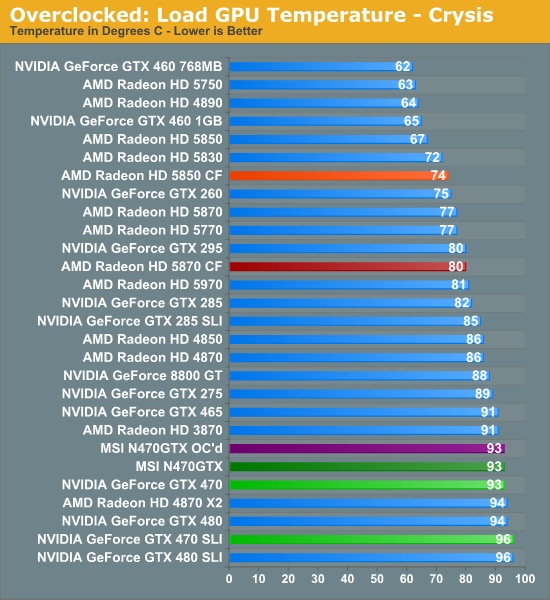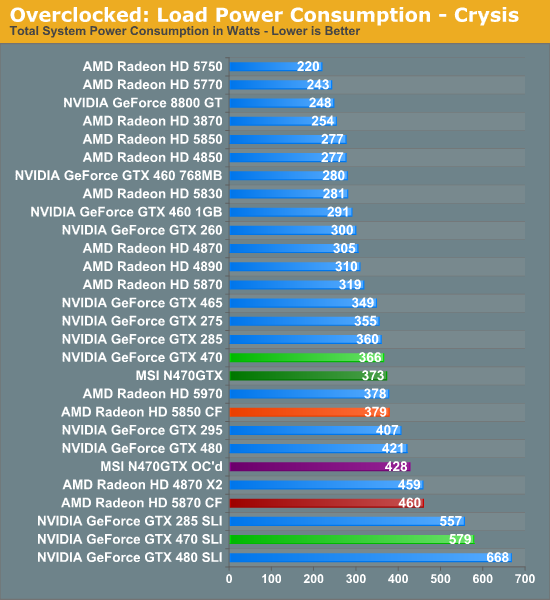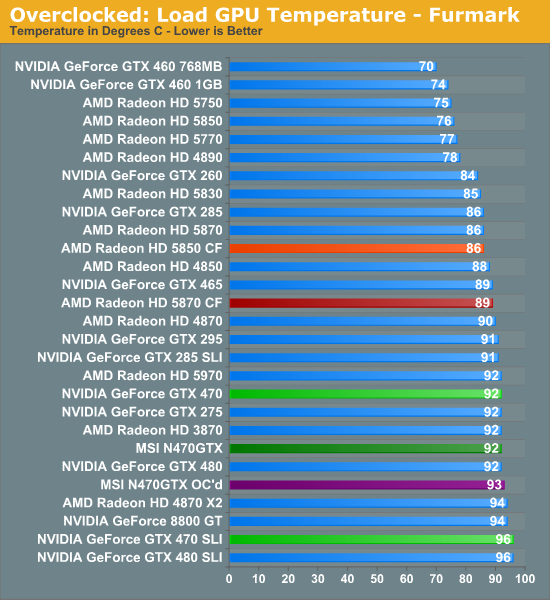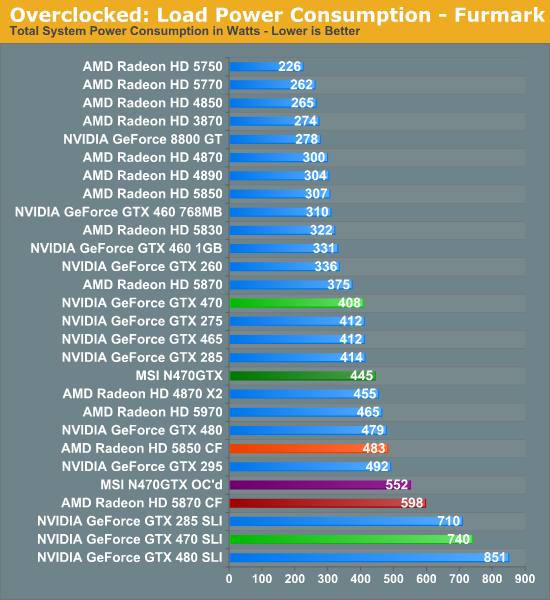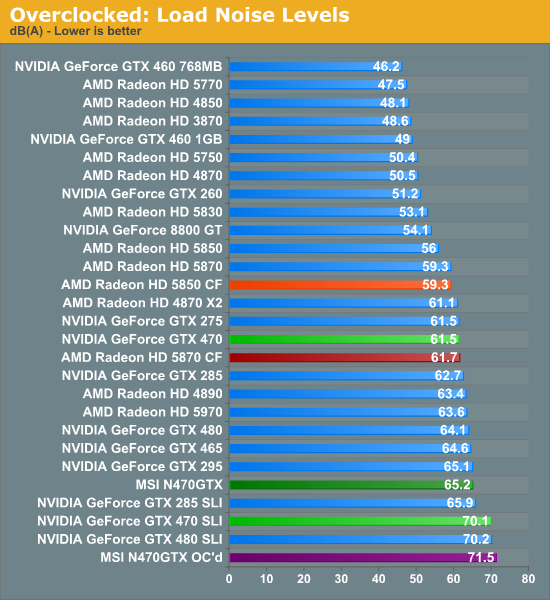 But due to the use of overvolting, that extra performance means there comes a time to pay the piper. While our temperatures hold consistent the additional voltage directly leads to additional power draw and higher fan speeds. The overclocked N470GTX can approach GTX 480 performance, but it exceeds the GTX 480 in these metrics. In terms of load noise the overclocked N470GTX is pushing just shy of 100% fan speed, making it the loudest card among our test suite. Similarly, load power consumption under both Crysis and Furmark exceeds any of our stock-clocked single-GPU cards.
Ultimately overclocking the N470GTX provides a very generous performance boost, but to make use of it you need to put up with an incredible amount of heat and noise, so it's not by any means an easy tradeoff.