Developer Features
Gingerbread brings a number of developer features and API changes, most notably, improvements to the Dalvik VM garbage collector and event distributor. Google promises smoother gaming with fewer application pauses as a result of the concurrent garbage collection in Gingerbread, and hopefully some of Android's occasional UI stutters will be fixed as a result - the target is to have sub 3ms pauses while Dalvik garbage collects. There are also updated video drivers which improve OpenGL ES performance for faster 3D graphics, but it's unclear which GPUs will get updated drivers. Gingerbread also brings along a Linux kernel update, from 2.6.32 on Android 2.2.1 to 2.6.35 in Gingerbread 2.3.
Gingerbread adds Khronos OpenSL ES sound APi support, and Khronos EGL support for better OpenGL ES texture, surface, and context support. The other changes for developers include better APIs for native input from sensors and adds support for a few more: gyroscope, rotation vector, linear acceleration, gravity, and even barometer sensors are supported. I'd definitely like to see a smartphone with a barometric sensor, given how inaccurate even WAAS-supported GPS is at reporting altitude properly.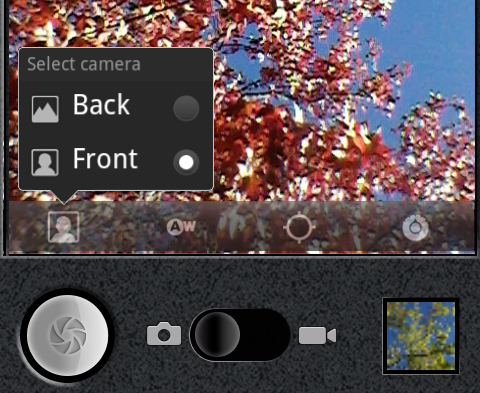 The camera API also has been updated to allow for better support for devices with multiple cameras, most notably devices with a front-facing camera.
Finally Google has added VP8 video compression support and WebM container support, Google's own compression standards. There's also new AAC encoding and AMR Wideband encoding for audio capture.
Nexus S
Alongside the Gingerbread software update news came announcement of a new Google-branded device we've already seen a of photos and sneak peaks of, including from Eric Schmidt himself - the Nexus S.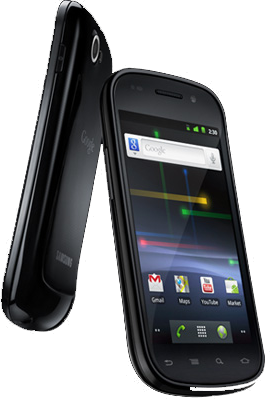 Unlike the Nexus One, Google will not be selling the Nexus S directly, but rather unlocked through Best Buy stores in the US and at Carphone Warehouse in the UK. US availability will start December 16th, and December 20th for the UK. Pricing will start at $529 unlocked and $199 on two-year contract with T-Mobile. The Nexus S has tri-band HSPA support for 900, 2100, and 1700 MHz bands, which means it has 3G support for T-Mobile in the US - AT&T users will see EDGE.
Nexus S - Network Support
Tri-Band HSPA
900 / 1700 / 2100 MHz
Quad-Band GSM/EDGE
850 / 900 / 1800 / 1900 MHz
HSDPA/HSUPA
7.2Mbps / 5.76Mbps
The Nexus S is speced similar to the Samsung Galaxy S line of devices - there's a 1 GHz Hummingbird SoC with Imagination SGX540 graphics, 16 GB NAND, 512 MB RAM, 802.11b/g/n, 4" Super AMOLED display, and the usual sensors.
Physical Comparison
Apple iPhone 4
Motorola Droid 2
Samsung Galaxy S Fascinate
Samsung Focus
Google Nexus S
Height
115.2 mm (4.5")
116.3 mm (4.6")
125 mm (4.92")
122.9 mm (4.84")
123.9 mm (4.88")
Width
58.6 mm (2.31")
60.5 mm (2.4")
64.2 mm (2.53")
65 mm (2.56")
63.0 mm (2.48")
Depth
9.3 mm ( 0.37")
13.7 mm (0.54")
9.91 mm (0.39")
9.9 mm (0.39")
10.88 mm (0.43")
Weight
137 g (4.8 oz)
169 g (5.9 oz)
117 grams (4.16 oz)
119 grams (4.2 oz)
129 grams (4.6 oz)
CPU
Apple A4 @ ~800MHz
Texas Instruments OMAP 3630 @ 1 GHz
1 GHz Samsung Hummingbird
1 GHz Qualcomm QSD8250
1 GHz Samsung Hummingbird
GPU
PowerVR SGX 535
PowerVR SGX 530
PowerVR SGX 540
Adreno 200
PowerVR SGX 540
RAM
512MB LPDDR1 (?)
512 MB LPDDR1
512 MB LPDDR1
512 MB LPDDR1 (?)
512 MB LPDDR1
NAND
16GB or 32GB integrated
8 GB integrated, preinstalled 8 GB microSD
2 GB, 16 GB microSD (Class 2)
16 GB integrated
16 GB Integrated
Camera
5MP with LED Flash + Front Facing Camera
5 MP with dual LED flash and autofocus
5 MP with auto focus and LED flash
5 MP with autofocus, LED flash, 720P video recording
5 MP with Autofocus, LED Flash, VGA front facing, 720P Video
Screen
3.5" 640 x 960 LED backlit LCD
3.7" 854 x 480
4" Super AMOLED 800 x 480
AMOLED 800 x 480 4"
4" Super AMOLED 800 x 480
Where the Nexus S differs is the inclusion of a front facing VGA camera in addition to back 5 MP camera, LED Flash, three-axis gyroscope, inclusion of Bluetooth 2.1+EDR (instead of Bluetooth 3.0 as with Galaxy S), and new hardware onboard for NFC support. It's possible the NFC hardware is integrated into the Bluetooth chipset which would explain the discrepancy, but it's too early to tell.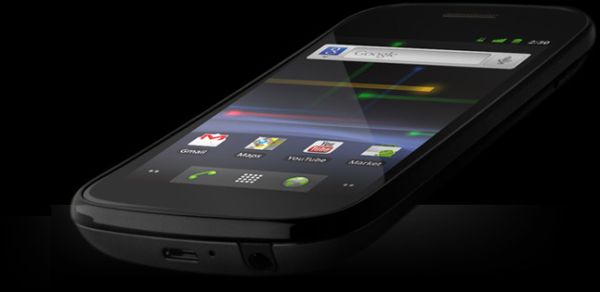 The Nexus S packs 16 GB of NAND onboard, a large portion of which is partitioned for storage, emulating a microSD card. Gingerbread brings official platform support for devices that lack external storage, instead allowing for internal NAND to be partitioned to emulate a virtual SD card. That appears to be what is done on the Nexus S - there's no microSD card - but this also has the potential to result in applications loaded to the virtual SD card feeling much snappier than they would be loaded on most microSD cards. I've noticed that even on my Nexus One with a fast class 6 card that applications seem to behave slower on external storage.

What's notable about the Nexus S display is that it is slightly curved. Whereas the Dell Venue Pro has a noticeable convex display in the horizontal dimension, the Nexus S has a subtle but perceptible vertical concave curve. I'm reminded of the Palm Pre's "ergonomic curve" with the Nexus S. In addition, Google notes that the Nexus S definitely has an anti-fingerprint coating.
Of course, the Nexus S ships with Gingerbread installed by default, and takes the Nexus One's place as the reference device for the Android platform. As usual, expect a full review after we get ours.