I scanned some Xperia Play user feedback posts (which aren't hard to find by this point, since the handset has been available for sale for several months) in the process of doing my evaluation. In some cases, the gaming phone owners were critical of either (or both) the materials used to assemble the handset or their put-together fit. Frankly, I don't see what the big fuss is about, though I realize that other folks with other feature set priorities might come to other conclusions. Glossy black may not be everyone's cup of tea, but I personally don't think it's at all bad looking, although I admit that it more quickly collects visible fingerprints than do other color schemes (as well as being highly reflective, as you may have noticed from some of the earlier product shots I took).
Yes, the silver trim is plastic, not metal, but the materials choice not only trimmed the handset's weight but also reduced its manufacturing cost (therefore price tag) and minimized the potential for interference-induced antenna sensitivity degradation. Had Sony Ericsson put a glass back on the Xperia Play, the reviewers would have grumbled that the company had made an Apple iPhone 4-like non-ruggedness mistake. And maybe it's just me, but the very first thing I do when I get a new handset is to buy a 'gel' case for it, thereby protecting it from scratches caused by keys and change in pockets, inadvertent drops, and other day-to-day usage issues. If you're not a fan of plastic assemblies, the Xperia Play may feel 'cheap' to you, but after you consider the expense, heft and other downsides of alternative materials, you might have at least a partial change of heart.
The Android four-button suite (Home, Menu, Back and Search) at the bottom of the front panel is comprised of actual physical buttons, versus being capacitive touch-implemented. They're a bit 'mushy', as are the volume toggle and power button, but perfectly adequate and preferable to the virtual button suite found on my Nexus One and other Android phones. And yes, they're in a different order than with other Android handsets, but Sony Ericsson can't be uniquely faulted for this discrepancy; Google clearly hasn't made rigid mandates in this regard, judging from the diversity of combinations found in the Android Army.
One physical button that I missed on the Xperia Play is a camera shutter, which the Nexus One implements via its trackball. With the 'stock' Xperia Play, you can only trip the shutter via the on-screen virtual 'button' icon. Enthusiast efforts have transformed the R1 'flipper' gaming button into an alternative shutter; head to the XDA Developers site for more information. Hardware upsides include integrated 'stereo' audio playback (with sound coming from between the two slider layers; the two speakers aren't visible), as well as the ability to access both the SIM and microSD slots without needing to remove the battery.
About that 'flipper'...I'll discuss the gaming-centric control set soon, but the means by which you access the bulk of it (located on the slider's lower layer) is by sliding the Xperia Play's screen up, an action which also automatically launches the Xperia Play application.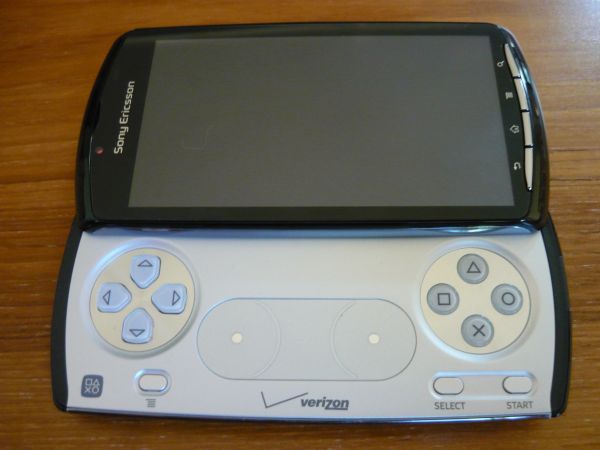 While, as noted above, Anand found the slider mechanism to be 'loose', I was quite content with it. It seemed solid, and I was confident that it would remain so through iterative use over time. I could also easily manipulate it with only a single hand; once you get the screen ~halfway through its full travel, it takes over and completes the desired open or close operation all by itself. Anand's fondled far more phones than I, so I'm inclined to defer to his comparative critique, but from an absolute standpoint I found the Xperia Play's slider to be functionally sufficient. With that said, I'll concede at least one of Anand's points; the slider design wasn't as rigid when closed as is a single-element handset...but I've yet to find a slider that can meet that particular design challenge.