Antec's existing Performance One series, peaking with the P183 and P190, has become a standard for silent, high performance computing. These enclosures have been extremely popular from the word "go," and for a long time the P180 and its descendants have been easy recommendations. But you could argue the designs are starting to feel a little outdated, and while Antec's recent Solo II was an interesting step forward, it felt like a tentative one.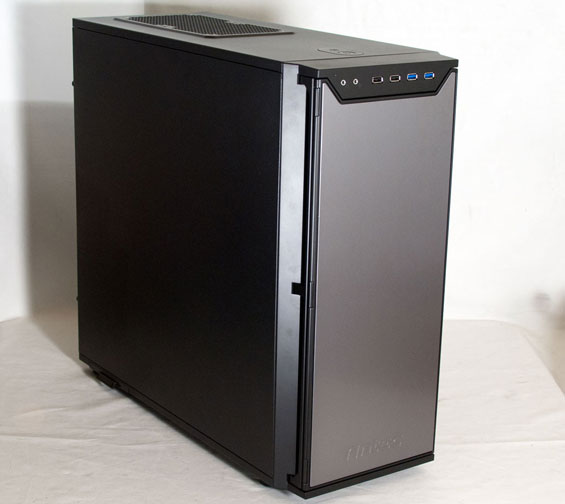 The new P280, on the other hand, is a major evolution. Intended not as a refresh of the P183 but to exist alongside it, the P280 features some radical changes for Antec in terms of design while lowering the cost of entry for the entire line. Is it a smart evolution, or did Antec's engineers split too many decisions in trying to appeal to both silent computing and high performance markets?
Speaking candidly, I think any enthusiast worth his or her salt was more than a little interested when Antec first announced the P280. The Performance One line has practically been an institution for a long time, but Antec's engineers have gone back to the drawing board with the P280 in a very big way, implementing a host of new ideas while adopting some of the modern design cues brought forth by vendors like Corsair and SilverStone. I had a chance to meet with Antec's representatives, including one of the designers of the P280, and it's pretty clear where they were coming from when they made this case: as enthusiasts first who had the opportunity to design the case they wanted to see and use.
Antec P280 Specifications
Motherboard Form Factor
XL-ATX, ATX, Micro ATX, Mini ITX
Drive Bays
External
3x 5.25"
Internal
6x 3.5"/2.5", 2x 2.5"
Cooling
Front
4x 120mm fan mount (two in the front, two internal behind the drive cage)
Rear
1x 120mm Antec TwoCool exhaust fan
Top
2x 120mm Antec TwoCool exhaust fans
Side
-
Bottom
-
Expansion Slots
9
Front I/O Port
Mic and headphone jacks, 2x USB 2.0, 2x USB 3.0
Top I/O Port
Power and reset buttons
Power Supply Size
ATX
Clearance
13" (Expansion Cards), 180mm (CPU HSF), 300mm (PSU)
Weight
22.3 lbs. (10.2 kg)
Dimensions
20.7" x 9.1" x 22.1" (526mm x 231mm x 562mm)
Price
MSRP $139
I'll concede that I haven't been wholly impressed by Antec's enclosures as of late, but the P280 is a completely different beast. It has the DNA of the Performance One series, but internally you'll find a design that diverges radically from its predecessors, and your first clue should be the nine expansion slots. Antec calls the P280 a "super mid-tower," but at this point the lines between a mid-tower and full tower have been so heavily blurred that each enclosure should be taken on a case by case basis (pun wholly intended.) The fact is, the P280 is big, but it has a lot going for it.