In and Around the Lian Li PC-90
While Lian Li does have the odd stylized enclosure design, their brushed aluminum cases tend to really epitomize simplicity of style. End users looking for something with a little more flash are sure to be disappointed, and nowhere is that more apparent than with the PC-90.
Externally, the PC-90 is almost entirely black brushed aluminum, with the rear and bottom of the case still sporting the typical silver sheen. The front features two external 5.25" drive bays, one of which has an included bezel cover. Connectivity is handled by two USB 3.0 ports that use an internal motherboard header, the standard HD audio connectors, and an eSATA port. The eSATA port is a nice touch, but I feel like USB 3.0 largely supplants it and Lian Li can probably dispense with it in a future revision. The power button is a sliver of rubber with a blue LED behind it, while the reset button has the red IDE activity LED behind it.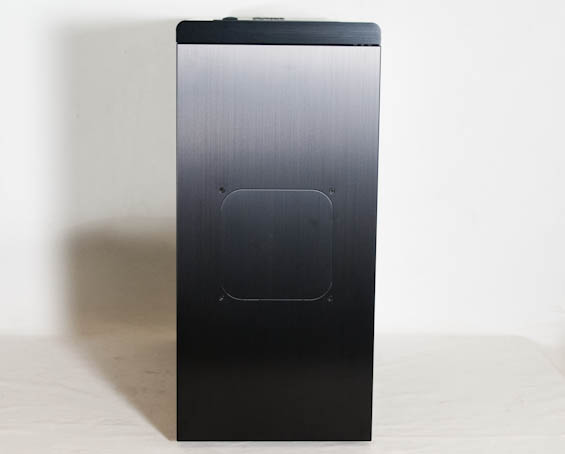 On the top of the case, Lian Li has a plate that can be removed to install a 140mm fan inside the enclosure, but this seems like another useful feature that may not be as useful in practice; you'll see from the test results later on that cooling is not one of the PC-90's weaknesses. This fan mount also winds up being planted squarely between where the power supply and optical drive are expected to go, potentially causing clearance problems later on. As a result it's probably better left occupied by the plate, which means you just get a cut-out shape marring the top of your case rather than something you're likely to use.
When we get to the back, we see Lian Li employs a mounting bracket for the PSU to allow for easy installation; this tends to be more common in designs with top-mounted power supplies. Everything else is bog standard, with a 120mm exhaust fan and ten expansion slots with ventilated covers.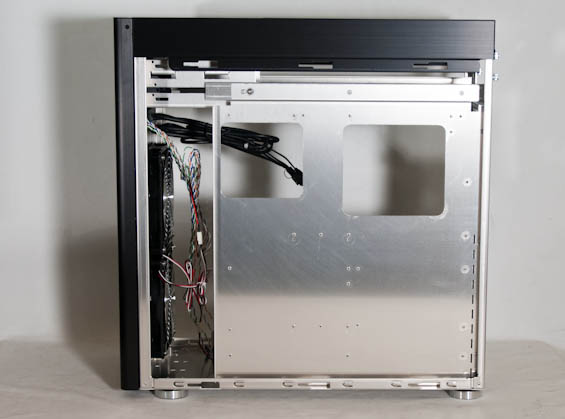 Of course, once you remove the side panels (each secured with two thumbscrews and the main side panel additionally able to be secured with a padlock), you'll see where Lian Li's engineers took some liberties with the classic ATX enclosure layout. There's a top rail for supporting the power supply, and then a large motherboard tray with a cutout for cooler backplates.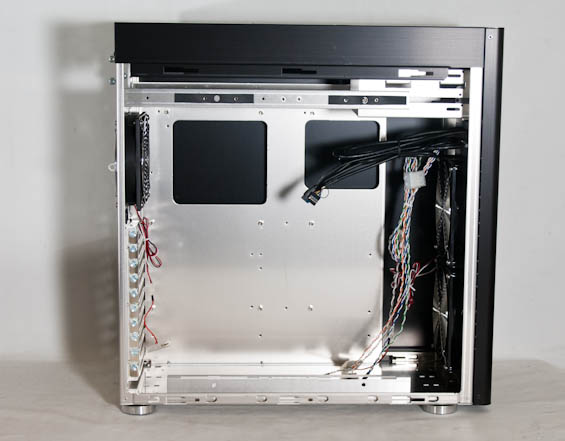 Yet you can also see how Lian Li was able to cram so much in the enclosure: there's no space behind the motherboard tray for routing cables, and drives are instead mounted to a pair of plates and either pressed up against the side panel of the case or stretched internally on the undersides of the plates; you'll see on the next page how it all comes together. There's also a third pair of plates in the center that's theoretically intended for routing cables, but in practice winds up being largely superfluous. Thankfully you can choose to dispense with any or all of these plates, using only what you need, as they're completely removable.
The internal fans also all use 3-pin fan headers and all come connected with 3-pin to molex adaptors, allowing you to choose how you want to power them. Likewise, Lian Li also includes a USB 2.0 adaptor for the internal USB 3.0 connector.
My experiences with the previous Lian Li enclosures I've tested left me a little bit wary and skeptical of the design, but thankfully the PC-90 proves to be a lot more logical (and easy to put together) in assembly than would first appear.