Thirteen months ago OCZ announced its intention to acquire Indilinx, the SSD controller maker that gave Intel its first taste of competition in the consumer market in 2009. Eight months later, OCZ launched its first post-acquisition SSD based on Indilinx silicon. Today, just five months after the launch of the Octane, OCZ is officially releasing the Vertex 4 – based on its Indilinx Everest 2 silicon. In less than a year, OCZ has brought to market more Indilinx powered controllers than Indilinx did in the previous three years. It's rare that you see the fruits of acquisition so quickly, but if there's anything OCZ's CEO Ryan Petersen is good at it's pushing for an aggressive schedule.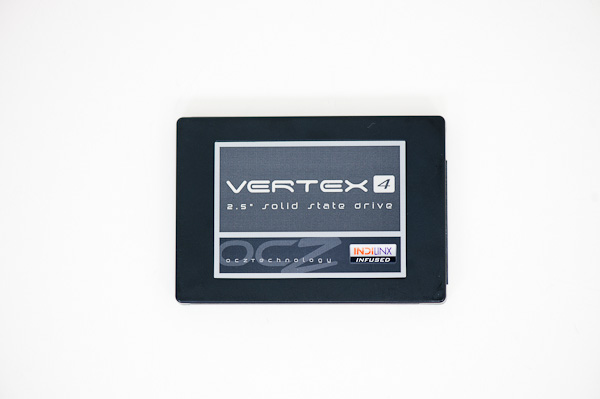 Rather than call this drive the Octane 2, OCZ went with Vertex 4, indicating its rightful place at the top of OCZ's SSD lineup. The implications run even deeper. It marks the first time in two years that a Vertex drive will ship without a SandForce controller inside. Make no mistake, while Octane was a shot across SandForce's bow, Vertex 4 means war. While OCZ continues to ship tons of SandForce controllers, the future for the company is Indilinx. The Vertex 4 is just the beginning. OCZ will continue to ship Vertex 3 in parallel, and should a future SandForce controller make competitive sense to use OCZ will definitely consider it, but the intention is to build the fastest silicon internally and use it as much as possible.
The dramatic departure in naming also embodies just how different Everest 2 is from the original Everest controller. OCZ claims there's minimal shared code between the Octane and Vertex 4 firmware, and the two drives perform very differently. Write amplification was always a concern with the Octane - it is no longer a major issue with the Vertex 4. OCZ and its Indilinx team have reduced write amplification to roughly the levels of Intel's controllers: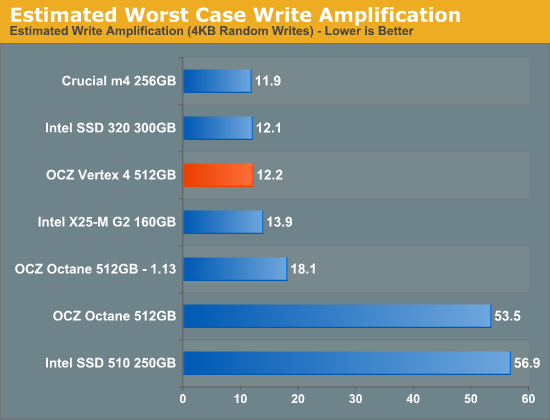 Indeed write performance is improved significantly as a result. A look at the spec sheet gives us the first indication of what's to come:
OCZ SSD Comparison
OCZ Vertex 4
OCZ Vertex 3
OCZ Octane
OCZ Vertex 2
Current NAND
25nm IMFT MLC
25nm IMFT MLC
25nm IMFT MLC
25nm IMFT MLC
Capacities
128, 256, 512GB
60, 90, 120, 240, 480GB
128, 256, 512GB, 1TB
60, 120, 240GB
Controller
Indilinx Everest 2
SF-2281
Indilinx Everest
SF-1221
Max Seq Read
535 MB/s
550 MB/s
480 MB/s
285 MB/s
Max Seq Write
475 MB/s
500 MB/s
330 MB/s
275 MB/s
Max Random Read
95K IOPS
60K IOPS
26K IOPS
-
Max Random Write
85K IOPS
85K IOPS
35K IOPS
50K IOPS
AES-256 Encryption
Yes
Yes
Yes
No
Regardless of the nature of the data (compressible or incompressible), the Everest 2 powered Vertex 4 promises better random write performance than any other consumer SSD on the market today. And it delivers: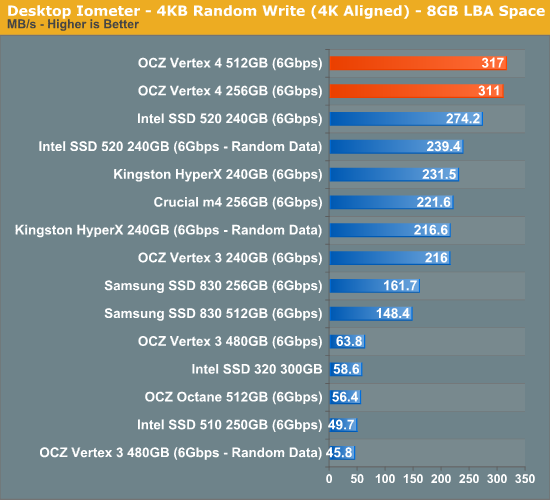 Random write speed is nothing short of incredible. OCZ is able to equal SandForce's write speed on highly compressible data without resorting to any sort of data compression. This is a purely algorithmic advantage. While the original Everest was a work in progress by the time OCZ acquired the company, Everest 2 is the first Indilinx project OCZ had complete control over. Apparently OCZ's CEO, Ryan Petersen had a lot of his own input built into this design.
OCZ Vertex 4 Lineup
512GB
256GB
128GB
NAND Configuration
16 x 32GB 25nm Intel sync NAND
16 x 16GB 25nm Intel sync NAND
8 x 16GB 25nm Intel sync NAND
DRAM
2 x 512MB DDR3-800
2 x 512MB DDR3-800*

2 x 512MB DDR3-800*
Controller
Indilinx Everest 2
Indilinx Everest 2
Indilinx Everest 2
Max Seq Read
535 MB/s
535 MB/s
535 MB/s
Max Seq Write
475 MB/s
380 MB/s
200 MB/s
Max Random Read
95K IOPS
90K IOPS
90K IOPS
Max Random Write
85K IOPS
85K IOPS
85K IOPS
MSRP
$699
$349
$179
*Only 512MB of DDR3 will be used, future versions will ship with 2 x 256MB devices
The Vertex 4 will be available in three capacities initially – 128GB, 256GB and 512GB, with a 1TB version following. Drives should be available today but in very limited quantities, and likely only 128GB capacities at the start. MSRP is fairly competitive with other 6Gbps drives on the market today: