Of the first crop of ultrabooks, Toshiba's Portege Z835 may not have been a big winner in terms of performance, but for usability and perhaps most importantly, price, it was a major success. The Z835 was able to get a lot of traction in ways that many of the other ultrabooks couldn't, and a lot of that had to do with how fast Toshiba was able to get it down to just $799 in retail, a price point even Acer had trouble hitting without making some real sacrifices. The Z835 wasn't the most solid feeling ultrabook or the fastest, but it had an SSD where Acer's bottom rung was employing hybrid storage solutions, and it was a good enough value.
Today Toshiba is capitalizing on that lead in some very smart ways, though. Ivy Bridge brings with it some big benefits for ultrabooks, substantially improving performance within the same power and thermal envelope, and naturally the Z835 is being refreshed with the shiny new Z935. The Z935 is basically the same system as the Z835, just with Ivy Bridge, but in my meeting with Toshiba I was also informed that the Z935 would become available with a higher resolution screen than 768p. Hopefully that'll turn out to be the case, but it's good to know that some of the vendors are starting to take the hint. The Z935 will be available on June 24th at a starting price of $899, but remember that it's SSD only, and these things often sell for less than MSRP. The Z835 started at $899, too, but quickly dropped to the much more compelling $799 price point.
For a budget option, Toshiba is also releasing a 14" ultrabook, the Satellite U845. The U845 uses an aluminum shell and you go down to a hybrid mechanical hard disk with SSD caching solution, and the weight bumps up to four pounds, but the notebook itself is still under an inch thick and definitely portable for a 14" system. Being the least expensive entry, it's stuck with a 1366x768 resolution screen, but it also starts at just $749 and like the Z935, it'll be available on June 24th.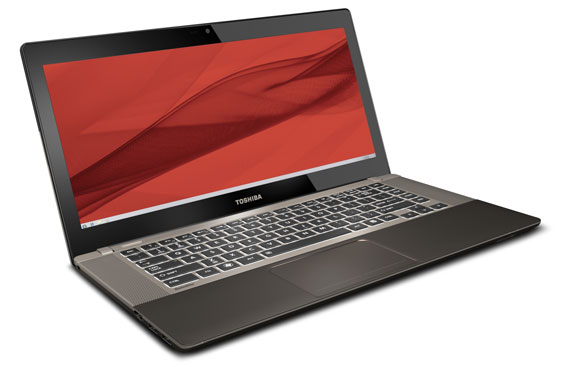 Far and away the most interesting ultrabook Toshiba had on hand was the Satellite U845W. This is the first 21:9 aspect ratio notebook I've ever seen, and the aspect is compelling for the right kind of user. Internally it's the same you've come to expect, with an Ivy Bridge ULV processor, USB 3.0, and then a mechanical hard disk with SSD caching. That 14.4" 1792x768 resolution screen is something else entirely, though, and while some users may balk at the lack of vertical resolution, the "double-wide" horizontal screen space makes the system a good choice for coding or any kind of text work. Toshiba is positioning it as more of a multimedia system (2.35:1 aspect movies can play without letterboxing), but I took one look at it and saw the kind of system that could be ideal for press who need something portable but need to have two document windows open at once. We're hoping to get one in for review when it becomes available, and that's July 15th, with a starting MSRP of $999.