Appearance and Cable Configuration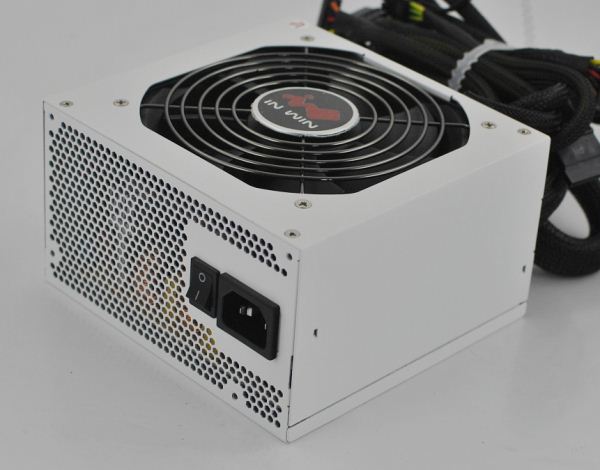 The white finish is pretty uncommon these days, and the red In Win logo adds a nice touch. The fan grille and ventilation holes at the back correspond to what we are used to see. There is a small power switch beside the AC inlet. At 140mm in length, this is a very small case and will work well in smaller enclosures.
Cables and Connectors

Connector type (length)

Main
1x 24-pin (45cm) fixed
ATX12V/EPS12V
1x 4+4-pin (50cm) fixed
PCIe
1x 6/8-pin (50cm) fixed, 1x 6/8-pin (50cm) fixed
Peripheral
3x SATA (ca. 50, 65, 80cm) fixed
3x SATA (ca. 50, 65, 80cm) fixed
3x Molex, 1x FDD (ca. 50, 65, 80, 95cm) fixed
All cables are fixed and there is even more bad news: Some cables are quite short and the number of HDD plugs is pretty unsatisfying as well. In addition six SATA connectors on two cables is just so-so for a 650W PSU. We'd like to see eight plugs here. Anyway, the cable sleeving is upscale and all peripheral harnesses reach 80cm length or more. Moreover even a low number of peripheral connectors should be enough to support most common PCs. Only for SLI and CrossFire setups with high-end graphics cards customers will need more PCIe connectors.