Introduction
While notebook hardware has steadily improved over the years, outside of the recent MacBook Pro with Retina Display there haven't really been any moves forward in improving desktop real estate in some time. In fact, for productivity-oriented users this continues to be a major reason for sticking with a desktop setup (if not a desktop system): more monitors, more space to work in. This fact of life has resulted in a bit of a niche market in the form of small, USB-powered screens.
We've tested both of GeChic's OnLap monitors and found that while they were flawed in their own ways, they were still able to expand useful work space without incurring too much of an inconvenience in terms of size or power requirements. Yet GeChic's screens need an HDMI or D-SUB port in addition to a USB 2.0 port for power, and if for one reason or another your notebook doesn't offer one of these, you're out of luck. Enter solutions based off of DisplayLink's USB technology, which are able to add another screen driven entirely over USB. Solutions like the screen we have on hand today, Toshiba's catchily-named 14" USB Mobile LCD Monitor. Here's the spec sheet:
Toshiba 14" USB Mobile LCD Monitor Specifications
Model
PA3923U-2LC3
Cabinet Color
Matte Black
Screen Size
14"
Native Resolution
1366 x 768
Display Colors
256000
Brightness
220 cd/m2 (Claimed)
Contrast Ratio
400:1 (Claimed)
Response Time
16ms
Connectivity
USB 2.0
User Controls
Power Button, Brightness Up, Brightness Down
Dimensions
13.4" x 9.4" x 0.6" (WxHxD)
(340mm x 239mm x 15.2mm)
Weight
2.8 lbs (1.27kg)
Pricing
Online starting at $170
Unlike the GeChic OnLap monitors we've reviewed here and here, which benefited from being driven off of the notebook's GPU, Toshiba's 14" monitor leverages DisplayLink's USB technology (which Jarred outlined here back in 2008). While DisplayLink has USB 3.0-based solutions slowly making their way to market, Toshiba's monitor still uses USB 2.0. Most of the remaining specifications are pretty weak, but this is a laptop designed primarily for office work as opposed to anything that demands color accuracy.
How Does it Work?
As a quick and dirty primer, DisplayLink basically uses on-the-fly compression as needed to stream data over USB to the DisplayLink-enabled monitor. What's important to note is that this means there's no GPU, dedicated or integrated, directly feeding the monitor, and as a result most of the heavy lifting has to be done by the CPU. That also means that gaming is mostly out of the question. Toshiba's monitor wasn't even exposed as an option for any of the games in our notebook testing suite.
I did try to run Duels of the Planeswalkers 2012 windowed and then drag the window over to the Toshiba monitor, and it did seem to be running well, but when I tried to maximize it, both screens were basically caught in a flickering loop. The only way I was able to break the system out of the loop was to shut it down completely.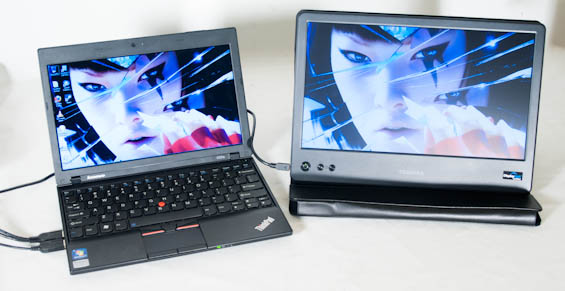 Nearest I can tell, DisplayLink's technology seems to present itself as a virtual monitor driven by the GPU, and then takes that data and funnels it through the USB connection to the external screen. It's impressive that it works at all, but remember that the funnelling requires on-the-fly CPU-based compression, and you'll see what that means later on.
Setup, by the way, is incredibly easy. While Toshiba includes a driver disc with their monitor, there's a driver readily available for download on Windows Update for Windows 7 as well. Plug the monitor in and let the drivers auto-install, and you're ready to go.