Introducing the Antec ISK 110 VESA
We've been having a good run of Mini-ITX cases lately, but most of those cases are designed to still be able to support what are essentially fully-powered systems: standard voltage CPUs, dedicated graphics cards, an optical drive and multiple storage drives. Yet part of the charm of Mini-ITX is that it's capable of fitting into a much smaller space than even a Micro-ATX board theoretically could. If you're gunning just to produce a system that's very small and very efficient, but you don't want to just use someone else's build, a Mini-ITX board and the right enclosure can have you covered.
That's where the Antec ISK 110 VESA comes in. This case is about as small as it gets, and includes the necessary hardware to actually mount it to the back of a monitor. Antec has trimmed about as much fat as you could conceivably hope to trim; there's enough room for a Mini-ITX board, two 2.5" drives, and that's it. It includes an external 90-watt power supply and just enough internal power circuitry to drive low-to-moderate power hardware. With so little room to work in, did Antec make the right decisions, or was there still more they could do?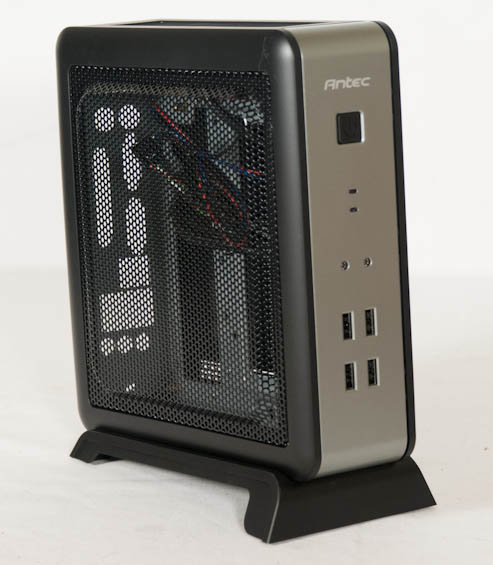 A few months back we were able to review two complete designs from Puget Systems that employed the ISK 110 VESA, and those systems proved you could still install a formidable machine in the tiny space. Yet there are very real limitations in getting a desktop this small, as well as certain trade-offs that Antec made. Just because there isn't much to pack in the ISK 110 VESA doesn't mean there isn't much to say about it or consider in its design; when you're drilling down this far, real choices have to be made.
Antec ISK 110 VESA Specifications
Motherboard Form Factor
Mini-ITX
Drive Bays
External
-
Internal
2x 2.5"
Cooling
Front
-
Rear
-
Top
-
Side
-
Bottom
-
Expansion Slots
-
I/O Port
4x USB 2.0, 1x Headphone, 1x Mic
Power Supply Size
Included external 90W
Clearances
HSF
40mm
PSU
-
GPU
-
Dimensions
8.7" x 3.1" x 8.4"
222mm x 78.6mm x 212mm
Weight
2.9 lbs / 1.3 kg
Special Features
External 90W 92% efficiency PSU
Price
$84
I wasn't kidding when I said this is about as barebones as it gets, but the price is reasonable at least considering you're getting a fairly specialized case, the necessary mounting brackets for placing it behind a monitor, and a power supply.