LG 29EA93—Brightness and Contrast
The LG 29EA93 uses a totally different panel and backlighting setup than any display that I've tested, so for once I am coming into a review without any real idea of how something will perform. With the LED backlight set to maximum with a pure white screen, the peak brightness measures at 252 nits. This is a bit lower than I expect but fine for those people without direct sunlight on the screen. With the backlight at minimum that light output level drops down to 61 nits, which provides plenty of range for users that have light controlled environments and want a dimmer display.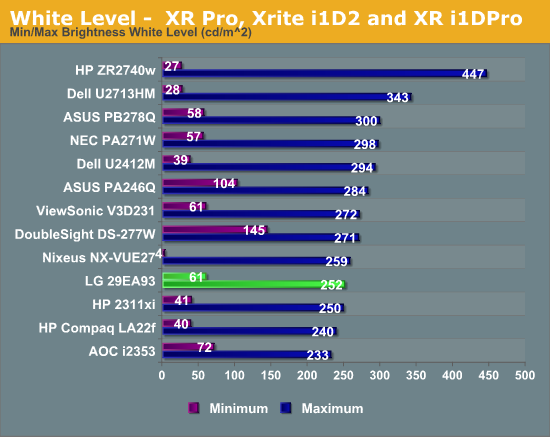 Black levels on the LG are pretty good in comparison to other IPS panels. The black level with the backlight at minimum is a nice 0.237 nits, and that drops all the way down to 0.057 nits with the backlight at minimum. When measured against the peak light levels and against other IPS displays, these are good black levels to see.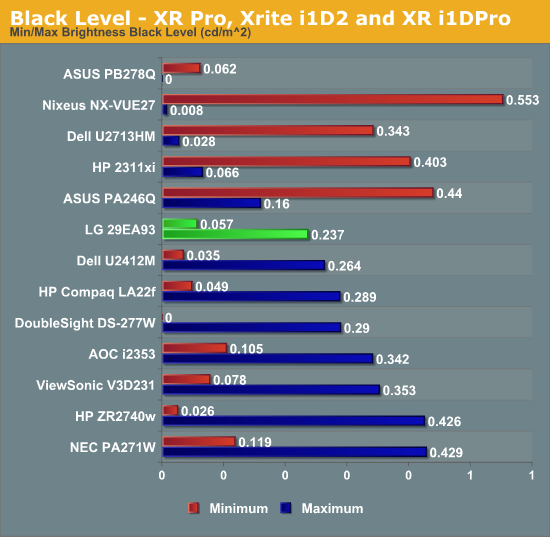 These numbers combine to give us a contrast ratio over 1060 for both minimum and maximum backlight levels. This puts the LG up there with the best IPS contrast ratios we have measured on any size display. The best VA displays still perform better, but IPS has managed to really improve upon contrast ratios the past few years.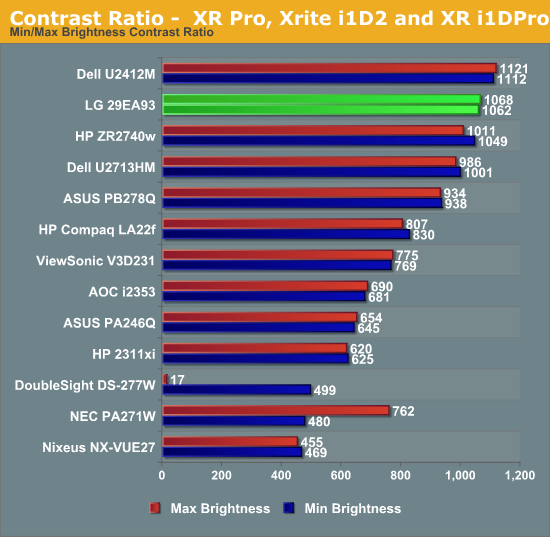 Overall the peak brightness left a bit to be desired on the LG 29EA93, but the black levels and contrast ratio help to make up for that. They still won't make it a good choice for someone that has to deal with direct sunlight on the display, but for users without that you can get plenty of brightness and a good contrast ratio from it.