Conclusion: Short on Software, Short on Value
People who buy high end peripherals (heck, high end kit in general) typically understand they're often on the poor side of the value curve. Granted these peripherals often tend to last a good long time and offer features and functionality garden variety hardware simply doesn't provide, but many users will look at a mouse with a $99 price tag and just go "what does that do that a $29 IntelliMouse can't?"
The Thermaltake Level 10 M is capable of doing quite a bit that a $29 IntelliMouse can't, as it turns out. Seven fully-configurable buttons, a configurable polling rate, and sensitivity that peaks at a healthy 8200dpi are all good reasons for someone to think twice about just sticking with a cheap mouse. The aluminum frame also feels incredibly sturdy, and the soft touch plastic with ventilation does feel good in the palm.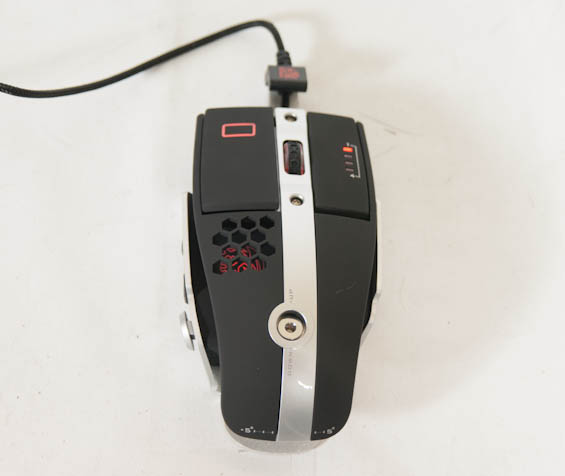 Unfortunately, even by premium gaming hardware standards, Thermaltake's Level 10 M comes up deficient in value. Configurable LED lighting is wonderful (my Alienware M17x R3 glows a delightful fuschia), but your mouse spends the majority of its useful life being covered by your hand. I know gamers who value adjustable weight, and those users aren't going to find it in the Level 10 M. Being able to adjust the grip is a cool idea and for some users may be a major selling point, but I'd rather have a mouse that just feels right out of the box.
The software is also unattractive and needlessly busy, having spent all of their skill points on style and maybe one on functionality. You can't configure the mouse to switch between profiles on the fly, the software itself can't do application detection, and there's no DPI shift functionality. These are features that other vendors typically have, and some have had for years.
For $99, the Thermaltake Level 10 M should be an absolute homerun. People who prefer to mouse left-handed may very well find it close to ideal regardless of its shortcomings, but unless you find the grip to be particularly pleasing, you may be better off with one of Thermaltake's more affordable and more intuitive mice, like the Black Element. Alternatively, I continue to recommend Corsair's M60, and Logitech's stellar-if-feature-light G500 can oftentimes be found for under $50.
Update 12-22-2012: You actually can switch profiles on the fly by pressing in the DPI switch; it's not the easiest thing to do without rocking it in any given direction, but it can be done. Unfortunately, this functionality isn't really exposed in the software, and you can't reassign other buttons to do it.