Ease of Installation
Just like in the last review, Corsair's Asetek-based products (the H90 and H110) both install in the same fashion, and in fact if you even have a mounting kit from a previous Asetek-based cooler you'll be able to basically just reuse it (which made my life a lot easier).
As a refresher, the Asetek-based coolers use a single metal ring that's attached through the mounting holes on the motherboard to a backplate. From there, you essentially insert the waterblock through the notches and twist it so the notches line up, then screw down the ring, locking the waterblock into place. It's a pretty simple affair and I still ultimately prefer it to the CoolIT method of cooler mounting. It just feels more precise and more secure.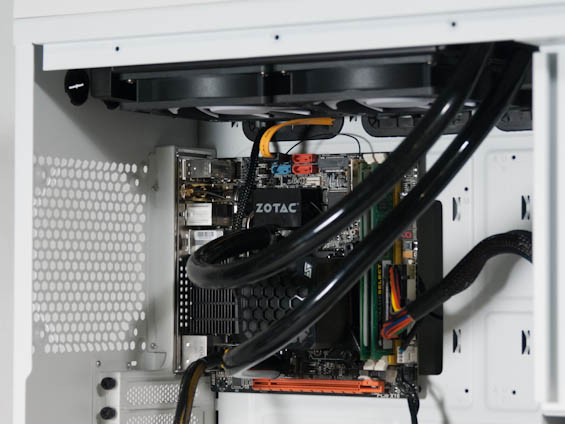 Swiftech, on the other hand, employs the CoolIT backplate for mounting the H220, but remember that the product is their own. In fact, when you open the box, the H220 is almost entirely assembled already, with the fans attached and the backplate lightly secured to the waterblock. Swiftech tried to make installation easier by including four small adhesive pads on the backplate: just peel off the protective tape and then stick the pads to the back of your motherboard (after lining up the screw holes) and you should be off and running. Please, do yourself a favor and take the pads off. Trying to do this without the benefit of adhesive is nightmarish, since the mounting screws are already attached to the waterblock.
Ultimately, these coolers are both pretty easy to install and I have to be honest, I vastly prefer installing a waterblock instead of a large air cooler. Waterblocks and radiators are just easier to install because only the radiator is heavier than a good air cooler, and the sharp fins are basically kept away from your hands. Swiftech smartly employs adhesive on their backplate which does help, but unfortunately also runs the risk of wearing out over time.