Samsung ATIV Smart PC: Display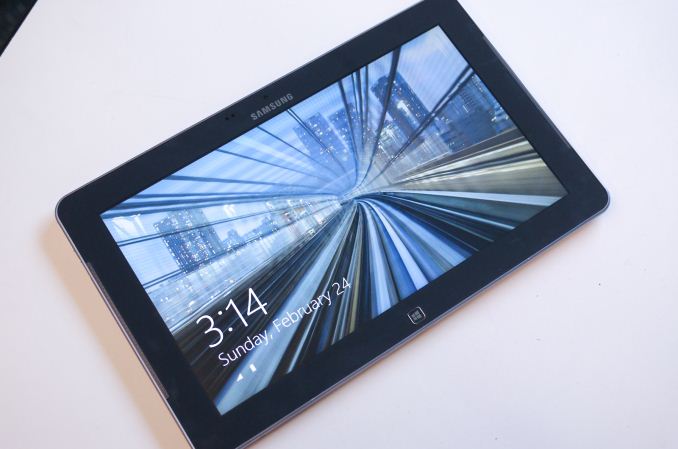 The ATIV Smart PC uses an 11.6" 1366x768 PLS capacitive multitouch display, with a Wacom digitizer. On paper, this is perfectly good, but there's a problem here—like many of the older tablet PCs, there's a grainy quality to the panel. When I say grainy, I'm referring to a slight sparkle or shimmer to the display, almost as though there are a number of specks in the panel. It's not due to the active digitizer—Wacom's EMR (electromagnetic resonance) system sits behind the display, as opposed to N-Trig digitizers which sit in front of the panel, so this is likely due to the Atmel capacitive touch digitizer.
The Smart PC Pro has a similar problem with screen grain (though to a lesser degree), but interestingly enough the Microsoft Surface Pro, which also has a Samsung-sourced PLS 1080p panel and an Atmel capacitive touch digitizer, has almost no digitizer grain. It's really distracting, and I'm not sure why it isn't mentioned more often. It's actually really rare to see panels with digitizer grain now that the days of passive digitizers are over, and I seem to be seeing it more and more often with Samsung products (the Series 7 All-In-One is another one with noticeable grain). It's a somewhat concerning trend, because it's been a legitimately long time since this has been an issue on devices with capacitive touchscreens.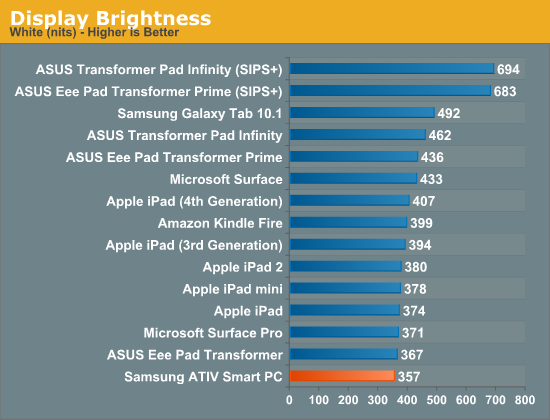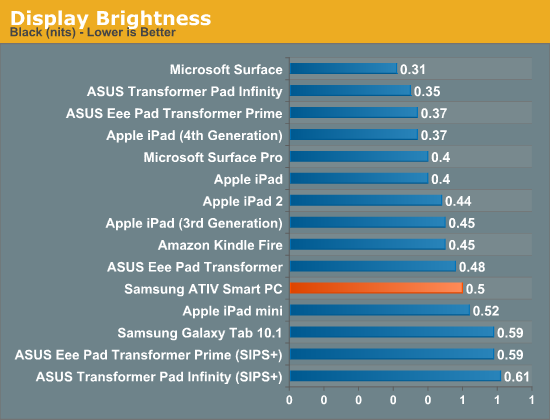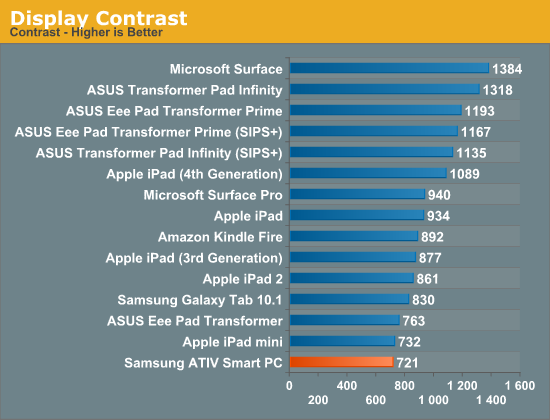 It's a shame, because the performance is actually not bad—regardless of how the graphs look, the panel is pleasantly contrasty, with good color accuracy and a solid if not blinding maximum brightness. Every high end tablet these days has to come with a fantastic display, and even a tablet with a comparatively mediocre display like this one would still be one of the single best notebook/ultrabook panels out there. But yes, with a resolution of 1366x768 on an 11.6" panel, it does lag behind in terms of pixel density as well as performance compared to the cream of the crop of the tablet class.
Because this is Samsung, it's a Super PLS (Plane-to-Line Switching) panel instead of IPS (In-Plane Switching). PLS was developed by Samsung and derived from IPS and supposedly offers a number of incremental improvements, including lower panel cost and higher brightness, but it's quite hard to tell the difference between the two display technologies in day-to-day use. I do like that with the merging of small ultraportables and tablets, it's getting much more common to find small and inexpensive mobile computers containing wide angle display technologies.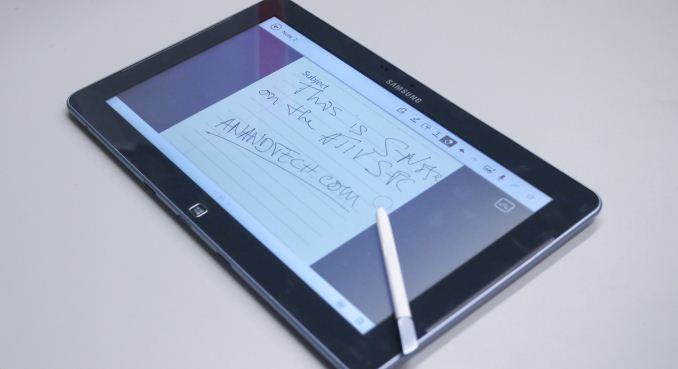 The Wacom digitizer is also a great feature to have, and I'm glad to see a resurgence in the number of Wacom-enabled devices hitting the market since the launch of Windows 8. Obviously, the most prominent of the lot is Surface Pro, but many of the other Intel-based tablets (ATIV Smart PC and Pro, VivoTab, ThinkPad Tablet 2, etc.) are coming with active pen support as well. I can't remember the last time we had so many consumer focused active-digitizer tablets on the market, to be honest. For Samsung, this clearly ties in with their inking efforts with the Galaxy Note lineup on the Android side of things, and so we see digital inking applications like S-Note bundled in with the ATIV. And if you rely on OneNote for, say, notetaking in class, it's a pretty wonderful inclusion.