AMD's Kabini Laptop Prototype
AMD shipped hardware sites special prototype laptops, similar to what we've seen in the past with Sandy Bridge, Llano, Ivy Bridge, and Trinity. These systems typically aren't intended to hit retail outlets, though in some cases they may be very similar to production laptops; I'd guess that's not the case with the Kabini prototype.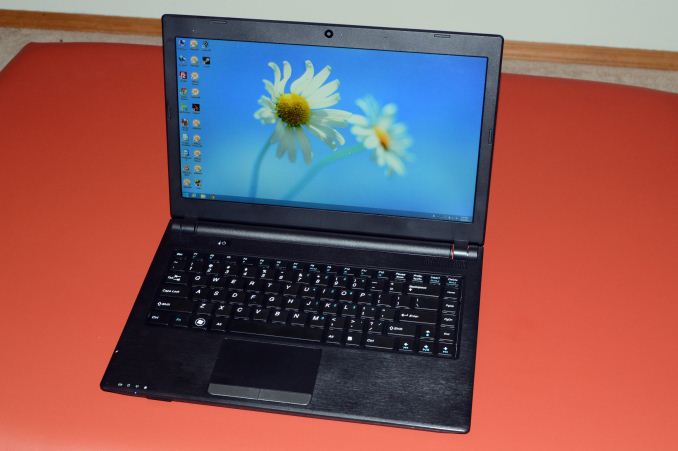 The laptop is actually very interesting in some areas, but it has major flaws in others—chiefly the build quality, keyboard, and touchpad. There's more flex in this keyboard than in a steroid laced bodybuilding contest, and the feel of both the keys as well as the touchpad is poor at best. Those are areas that are easy to address, and given we're not looking at hardware intended for retail sales it's not too much of a problem; we only need the laptop for benchmarks right now.
If that's the bad news, what's the interesting aspect? The display. It's the first high quality 1080p 14" LCD I've personally encountered. It's an AU Optronics AHVA (Advanced Hyper-Viewing Angle) panel, model AUO B140HAN01.1. I'm hopeful that with AMD using such a panel in a prototype laptop, we may finally be nearing the end of the horrible 1366x768 panels…but don't hold your breath.
Here's the short rundown of the laptop's hardware.
AMD Kabini Prototype Specifications
Processor
AMD A4-5000M
(Quad-core 1.50GHz, 2MB L2, 28nm, 15W)
Chipset
Yangtze
Memory
4GB (1x4GB) DDR3L-1600 (11-11-11-28?)
Graphics
AMD HD 8330
(128 cores, 500MHz)
Display
14.0" Anti-Glare 16:9 1080p (1920x1080)
(AUO B140HAN01.1)
Storage
320GB Toshiba HDD (MQ01ABD032)
Optical Drive
DVDRW (HL-DT-ST GU70N)
Networking
802.11n WiFi (Broadcom BCM43228)
(Dual-band 2x2:2 300Mbps capable)
Bluetooth 4.0 (Broadcom)
Gigabit Ethernet (Atheros AR8161)
Audio
Conexant HD (R600)
Stereo Speakers
Headphone/Microphone combo jack
Battery/Power
6-cell, 15V, 3000mAh, 45Wh
65W Max AC Adapter
Front Side
Flash Reader (MMC/SD)
Left Side
1 x USB 3.0 (Powered when Sleeping)
1 x Mini-HDMI
1 x VGA
Gigabit Ethernet
Exhaust Vent
AC Power Connection
Right Side
Headphone and Microphone
2 x USB 2.0
Optical Drive
Kensington Lock
Back Side
N/A
Operating System
Windows 8 64-bit
Dimensions
13.34" x 9.47" x 0.88" (WxDxH)
(339mm x 241mm x 22.4mm)
Weight
3.81 lbs (1.73kg)
Extras
Webcam
86-Key Keyboard
Just to call out a couple noteworthy items, first is the single-channel memory configuration. In theory that could be hampering performance somewhat, but we have no real way of knowing. While the laptop does support two SO-DIMMs, Kabini only supports a single-channel interface, so adding a second SO-DIMM wouldn't help.
The other configuration item I want to call out is the storage device, specifically the Toshiba HDD. Hard drives are slow, we all know this, but our experience over the past several years suggests that Toshiba's 5400RPM hard drives are even slower than other offerings. Anand installed an SSD to run PCMark 7 for comparison, and that certainly helps with overall responsiveness. Realistically, though, we're not at the stage where I expect laptops using Kabini to ship with SSDs—even an inexpensive 128GB SSD will increase the total BoM by 15% or more, which isn't going to fly in the budget sector Kabini is destined to compete in.
Before we get to the actual benchmarks, let me go over the general impression of the system in day-to-day use. For much of what you might do (e.g. surfing the web, watching streaming videos, emailing, and office use), Kabini works well. Technically even Atom and Brazos can handle most of those tasks, but there's a noticeable speed up in typical use. However, there are also occasions where the system really bogs down; some of that may be thanks to the slow HDD, or (less likely) the single-channel memory, but while Jaguar cores are a step up in performance from Brazos cores (never mind Intel's Atom variants), they're still nowhere near as fast as a Trinity or Ivy Bridge core.
What Kabini really brings to the table is ultra low power requirements with performance that's a great match for ultraportable devices. We'll see the Temash APUs (basically a lower power Kabini) in tablets, but Kabini may find its way into a few larger tablets as well as hybrid devices. At 9W and 15W TDPs, basically anywhere we've seen Intel's ULV cores show up is a place that Kabini can go as well. There are compromises you'll have to make one way or the other (faster CPU, faster GPU, battery life, drivers, features, etc.), and I don't think there's going to be a single "correct" solution for every device out there. Choice is the name of the game, and even if you decide Kabini may not be right for you at least it's good to have an alternative.