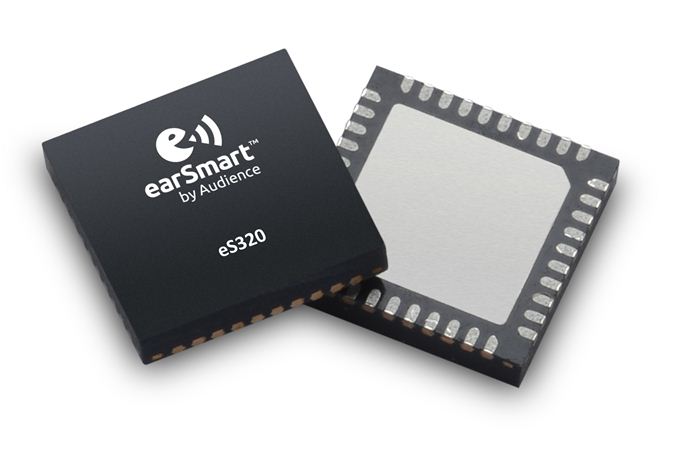 One of the interesting trends of late has been the slow trickle of features which originated in the mobile space over to the more traditional notebook and desktop PC spaces. We've seen better battery life and power features, better onboard sensors, and different form factors, and now the latest to join the fray is improved noise rejection for VoIP and ASR (Automatic Speech Recognition) applications using some of the same components used in smartphones. Users are starting to expect some of the same features they've grown used to on smartphones and tablets in their more traditional devices.
Audience has had IP and discrete voice processors for mobile applications (smartphones and tablets) for a while now, using two and recently three microphones to cancel ambient noise using their model of the human ear and both time and frequency based algorithms. I've been impressed with the capabilities of their voice processors for a while now while testing them in smartphones, moving this capability to other platforms makes a lot of sense. The latest generation of voice processors includes processing for wideband voice up to 24kHz (higher quality VoIP or AMR-WB cellular network calls), de-reverb, and improved filtering for voice recognition algorithms like Google Now.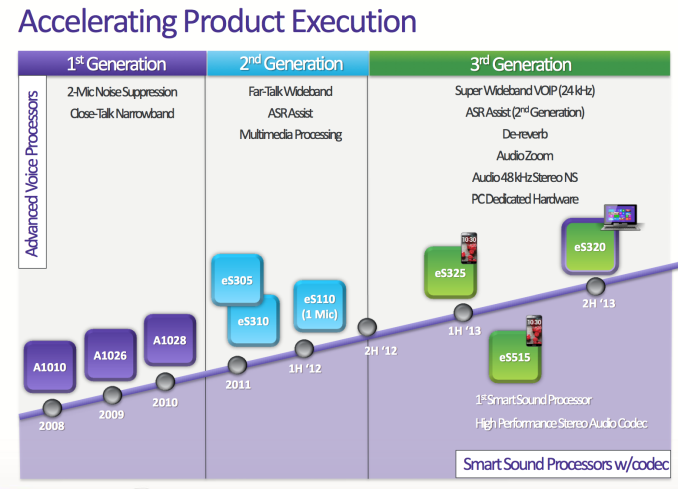 Today, Audience is announcing the eS320, which is designed for PC notebooks and all-in-one platforms. It brings a similar featureset to the eS325 we've talked about previously, but tailor made for Windows and other x86 based platforms. Part of the eS320's goal is to enable Audience to diversify itself beyond just smartphones and tablets, but it also is hoping to catch an adoption wave by bringing a cost reduction through use of a 2-3 microphone system instead of the 4-5 microphones required for beamformer rejection recommended by Intel in their new hero specification for ultrabooks. There's also a cost savings given the additional routing, tuning, and cutting required for each new microphone that Audience is hoping will steer OEMs to their design to meet the performance requirement. Instead of the microphone pairs required on the front and back to meet test performance requirements, the Audience solution uses two or three microphones to deliver better rejection and better positional robustness. Beamformers form an acceptance cone, and anything inside gets passed, these often are visible as a microphone pair next to the front facing camera, or side. What's intriguing about Audience's solution is that they don't work exclusively in the time domain like a beam former but rather make a bubble based on cues from ambient sounds.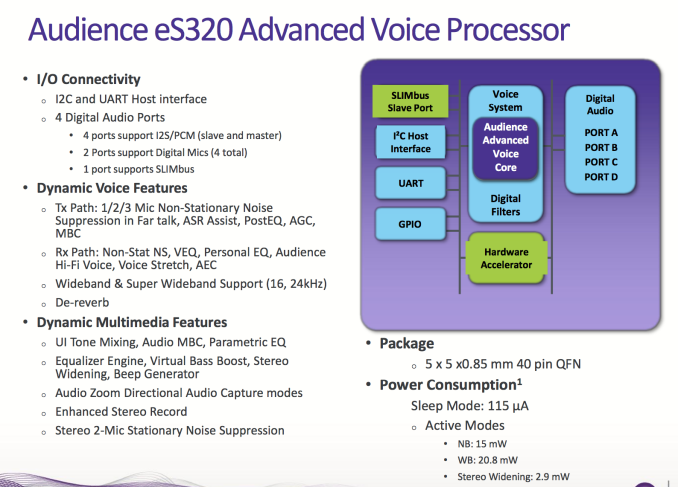 The eS320 is built on a 40nm process just like the other 3xx family products and includes 4 digital audio ports. Audience says they already have design wins from Dell and more product announcements coming with their solution inside.