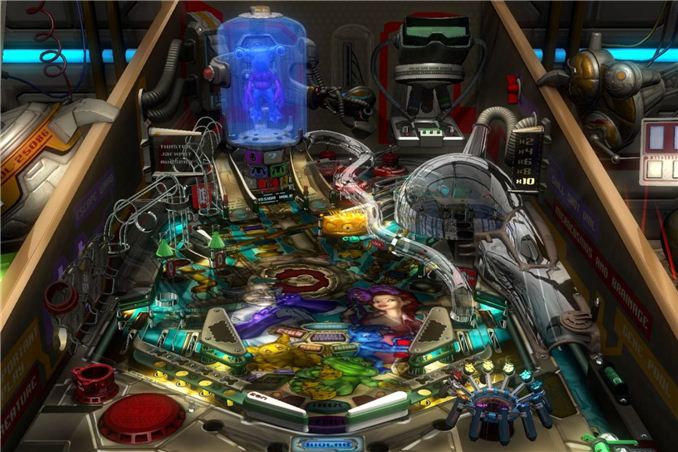 The Humble Weekly this round is for one type of gamer and one type of gamer only: those who like electronic pinball. I used to play some of the computer pinball games back in the day (no, not just the Windows XP pinball game), so I suppose I should be even more specific and say that this bundle is for people that like the Zen Studios Pinball FX2 tables – it's been too long so I couldn't tell you whether the FX2 engine is better than some of the others that have come and gone, but whatever. If you want to play some digital pinball you can get over 20 different tables this week.
Just to clear things up, Zen Studios' Pinball FX2 is actually a free download on Steam, and it's available as a Windows 8 app as well. The Steam version includes the Sorcerer's Lair as a permanent free table (the Windows 8 version gives you the Mars table); if you want any additional tables you will have to buy them. And let me tell you, there are quite a few tables available – which brings us to this week's bundle.
The usual rules apply: one dollar or more will get you the base set of games, and six dollars or more will get you a few additional titles. But instead of "titles" this time, we're dealing with "tables" (and packs that include multiple tables). There are five "games" for the core bundle (three tables and two additional packs that add more tables), with six dollars unlocking three more packs. The core tables/packs consist of the Pinball FX2's Core Pack (Pasha, Rome, Biolab, and Secrets of the Deep tables), Zen Classics Pack (remastered Shaman, El Dorado, Tesla, and V12 tables), Earth Defense Table, Paranormal Table, and the Epic Quest Table – all told, that's eleven pinball tables.
Donate/pay $6 or more and you add three more packs, the Marvel Pinball: Avengers Chronicles Pack (Marvel's The Avengers, Fear Itself, The Infinity Gauntlet, and World War Hulk tables), Star Wars Pack (The Empire Strikes Back, The Clone Wars, and Boba Fett tables), and Marvel Pinball Original Pack (Spider-Man, Wolverine, Iron Man, and Blade tables).
Counting the eleven initial tables and the free table you get with the main FX2 game, that ends up being 23 pinball tables for $6. Purchased separately, the tables and packs would cost around $59. Of course, if you don't like computer pinball games, it doesn't really matter how low the price is, but you can still donate money to charity – Watsi or American Red Cross are the two charities for this bundle. Note that Pinball FX2 is currently only available on Windows platforms, and the bundle provides Steam keys, so OS X/Linux users need not apply.
Source: Humble Bundle