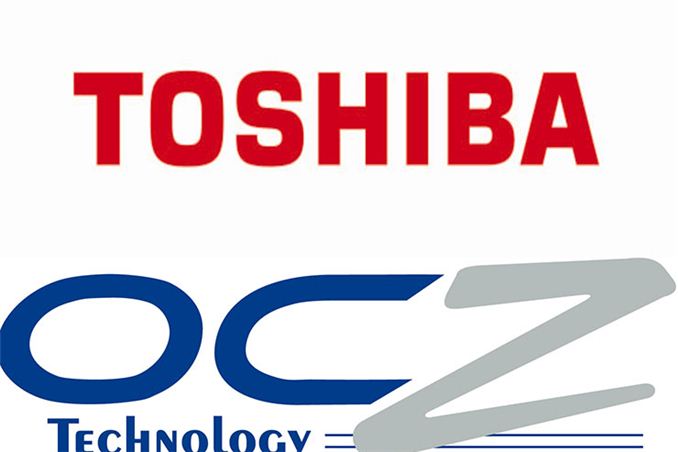 Following last week's news of OCZ's bankruptcy filing, it's now official that Toshiba is acquiring OCZ's assets for $35 million cash. The agreement includes all of OCZ's client and consumer SSD business (controller IP, firmware, software and employees) and the acquisition is expected to be completed within the next 60 days. Unfortunately there is no official word on the fate of OCZ's other product groups (such as power supplies and cooling) but I've asked OCZ to clarify that and will update this post once I hear back.
The acquisition agreement includes a condition that Toshiba must provide OCZ with sufficient DIP (Debtor-in-Possession) financing in order for OCZ to keep the business going for the time being. In other words, OCZ's will continue to do business as normally but the press release doesn't reveal anything about what happens when the acquisition is completed. OCZ did tell us that warranties will be honored and their support status will remain unchanged but I'm waiting for OCZ to confirm that this also applies to the post-acquisition period (i.e. Toshiba would take responsibility of OCZ's warranties).
I'm glad that the deal went through because OCZ has a substantial amount of know-how when it comes to SSDs. OCZ had no troubles creating a high performance SSD, which speaks for talented engineering, but reliability was always their stumbling block. OCZ made the mistake rushing products to the market with only little validation but I'm confident that this will change under Toshiba's management. Validation is often the toughest part for smaller OEMs because it's an expensive and time consuming process -- there is simply not enough capital to validate the product for a full year like Intel has done in the past. With Toshiba the capital or manpower for a thorough validation process should no longer be an issue, especially because Toshiba has proven to be reliable in the past.
For someone like Toshiba, $35 million is a drop in the ocean. Compared to OCZ's current market cap ($7.68M), even $35 million is a good deal but bear in mind that back in 2011 OCZ paid $32 million for Indilinx alone. Now Toshiba is getting OCZ along with the former Indilinx and PLX for about the same price. It doesn't help that a little over year ago when OCZ acquisitions rumors were at their hottest, I heard figures of up to $1 billion being offered to OCZ but the company turned down the offers. It's easy to say now but OCZ should have struck while the iron was hot.
Either way, I'm eagerly waiting to see how the acquisition will play out. I doubt we will see the OCZ brand any longer, but it will be interesting to see OCZ's influence on Toshiba's future SSDs.
Source: OCZ Press Release