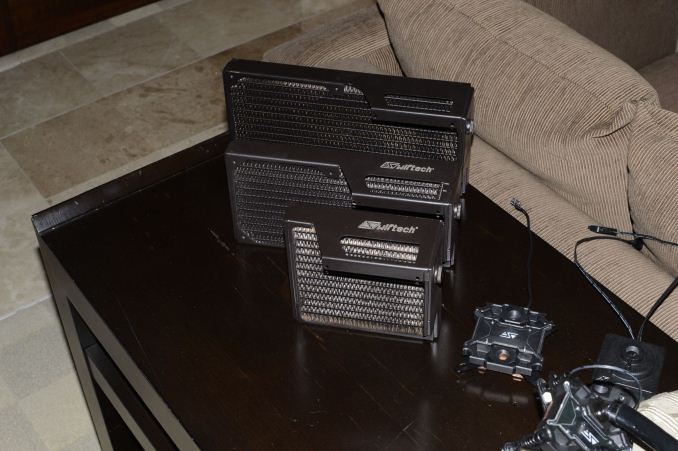 Swiftech is a fairly well-known name in the realm of computer cooling, founded nearly 20 years ago by Gabriel Rouchon (but not officially named Swiftech until 2001). While they have various other products, at CES their focus is solely on the world of liquid cooling. Last year they unveiled a new product similar to a closed-loop-cooling (CLC) kit that incorporated a pump on the CPU waterblock, with the interesting twist being that it came with the ability to disconnect and add more tubing/waterblocks, and the pump is powerful enough to drive a full liquid-cooling setup with GPU(s), chipset, and of course CPU. This year, they're going in a similar route only now the pump is being integrated onto the radiator.
The H220X comes with a compact 2x120mm radiator and fans with an integrated high power pump, reservoir, and CPU waterblock. There's a window as well to show the current coolant level and LED lighting. It's shipped in a ready-to-install state with the coolant pre-filled. If you want to add to the list of liquid-cooled devices, you're able to disconnect the tubing and add GPU and chipset waterblocks to the loop. The expected delivery date is March 2014, with an MSRP of around $150. Prototype models with 1x140mm and 2x140mm form factors were also present but not yet ready for launch.
Swiftech had several other items on display as well, including a new Swiftech designed ultra-high pressure pump, the MCP50X. Swiftech had the new pump and their current MCP35X set up in a demonstration showing that the new pump provides roughly 20% more pressure. I also noticed that the new pump runs cooler to the touch than the existing pump. Swiftech didn't want to provide an MSRP yet, but it's also expected to ship at the end of March. There is also a new Apogee XL waterblock for Ivy Bridge and Haswell that features a higher flow rate than previous Apogee blocks, and going with the LED lighting on the H220X there's now LED lighting on the waterblock that pulses "like a heartbeat". Continuing the theme, new Komodo GPU cooling blocks are available for AMD's R9 290/290X GPUs and NVIDIA's GTX 780 Ti. Both blocks feature a large window to show the coolant and LED lighting (that can be changed through the use of colored plastic strips to red, blue, or green along with white).
Wrapping things up, there's a new Maelstrom V2 5.25" bay reservoir (again with LED lighting) that's paired with the new MCP50X pump. You can see a shot of this in the gallery where it was hooked up to a couple of R9 290X cards with the Komodo coolers, an Apogee XL CPU cooler, and three 3x120mm radiators. Also on display are quick disconnect fittings with a new black chrome finish that some users are certain to love. While most people will never use liquid-cooling on their PCs, the segment of the market that wants to improve cooling and lower noise – and maybe add some visual flair to their PC in the process – will always appreciate new liquid-cooling solutions and that's what Swiftech is delivering.