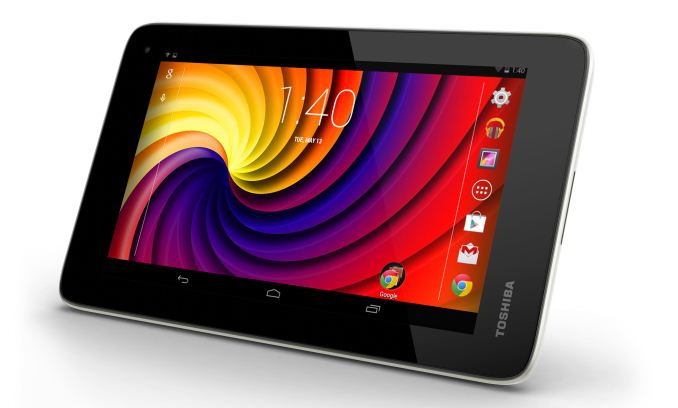 Today Toshiba announced a suite of six new Intel powered tablets and laptops, ranging from an ultra-affordable Android Tablet to a Yoga like Ultrabook.
Excite Go
Starting with the first tablet, Toshiba launched a 7" Android 4.4 tablet called the Excite Go. This small form tablet is decidedly low end, but also comes with a low end price tag of only $109.99. Powered by a quad-core Intel Atom, it has a 1024x600 display, weighs in at less than a pound (354 grams) and comes styled in a Satin Gold finish. This tablet is expected to be available early July.
Encore 2: 8" & 10.1"
The next two tablets announced are running Windows 8.1 – and right after Microsoft announced Windows 8.1 with Bing, we see the result of this new SKU with the two tablets being far less expensive than previous versions. The new Encore 2 branded tablets come in both 8 and 10.1" sizes and also are powered by quad-core Intel Atom processors but step up from the Android device with a modest increase in resolution – 1280x800 – for both of the Encore 2 devices. Also included is Micro HDMI and microSD support for adding an additional 128 GB of storage over the optional 64 GB internal NAND. As with the Android tablet, the finish is again Satin Gold, with prices starting at $199.99 for the 8" and $269.99 for the 10" version with availability in early July.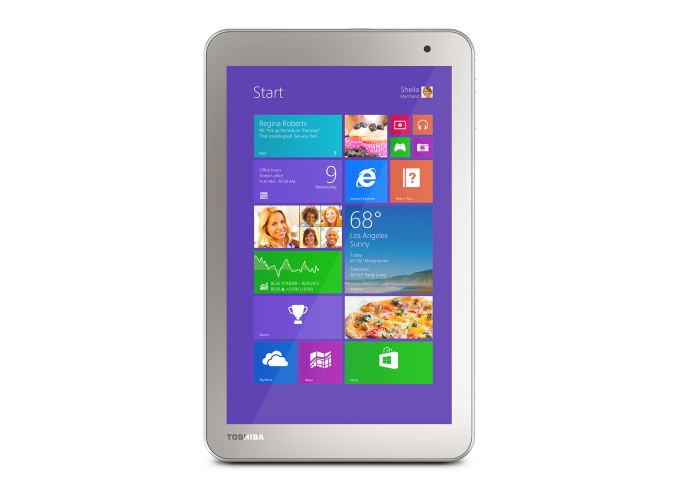 Satellite Click 2
Next up were a pair of 2-in-1 laptops with detachable keyboards branded as the Satellite Click 2 and Satellite Click 2 Pro. The Click 2 features a 13.3" 1366x768 display, a quad-core Intel Pentium Processor, and a 500 GB hard drive. Networking is provided by 802.11ac, which is nice to see becoming a standard even on lower priced devices. At 0.9" thick including keyboard, it's not as thin as some of the more expensive devices out there, but that can be forgiven somewhat with the MSRP of $586.99. Toshiba is touting their quick-release latching mechanism for easy removal of the keyboard base, and the Click 2 is one of Toshiba's first devices to have an audio system tuned by Skullcandy and DTS – obviously we're not sure if the tuning was for accuracy or to improve bass response, and will have to wait for shipping devices to be tested to see if this is any sort of improvement. Toshiba expects this device to begin shipping in June.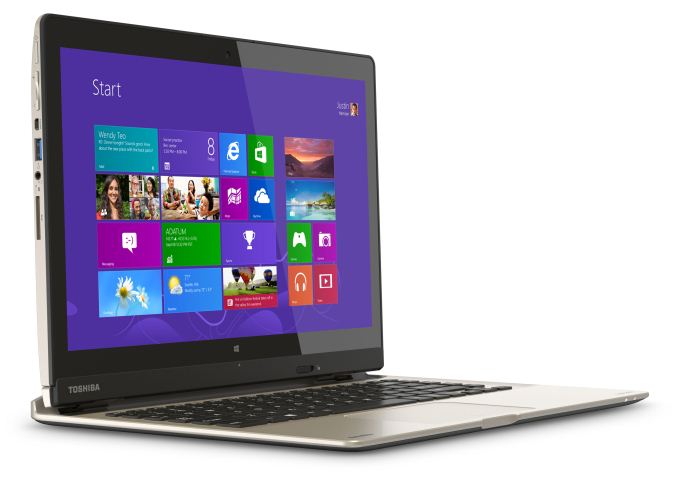 Satellite Click 2 Pro
The Click 2 Pro keeps the 13.3" screen but bumps the resolution up to 1920x1080. Also added are front and rear cameras, and a push-pull hinge mechanism which allows the screen to be attached and detached with a single hand. The chassis is anodized brushed aluminum and shrinks from 0.9" of the Click 2 to 0.78" including keyboard on the Pro. 802.11ac Wi-Fi is also standard as well as microSD, Micro HDMI, and Micro USB 2.0 ports. The keyboard on this version has backlit keys, two additional USB 3.0 ports, and an optional keyboard with both a secondary battery as well as an additional 500 GB hard drive to go with the 128 GB SSD of the tablet. The Pro is powered by a Haswell Core processor and features Harmon Kardon sound. The MSRP starts at $1028.99, and the optional base with battery and hard drive bump the price up to $1279.99. Availability is also late June.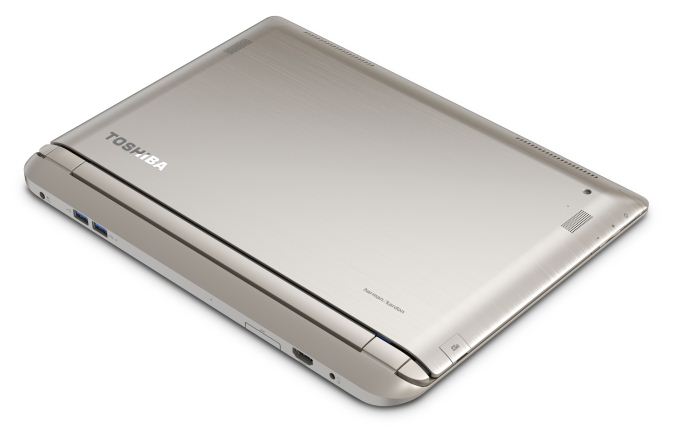 Satellite Radius
Finally, the Satellite Radius multimode laptop was introduced. This device features a 360° flip and fold hinge much like the Lenovo Yoga series. The display is a 15.6" 1920x1080 touchscreen. The chassis is brushed aluminum with Harmon Kardon speakers and DTS Sound audio processing. The device comes with either an i5 or i7 CPU, 8 GB of memory, and up to 1 TB of storage. 802.11ac Wi-Fi is standard, and there is a HDMI port capable of 4k output as well as three USB 3.0 ports and dual-array microphones. There is also a large range of sensors normally found in tablets, such as an accelerometer, gyroscope, compass, and of course the ambient light sensor. MSRP starts at $925.99 with availability in early June.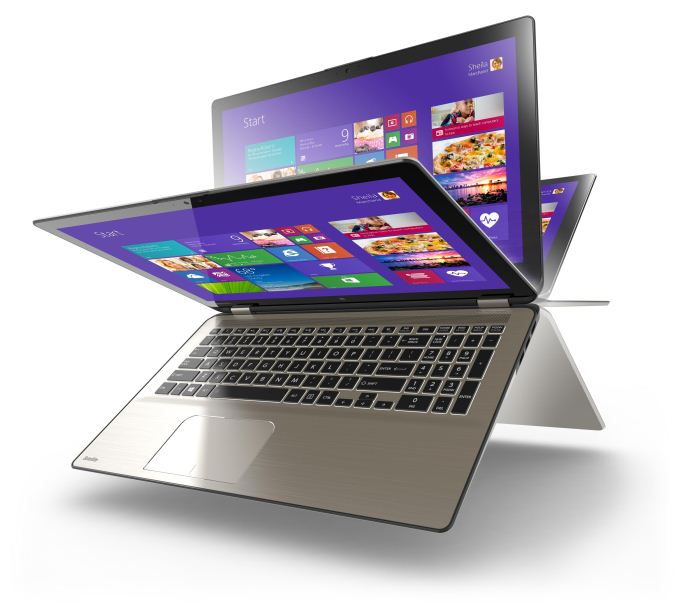 Toshiba Devices
Excite Go
Encore 8
Encore 10
Click 2
Click 2 Pro
Radius
Display
7" 1024x600
8" 1280x800
10.1" 1280x800
13.3" 1366x768
13.3" 1920x1080
15.6" 1920x1080
CPU
quad-core Atom
quad-core Atom
quad-core Atom
quad-core Pentium
Haswell Core
Haswell Core i5/i7
Storage
up to 16 GB
up to 64 GB
up to 64 GB
500 GB (HDD)
128 GB SSD + optional 500 GB (HDD)
up to 1 TB
Price (Starting)
$109.99
$199.99
$269.99
$586.99
$1028.99
$925.99
Unfortunately, Toshiba has not yet provided full specifications for these devices so we've reached out to them for more details. This post will be updated if more information is provided.
Source: Toshiba