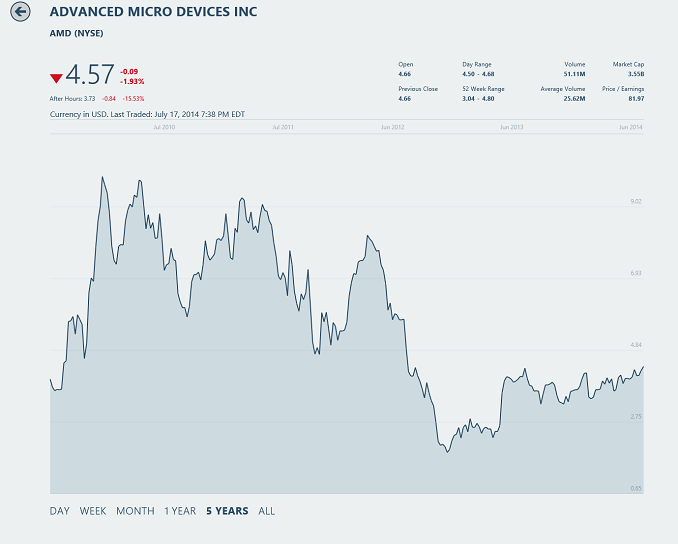 AMD hosted their quarterly earnings conference call this afternoon to announce their financial results for the quarter ending June 2014. In a similar story to last quarter, AMD has inched closer to profitability yet again. Revenue for the quarter came in at $1.44 billion, an increase of 3% over Q1 2014 and up 24% year-over-year.
AMD Q2 2014 Financial Results (GAAP in USD)
Q2'2014
Q1'2014
Q2'2013
Revenue
$1.44B
$1.40B
$1.16B
Operating Income
$63M
$49M
-$29M
Net Income
-$36M
-$20M
-$74M
Earnings per Share
-$0.05
-$0.03
-$0.10
Once again, gross margins were flat over the preceding quarter at 35%. Operating income for the quarter was $63 million, up from $49 million in Q1, however the GAAP results still ended up with a $36 million net loss. The Non-GAAP numbers come in higher due to the exclusion of $49 million in loss from debt redemption.
Non-GAAP operating income was $67 million, with a net income of $17 million or $0.02 per share which missed analyst's expectations of $0.03 per share.
AMD Q2 2014 Financial Results (Non-GAAP in USD)
Q2'2014
Q1'2014
Q2'2013
Revenue
$1.44B
$1.40B
$1.16B
Operating Income
$67M
$66M
-$20M
Net Income
$17M
$12M
-$65M
Earnings per Share
$0.02
$0.02
-$0.09
Cash, cash equivalents and marketable securities were $948 million at the end of the quarter. AMD has a target for cash on hand of $600 million minimum with $1 billion as an optimum target, and is within that window. Total debt went up from $2.14 billion to $2.21 billion.
Once again, the Computing Solutions segment of AMD performed poorly, with a revenue decrease of 1% from Q1, and 20% from Q2 2013. AMD attributes this to a decrease in microprocessor unit shipments. However higher margins and an increase average selling price (ASP) meant that the increased the operating income to $9 million for the quarter, up from the $3 million loss last quarter, and also up from the $2 million in income at the same time last year.
AMD Q2 2014 Computing Solutions Division Financial Results
Q2'2014
Q1'2014
Q2'2013
Revenue
$669M
$663M
$841M
Operating Income
$9M
-$3M
$2M
Graphics and Visual Solutions continued its strong performance from last quarter with an increase in revenue of 5% from last quarter, and 141% year-over-year. AMD once again attributes this gain to semi-custom SoC shipments which likely mean Game Console sales. GPU revenue was down both sequentially and year-over-year but slightly offset by an increase in professional graphics and desktop OEM GPUs. Overall operating income for the segment was $82 million, down from $91 million last quarter and up from a breakeven point in Q2 2013. GPU ASP decreased compared to both last quarter and Q2 of last year.
AMD Q2 2014 Graphics and Visual Solutions Division Financial Results
Q2'2014
Q1'2014
Q2'2013
Revenue
$772M
$734M
$320M
Operating Income
$82M
$91M
$0M
AMD has reorganized its reporting structure for upcoming financial results. As of Q3 2014, the segments will be Computing and Graphics which include desktop and notebook processors, chipsets, and GPUs, and Enterprise, Embedded, and Semi-Custom segment which will be servers, embedded systems, and game consoles.
AMD is expecting a 2% revenue increase plus or minus 3% for the 3rd quarter this year.
AMD still has some work to do in order to get to profitability, but so far 2014 has been a lot easier on them than the last couple of years.
Source: AMD