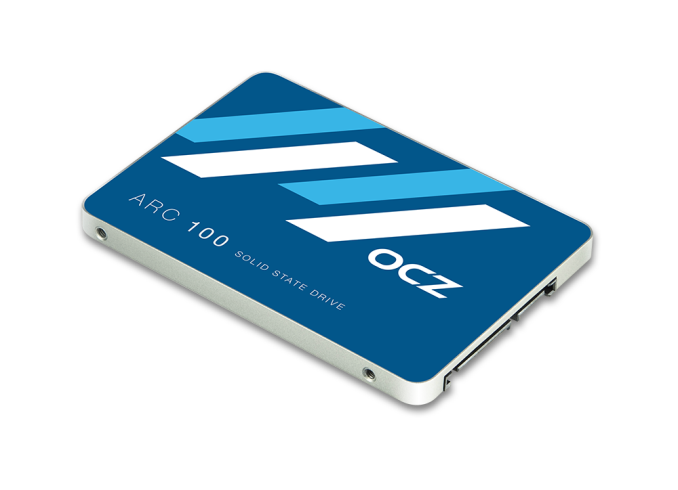 The release of the Vector marked as a change in OCZ's strategy. With a new CEO, OCZ's goal was to change the company's brand image from being a low-cost value brand to a higher-end, high performance and quality SSD manufacturer. For the first time, OCZ decided not to release a value version (Agility-level drive) of its Barefoot 3 platform and only focused on the higher-end market with the Vector and Vertex 4xx lineups. Almost two years later since the introduction of the Vector, OCZ is now finally comfortable with bringing the Barefoot 3 platform to the mainstream market and the ARC 100 acts as the comeback vehicle.
OCZ ARC 100 Specifications
Capacity
120GB
240GB
480GB
Controller
OCZ Barefoot 3
NAND
Toshiba A19nm MLC
Sequential Read
475MB/s
480MB/s
490MB/s
Sequential Write
395MB/s
430MB/s
450MB/s
4KB Random Read
75K IOPS
75K IOPS
75K IOPS
4KB Random Write
80K IOPS
80K IOPS
80K IOPS
Steady-State 4KB Random Write
12K IOPS
18K IOPS
20K IOPS
Idle Power
0.6W
0.6W
0.6W
Max Power
3.45W
3.45W
3.45W
Encryption
AES-256
Endurance
20GB/day for 3 years
Warranty
Three years
MSRP
$75
$120
$240
Similar to Vector 150 and Vertex 460, one of the main focuses in the ARC 100 is performance consistency and OCZ remains to be one of the only manufacturers that reports steady-state performance for client drives. The biggest difference to Vector 150 and Vertex 460 is in the NAND department as the ARC 100 utilizes Toshiba's second generation 19nm NAND, i.e. A19nm as Toshiba calls it. Despite the smaller process node NAND OCZ is rating the ARC 100 at the same 20GB of writes per day for three years as the Vertex 460, although the ARC 100 is slightly slower in performance and also drops bundled cloning software and 3.5" adapter.
Given the smaller cell size of the A19nm NAND, OCZ is able to price the ARC 100 more aggressively. At higher capacities OCZ is able to hit the $0.50/GB mark and the ARC 100 is actually very price competitive with Crucial's MX100, which has been our favorite mainstream SSDs for the past couple of months. I am getting back from the US tomorrow and my review samples are already waiting for me at home, so you should expect to see the full review next week!